Estimated read time: 4-5 minutes
This archived news story is available only for your personal, non-commercial use. Information in the story may be outdated or superseded by additional information. Reading or replaying the story in its archived form does not constitute a republication of the story.
SALT LAKE CITY — While explaining why he enjoyed watching Joe Ingles, Detroit Pistons head coach Dwane Casey ended up describing why Ingles is so easy to root for.
"He looks likes he's slow, can't move and, you know, kind of a bartender-type look," Casey said. "But he gets it done. I'm serious. He looks like a guy that just comes off the rec league. He's a legit star in our league."
Since Mike Conley injured a hamstring in early December, Ingles has played like a star — or at least close to it. He's scoring 14.7 points per game, shooting 52% from 3-point range, and is averaging a team-high 6.1 assists in 13 games. Before that run, Ingles was averaging 7.1 points and shooting 30% from 3 — quite the jump.
So, what's been the reason for the uptick in production? Is it simply the case he's now starting? If you ask Quin Snyder, the answer is even more simple than that.
"I don't think the starting lineup is necessarily the catalyst for the way he's played of late," the Jazz head coach said. "He didn't shoot the ball well early in the year. If you rewind to the last couple of years, he shot the ball well. He can shoot, so I think some of that, for him, is just comfort level and confidence and continuing. Every player is going to work through something ... So, regardless of who he's out there with, I feel like Joe's gotten better, which is something that we've seen Joe consistently do over his time here."
Ingles' recent brilliance, then, can be traced back to last year's playoff disappointment. During a five-game series loss to the Houston Rockets, Ingles was forced right nearly every time he touched the ball. It was the first time Ingles really faced a defense tailor-made to stop him; and what was worse, it worked.
Ingles averaged just 6.4 points on 27.6% 3-point shooting during the series.
During Utah's end-of-season media availability following the playoff defeat, Ingles sat at a podium and quipped: "I'm going to go right every time next season."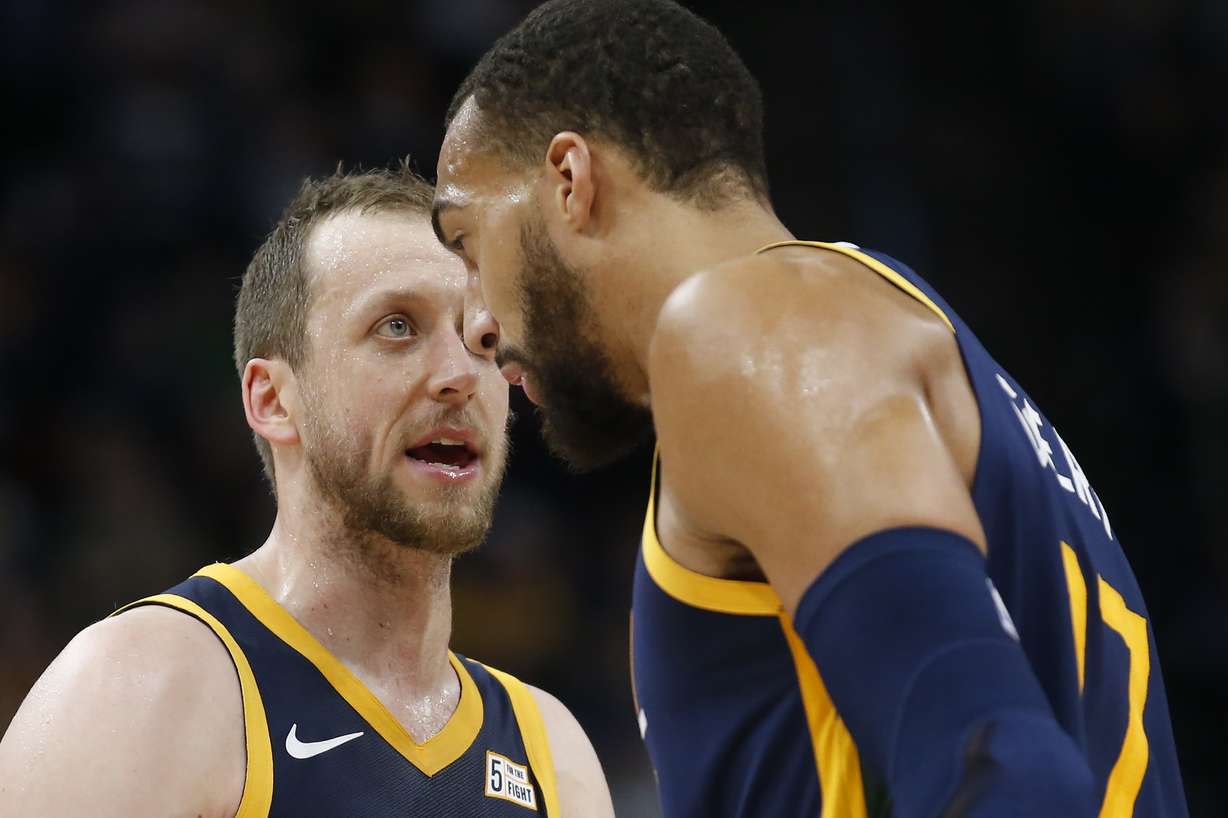 It was said in jest, but there was seriousness behind it. Houston had displayed a weakness, had shown how Ingles could be taken out of games. Ingles knew he needed a counter.
The recent uptick in stepback 3-pointers Ingles has been firing off over the last month is one of those counters. If a defender shades him right, he's been using a screen and then stepping back into an open 3-pointer. Considering he's making 45% of his pull-up 3s over the last month, it's been a pretty effective shot — and one the has been well thought out.
Jazz assistant Vince Legarza traveled to Australia over the summer to help Ingles get dialed in on that shot. That worked continued throughout the summer and into his time with the Australian national team.
"I mean, it's just something I had to get because it was inevitable that they were going to send me right," Ingles said.
He wasn't wrong. Ingles said that he's been sent right so many times this season that when he got a chance to shoot moving to his left in a recent game, it actually felt more uncomfortable (and he also missed).
"He's figured out ways to be equally effective going right," Snyder said. "It's different. Guys sometimes have a different way of finishing or shooting, going either way."
The increased comfort level also has to do with him having the ball in his hands more, too. With Conley out, Ingles has often been Utah's primary playmaker, and his teammates think that has helped kick-start his season.
"I feel like he's been more aggressive," Rudy Gobert said. "He's been like that before. I think maybe being able to get involved a little more as a playmaker has helped him find his rhythm."
And that's helped the Jazz find theirs, too. Utah has won nine of its last 10 games, including four in a row.
"There's a lot of things that I think have contributed to it," Snyder said of Ingles' strong run. "And some of it is just playing, you know, playing through some stuff. But he's in a good place and we'll continue to try to help him stay there."
×
Related stories
Most recent Utah Jazz stories