Estimated read time: 6-7 minutes
This archived news story is available only for your personal, non-commercial use. Information in the story may be outdated or superseded by additional information. Reading or replaying the story in its archived form does not constitute a republication of the story.
This story is sponsored by Toyota.
I learned to drive in a tiny Renault with a manual transmission. With its small 49-horsepower engine, it topped out at about 60 miles per hour — but only if you were driving down a long, steep hill.
In the years since, I've had luxury cars, sports cars, family cars, beaters, SUVs, big trucks and small trucks. I'm a car guy, even if I can't quote all the technical specs for every make and model.
So when Toyota gave me the chance to test drive a 2019 RAV4 Hybrid for several days, I was all in.
I drove it from Highland to Smithfield, to Antelope Island and up Little Cottonwood Canyon. I also drove it for a couple of days of regular Wasatch Front commuting. After driving in a variety of conditions and situations, here are four things I really liked.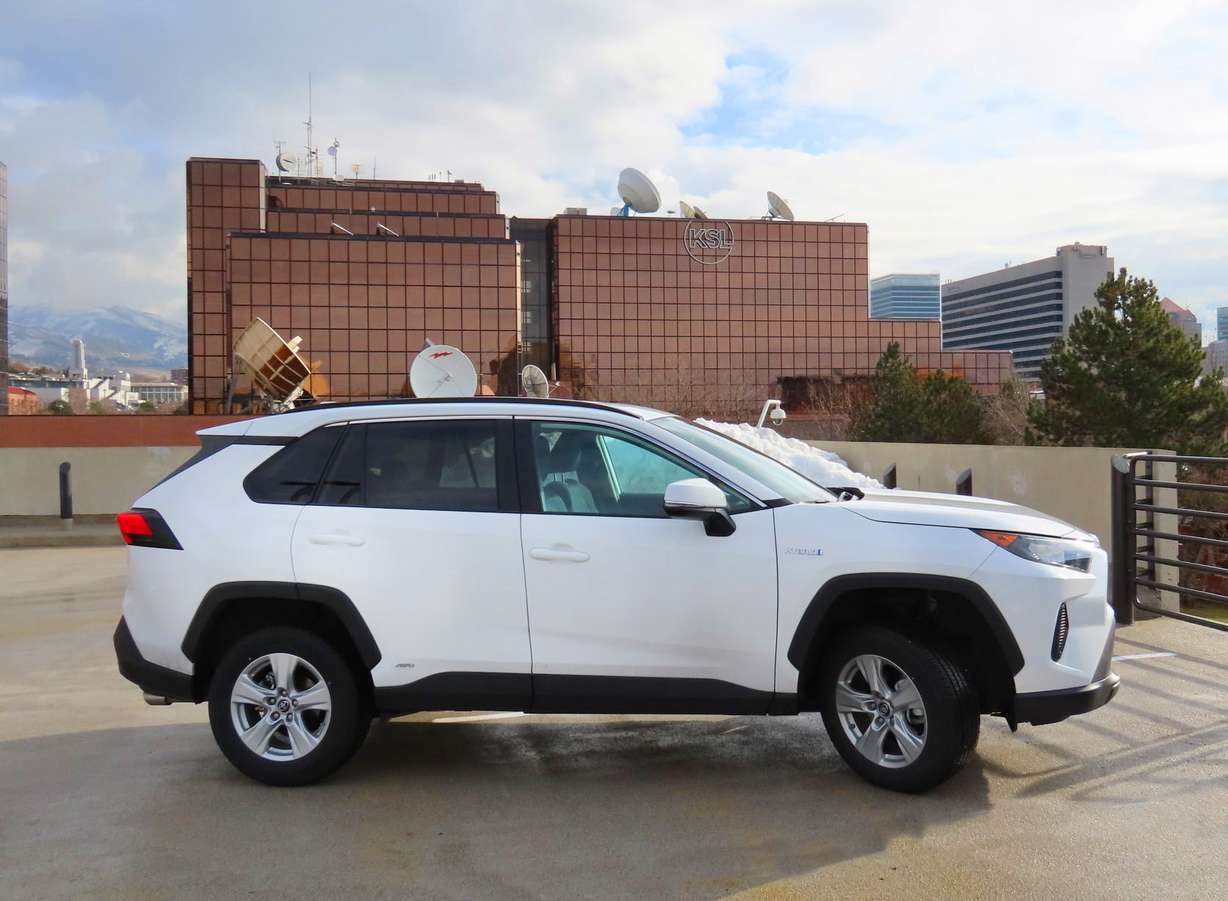 An impressive safety lineup
Where the RAV4 most impressed was with the available safety features. I don't want to date myself, but I remember my dad buying aftermarket seat belts and installing them in our family's new Rambler himself because they didn't come as a standard feature.
The best endorsement I can give for the RAV4 is that I would feel peace of mind if my children or spouse drove it because of its available safety features (seat belts are included, by the way).
Here are some of the safety features that impressed me the most.
Lane Tracing Assist — uses the lines on the road and preceding vehicles to keep the car centered in the lane. While this is not a hands-free driving system, it will follow gentle curves and definitely helps keep you on track.
I loved this feature for highway driving, but on winding mountain roads, the warning beep sounded so often it was distracting. Fortunately, it's easy to switch on or off, depending on your preference.
Pre-Collision System — detects vehicles, pedestrians and bicyclists. It has an audio/visual alert. If you don't react, the system provides automatic braking support to help prevent or mitigate a collision. Thankfully, I didn't get a chance to test this feature, but it is definitely something I want on all my cars in the future.
Dynamic Radar Cruise Control — This is an amazing feature that allows you to rely on the cruise control even when driving in heavy traffic. Radar and a camera detect vehicles in front and their distance and adjusts speed accordingly. In other words, if you're using the cruise control in traffic and someone in front of you slows down, the cruise control will automatically slow your speed. Once traffic ahead clears, the system automatically resumes the set speed.
I relied on this during several Wasatch Front commutes and it worked amazingly well.
Road sign assist — The Rav4's smart camera detects roadside speed limit signs, stop signs, yield signs and do not enter signs and displays them on the dash, so you always have this critical information at hand even on unfamiliar roads.
On-demand all-wheel-drive — Winter driving in Utah is sometimes brutal. The all-wheel-drive provides traction and power when needed, so you can handle snowy, icy conditions with confidence.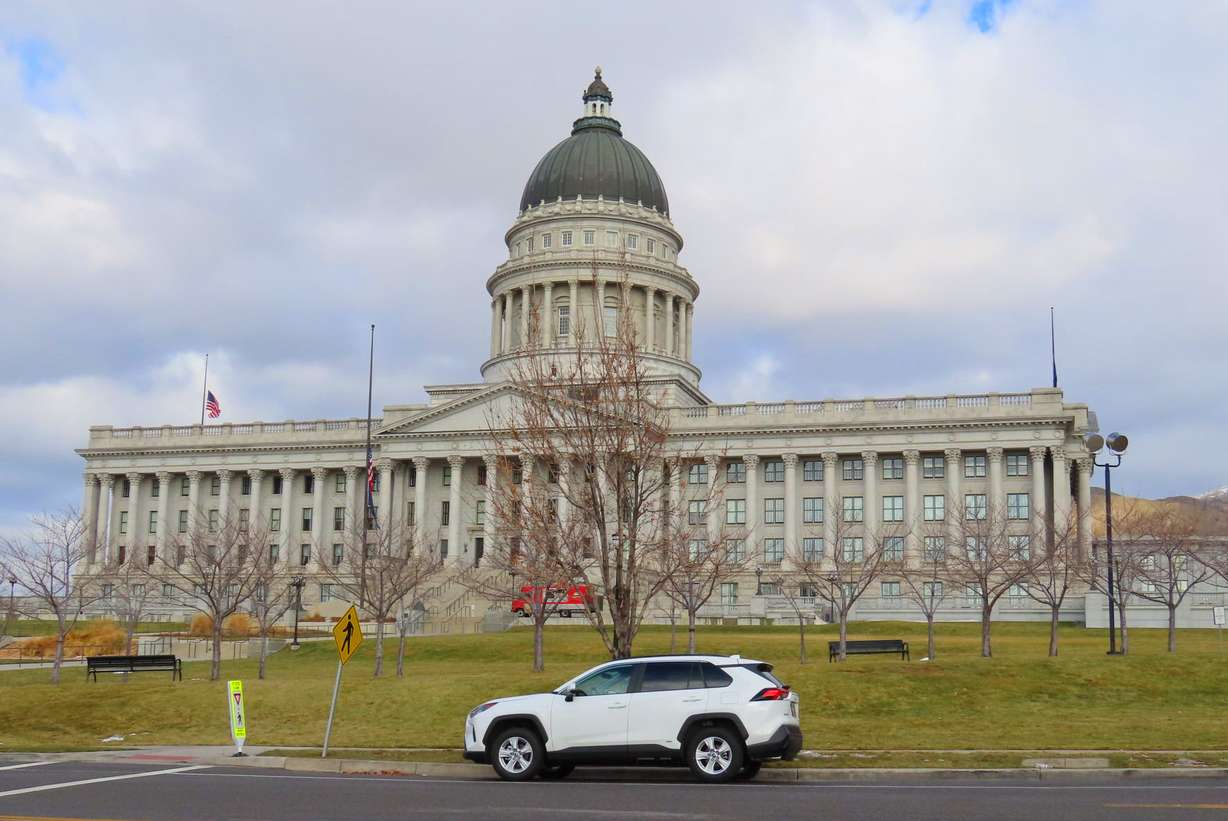 Comfort and ease of use
U.S. News and World Report writes: "The Toyota RAV4 Hybrid is a great SUV. It offers a huge cargo hold and great fuel economy estimates, even by hybrid SUV standards. This Toyota also boasts an above-average predicted reliability rating, an upscale and roomy cabin, and lots of easy-to-use tech features."
I concur with all of those statements. The interior is spacious and the seats comfortable. I took a group to lunch and had two beefy 6-foot-plus guys in the back seat and they both indicated they had lots of leg and headroom and didn't feel cramped in the least.
I also drove for several hours straight without experiencing any road weariness or discomfort. With many vehicles, my rear end gets tired and my joints stiffen after just a couple hours of driving, so the RAV4 gets a thumbs up for driver comfort.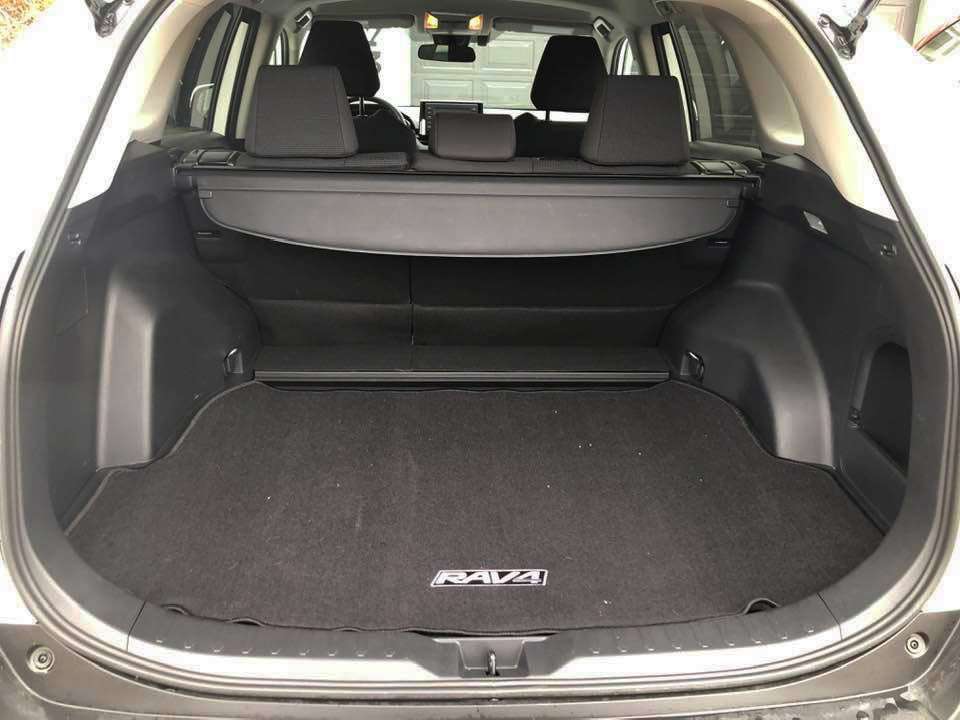 There was plenty of cargo space. I've driven mid-size crossovers on longer trips where the layout made accessible cargo space a problem. The Rav4 Hybrid had plenty of room with the back seat up and the seat was easy to fold down if more room was needed.
In front of the passenger seat above the glove box on the passenger side was a shelf perfect for small items like a phone, a book, sunglasses, etc. My wife loved it.
Handling was smooth and it had plenty of power for climbing hills or merging into fast traffic.
Mileage
"At an EPA-estimated 41 mpg city, 37 highway, 39 combined, the RAV4 Hybrid is the thriftiest crossover SUV around," writes Andrew Gantz for Green Car Reports. After driving for several hours over a couple of days, I decided I should fill up before heading to Antelope Island, just to be safe. I didn't compute my exact mileage for the trip, but I was surprised when the pump shut off at 7 gallons.
If fuel efficiency is a critical concern, this is the SUV for you.
Technology
The 8-inch touch screen includes multimedia features like Bluetooth and Smartphone compatibility, SiriusXM, etc. It also includes Apple Car Play and Android Auto so you can access many of the apps on your phone through the car's display.
If you haven't figured it out by now, I'm an older guy. I've never played World of Warcraft and I wrote my master's thesis on a typewriter. But even with my technological deficiencies, I was able to easily connect the Apple Car Play to use Google Maps and to play my 1970s music playlist.
All in all, the RAV4 Hybrid was comfortable, fun to drive and safe, which pretty much checks all the must-have boxes for any vehicle I'd like to own. If you are in the market for a new mid-size SUV Toyota's RAV4 Hybrid is definitely worth a look at your nearest Toyota dealer.
And if you'd like to test your knowledge about all things Toyota, take the quiz below and you could win a $50 Maverik gift card.
Flint Stephens has a master's degree in communication. He writes regularly on business, financial and medical topics.
×
Photos