Estimated read time: 4-5 minutes
This archived news story is available only for your personal, non-commercial use. Information in the story may be outdated or superseded by additional information. Reading or replaying the story in its archived form does not constitute a republication of the story.
This story is sponsored by MountainStar Healthcare. Our hospitals and outpatient centers deliver high-quality, cost-effective patient care – when and where it's needed.
Rick Page, a healthy 45-year-old, was getting a routine check with his CPAP machine when the sleep technician asked him if he already knew about his heart murmur. As director of photography for an NBC television series in Los Angeles, Page had other things to worry about, but he scheduled an appointment with his primary physician anyway.
What seemed to be just a murmur could be more serious, and Page's doctor referred him to a seasoned cardiologist at St. Mark's Hospital in Salt Lake City.
This appointment with a specialist revealed that Page's murmur was caused by a mitral valve prolapse — an improper closure of the valve between the heart's upper and lower chambers. For three years, Page managed his condition with regular checkups and echocardiograms. But one check-up revealed that his left ventricle had doubled in size since his previous echocardiogram.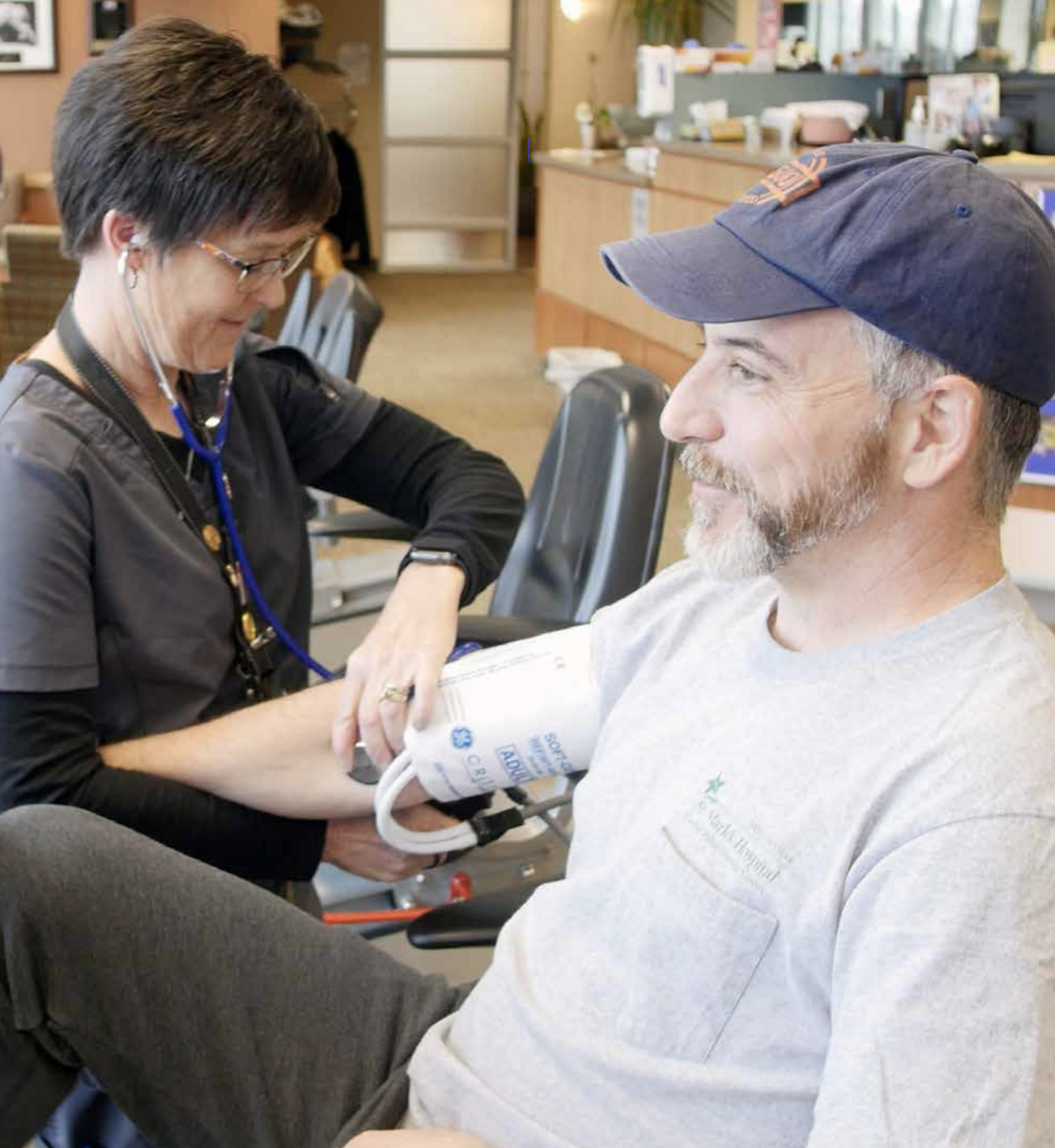 Page exercised regularly and ate a nutritious diet, so the diagnosis surprised him. "I went into immediate denial," Page admitted, "I'm healthy...and have no symptoms" he remembers telling his doctor. After some discussion and consideration, Page met with Dr. Shreekanth Karwande, a thoracic surgeon at St. Mark's, who recommended a mitral valve repair surgery.
The procedure went well, and after a five-week rehabilitation program, Rick returned to Los Angeles and to carrying a 42-pound camera again. Thankfully, his healing process proved successful and allowed him to see life through a new lens. "I'm a new guy," Page said. Referring to the St. Mark's staff, he said, "They saved my life...all of them."
---
I'm a new guy. They saved my life...all of them.
---
Commitment to patients and communities
Thankfully, Page wasn't the only one who received the help they needed. St. Mark's Hospital is a member of the HCA Healthcare Mountain Division, better known as MountainStar Healthcare here in Utah. The division consists of 11 hospitals, numerous surgery centers and more than 50 physician clinics in Utah, Idaho and Alaska. The HCA Mountain Division treated more than 500,000 patients last year alone.
MountainStar and HCA Healthcare are dedicated to doing more than just providing excellent care for the patients inside their facilities. They pride themselves in giving back to the communities they serve and contributed more than $378 million in charity and uncompensated care and more than $46 million in local taxes.
HCA Healthcare is one of the largest healthcare corporates in the world. The company supports more than 185 hospitals and 119 freestanding surgery centers in U.S. states and in the United Kingdom. HCA Healthcare cares for more than 28 million patients each year and has more than 125,000 healthcare providers caring for patients across the world. Not to mention, HCA Healthcare has been named one of the Wold's Most Ethical Companies for nine years in a row.
"Every day, people in Utah, Idaho and Alaska benefit from our affiliation with HCA Healthcare, Gregory Angle, President of HCA Mountain Division, stated in the Division's annual report. This is especially true for patients and their families who receive care at HCA Mountain Division hospitals and outpatient centers of care."
Ongoing improvements
Through the vast support of HCA Healthcare, MountainStar's network of hospitals and outpatient centers are able to improve care for each individual community they serve. Specific advancements include:
A successful pilot program to reduce the number of opioid prescriptions while still effectively managing pain levels for patients. The program has since been implemented at all HCA Mountain Division facilities.
The opening of ACT Residential Center at Ogden Regional Medical Center, featuring cost-effective 30-day and 90-day addiction treatment plans.
Utilizing a predictive algorithm called SPOT, developed by HCA Healthcare, to identify sepsis approximately 18 hours earlier than a clinician. The risk of dying from sepsis increases every hour it goes undiagnosed, meaning this innovated new approach significantly saves lives and limbs.
Collaborating with HCA Healthcare's consolidated pharmacy, HCA Mountain Division Hospitals effectively mitigated the efforts of the nationwide shortage of cerating pharmaceuticals and associated price increases.
Stroke care experts within HCA Mountain Division continue decreasing "door-to-needle" times, meaning patients with ischemic stroke symptoms receive clot-busting medication within 60 minutes or less.
The American College of Surgeons Committee on Trauma and the Utah Department of Health verified St. Mark's Hospital as a Level II Trauma Center.
Nearly 10,000 babies were welcomed to the world at HCA Mountain Division facilities.
Investments to expand patient services and upgrade facilities: West Valley Emergency was built and equipped; West Valley Medical Center expanded and renovated, and Eastern Idaho Regional Medical Center received major renovations. Plus, robot-assisted surgical equipment for Lone Peak Hospital, St. Mark's Hospital and Timpanogos Regional Medical Center was purchased.
Healthcare should be personal, which is why HCA Mountain Division and every MountainStar Hospital focuses on helping patients heal, contributing to communities, and providing jobs — including 10,000 employment opportunities last year. View the latest annual report or find a MountainStar Healthcare provider near you.
×