SALT LAKE CITY — About three weeks into his senior season, Mason Falslev and his Sky View football team faced some questions.
Falslev, a top athlete who was the Bobcats' quarterback to that point, took a knock after a 55-8 win over Shelley (Idaho) that improved Sky View's record to 3-0. It wasn't enough to end his season or even making him miss a game, but it was enough to make Falslev — a Division I-bound basketball play who has signed with Utah — think twice about his role on the football team.
Luckily, the Bobcats had junior Kason Carlsen waiting in the wings.
"When Mason got hurt, we had a lot of people looking at their toes," Sky View coach Chris Howell said. "But I felt as confident as ever because I knew the type of kid that Kason Carlsen was — and he has gotten a little bit better every single week. He's a great leader and a tremendous quarterback."
The junior signal-caller repaid his coach's confidence Friday afternoon.
Carlsen completed 16-of-23 passes for 186 yards and ran for 107 yards and three scores to lead Sky View to its first state title in school history with a 35-0 win over Park City in the Class 4A championship game at Rice-Eccles Stadium.
Falslev finished with 86 yards and two touchdowns on the ground, as well as a team-high five catches for 57 yards for the Bobcats (13-1), who got jumped out to a 21-0 lead on a trio of short-yardage scoring dives by Carlsen and never looked back.
The duo put on a show in avenging the Bobcats' 15-14 loss to Park City in last year's state semifinals.
"It was definitely a blow when Mason went down; he's such a great player and a great leader. It was definitely big shoes to fill," Carlsen said. "But I have so much love for my team. They had my back the entire time, and knew I could do well."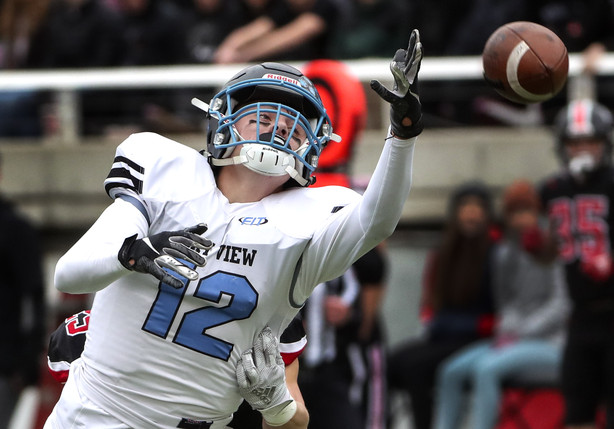 Of course, Carlsen is a pretty good QB1, as well. The junior threw for 2,056 yards and 28 touchdowns with just four interceptions, and ran for another 578 yards and 17 scores since taking over in the pocket.
"That kid is a beast," Falslev said of Carlsen. "He came in, pushed through adversity, and took what the coaches said to progress so much throughout the year. He's such an amazing kid."
Carlsen was impressive, and Falslev did typical Mason Falslev things.
.@UtahMBB signee Mason Falslev pulls down the endzone interception on fourth down for Sky View. @SVbobcatpride leads Park City, 21-0 in the 2nd quarter.

Live: https://t.co/bEHjrDLFDPpic.twitter.com/ysEX8PMFTa

— KSL.com Sports (@KSLcomSports) November 22, 2019
But maybe more impressive was the Bobcats' defense and special teams. A blocked punt by Thor Griffin. An interception by Scout Morris. A 10-yard sack — on the Park City goal line — by Traeson Martindale, who finished with a team-high 12 tackles.
Then, a final end-zone interception on fourth-and-goal from the Park City 11 by Falslev and Hunter Larsen sealed the first-half shutout with a sack.
Park City, which was previously unbeaten and ranked No. 1 in the UHSAA's RPI playoff format, had four drives end in a punt to go along with two interceptions and a pair of turnovers on downs.
"Our defense is crazy," Carlsen said. "I think that's our sixth shutout of the year, and for them to be able to get us the ball — I love them so much. But you've got to give respect to Park City; that's a great team, came into this game undefeated. You've got to respect them, and they played so good."
Falslev, who will play basketball at Utah following a two-year church mission, added a pair of 4-yard scoring runs in the second half to help the Bobcats pull away for good.
It turns out moving Sky View's top athlete outside the pocket was a net gain for the program. Not bad for a basketball player.
"I think it was an advantage for us long term; now we could move him all over the place," Howell said. "How do you come up with a defensive scheme in one week to figure out how to stop him when he is in the backfield, at inside receiver, at outside receiver?
"That's a really hard ask in high school."
Dylan Bauer ran for 121 yards to lead Park City (13-1).
×
Photos
Related Stories