Estimated read time: 3-4 minutes
This archived news story is available only for your personal, non-commercial use. Information in the story may be outdated or superseded by additional information. Reading or replaying the story in its archived form does not constitute a republication of the story.
Shopping for your parents can be difficult. They have a lifetime of experiences and just don't need more "things or trinkets". Even though it can be challenging to figure out what to get your loved ones, sometimes the fun is in the hunt for that perfect gift. This holiday season, surprise your parents with the gift of novelty; something they haven't tried or experienced before.
Give them a mystery to solve in their own home.
Finders Seekers mystery boxes
There is a subscription box that provides adventure, intrigue, interesting trivia, and is perfect for a couple who has years of Christmas gifts. The Finders Seekers mystery boxes are made for more than one person — solve the mystery with two people up to a small family group.
These monthly boxes contain lots of cryptic clues and puzzles that you use to make your way through the "find" and reach the end of the game. Each game experience is set in a different city around the globe, making it feel like you're anywhere but the living room. Each box contains clues, like a black light, a torn sheet of paper, maps, ciphers and more. You use these pieces of evidence to solve the puzzle of each box.
With 3-4 people, it can take 1 to 2 hours to complete. Go to the Finders Seekers website to get your order in time for Christmas.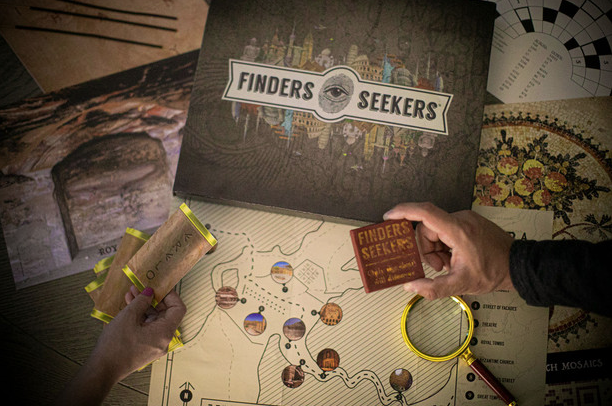 Family-oriented
Your parents will love getting a Finders Seekers box for the simple reason of drawing family together. While you can certainly solve the mystery on your own, it's more fun with other people. Your parents will love the comradery and company in solving these mysterious finds.
"We want to bring friends and family together for collaboration and mystery while also learning about world cultures," said co-founder Cody Dingus.
Travel and culture
While it's true that many retirees and aging parents like to spend their free time traveling the world, sometimes it's not a possibility. Opening up a Finders Seekers box is like stamping a passport and learning more about a new culture and city without stepping foot out of the house.
Each month explores a different city or country, making the adventure different every time. The Finders Seekers team does extensive research in person to be sure each adventure feels real and fresh. Past boxes include Paris, Beijing, San Francisco, Boston and London.
"When we started, we thought it would be challenging to come up with new clues every month," Cody said. "But two years later we've done over 150 puzzles and clues, and it hasn't been difficult at all. We get immersed in the research and traveling, and then we let the place dictate the feel and the puzzles themselves."
It's almost like traveling to a different place with each box, minus the crowded airports and expensive travel fees.
Get yours in time for Christmas
Take the guesswork out of finding a gift for your parents who already have everything and get them something they (and everyone) will enjoy. Your parents and family get to spend time together pooling ideas and insights, having fun and even learning a bit.
It's also worth mentioning, that for every box you successfully complete, you'll be entered to win prizes! Order yours on the Finders Seekers website to get started.
Enter your email below and you could win a six-month subscription for Finders Seekers mystery boxes.
×