Estimated read time: 4-5 minutes
This archived news story is available only for your personal, non-commercial use. Information in the story may be outdated or superseded by additional information. Reading or replaying the story in its archived form does not constitute a republication of the story.
SALT LAKE CITY — The BioUtah trade association hosted the 10th annual Utah Life Sciences Summit at the Marriott in downtown Salt Lake City Thursday, drawing industry leaders from across the state and nation for a snapshot of the growing field.
The event brought together businesses, experts, students, investors and more for networking opportunities and presentations on the state of the life sciences, or biotech, industry. BioUtah president and CEO Kelvyn Cullimore — former Cottonwood Heights mayor and CEO of Dynatronics Corporation — said the annual summit is a valuable opportunity to connect.
"It's really important that people in the industry don't operate in a silo," Cullimore said Thursday morning. "When you convene the industry, like we're doing here, it creates a sense of mass, if you will, of what's really happening in the state.
"We want to educate. We want to help people to understand the issues that are going on. We want to facilitate understanding of what's happening in the industry as much as we can. But the main reason we connect is so that we can network and everyone can see that they are one piece of a greater whole."
Cullimore estimated that over 300 people attended.
Utah Gov. Gary Herbert opened the conference with a prerecorded video statement. After the morning session, which included presentations from CEOs, executives and industry analysts, there were several breakout sessions featuring panel discussions on more specific industry topics.
An August 2018 study from the University of Utah's Kem C. Gardner Policy Institute says that life science companies accounted for 5.9% of Utahns' personal income and 7.9% of the state's GDP in 2017. On average, the study says, industry employees made 40-50% more than the state's average salary that year.
It says employment in Utah's life sciences industry increased 21.9% between 2012 and 2016, far outpacing the national average.
The institute defined life science companies as those that "deliver technologies and services to improve personal health. They develop, manufacture, and distribute medical devices, pharmaceuticals, and related products. The life sciences industry includes biotechnology firms, medical laboratories, diagnostics companies, and support services providers."
While the state's economy is strong, the life sciences industry and the closely related health care field will face challenges in the coming years. From addressing the spiraling cost of prescription medication and health care in general, to navigating tax changes and tariffs, to protecting patient health, BioUtah will be tasked with helping its members find solutions.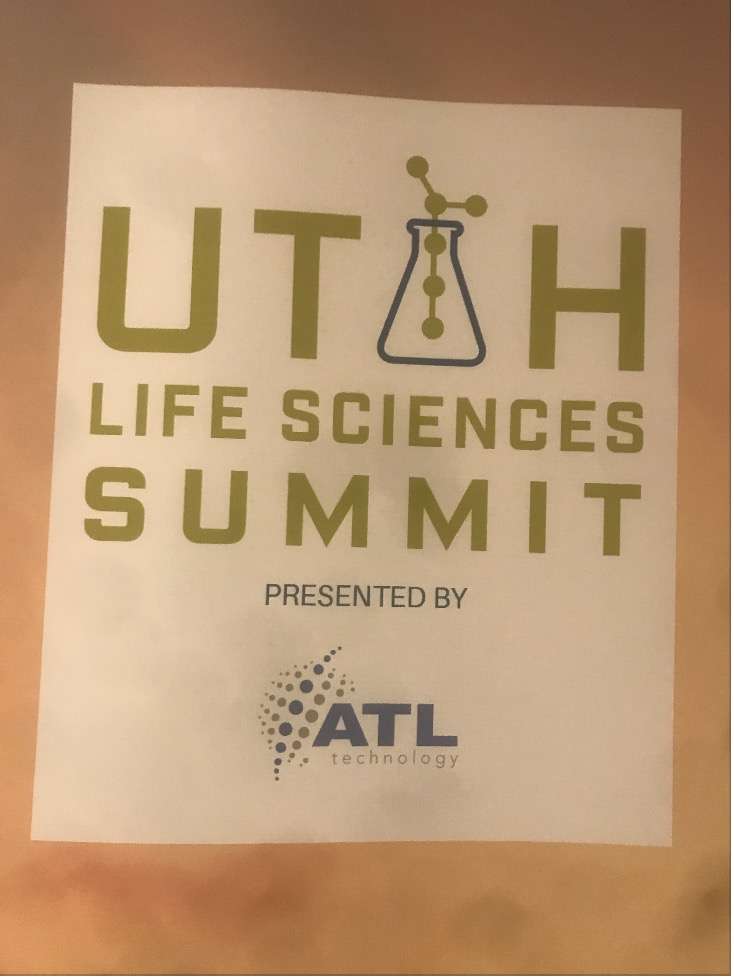 BioUtah currently has 135 members and added 35 this year, it said at the summit.
The association has, for instance, publicly supported a permanent repeal of the medical device tax, issuing a statement from Cullimore in March calling the tax "ultimately a punitive tax on innovation and growth." The excise tax was imposed in 2012 and has since been suspended but is scheduled to resume in 2020 barring congressional action.
Mark Knold, chief economist at the Utah Department of Workforce Services, said Utah's low unemployment and tight labor market may pose challenges as well. "Especially when you're at the top end here trying to recruit some real brainpower," Knold said. "You're not only competing with other employers in the state of Utah, you're competing with people across the whole nation in that regard."
Knold said the industry's high salaries will help overcome that difficulty. Comparing the entire economy to an train, Knold said high-wage, high-growth industries like biotech, even if they don't employ lots of people, "pull the rest of the economy along" like an engine.
"I would put life sciences up in the engine of that train," Knold said.
Cullimore said the state can help grow the industry further by encouraging innovation and preparing students to enter the workforce.
"We think it's important that the state recognize that the life science industry is different, and that there is a long ramp-up period," Cullimore said. "And there's risk associated with that ramp-up, especially in the early stages. If they can encourage that kind of development through funding sources, through support activities, those kind of things would make a big difference.
"The virtue of our kind of industry is that the jobs are high-paying and long-term."
×
Photos
Most recent News stories