SALT LAKE CITY — No defects were found on the bus that crashed and killed four Chinese tourists on Sept. 20 that could've caused the vehicle to drift off the road, according to a preliminary report released by the National Transportation Safety Board in conjunction with Utah Highway Patrol on Thursday.
The 36-passenger bus operated by American Shengjia, Inc., carried 30 passengers and one 60-year-old driver.
The vehicle was eastbound on state Route 12 near Bryce Canyon National Park when it drove off the road for unknown reasons.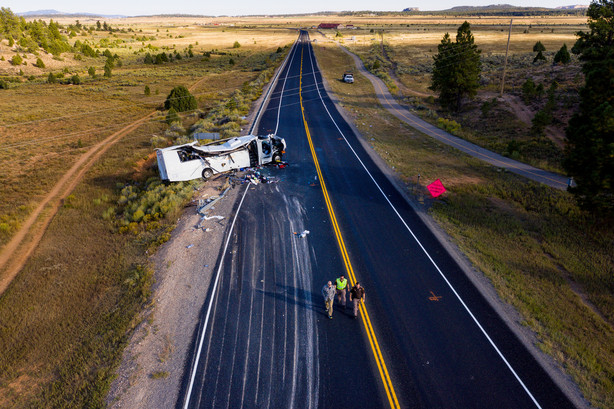 When the driver steered left to bring the vehicle back to the road, the bus started to cross into the westbound lane, at which point the driver steered sharply right, causing the bus to roll left.
The roof of the vehicle was significantly crushed after it struck the guardrail next to the westbound lane as it rolled over.
The bus rolled one complete time before resting on its wheels, straddling the damaged guardrail and partly blocking the westbound lane.
In addition to the four who were killed, the crash seriously injured 15 passengers and 11 individuals suffered minor injuries.
According to preliminary information, 11 passengers were completely ejected and two others were partially ejected during the rollover, officials said in the report.
SR-12 is a two-lane road in that area, with a speed limit of 65 mph. There is a left-turn lane in a rest area and a slight curve to the right, officials said.
Related:
Bryce Canyon was the last stop for the tour bus before Salt Lake City, the final destination. The 7-day tour began in Los Angeles.
It was the first time the driver had driven that route for American Shengjia, "but he had driven the route several times for a different company and was familiar with the area," officials wrote in the report.
After examining the bus, UHP officials and NTSB officials "uncovered no defects that could account for the driver's loss of control," the preliminary report read.
All passenger seats had lap belts and the driver's seat was equipped with a lap and shoulder seatbelt, officials said.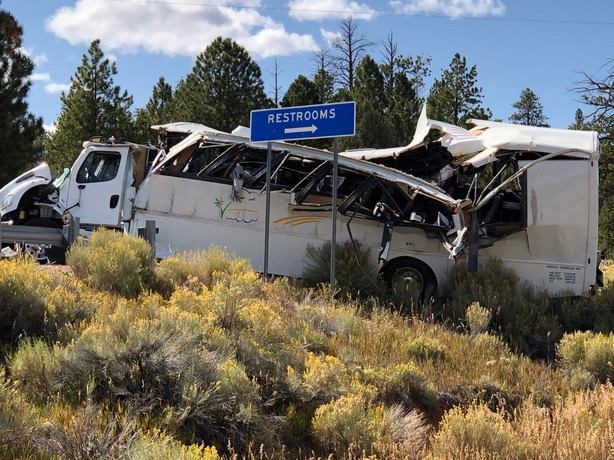 Officials are still investigating the extent passengers used the lap belts, the report stated.
The crash is still under investigation as NTSB officials determine probable cause "with the intent of using safety recommendations to prevent similar crashes," the report read.
Information in the report is preliminary and will be supplemented or corrected as the investigation continues, officials stated.
×
Photos
Related Links
Related Stories