Estimated read time: 5-6 minutes
This archived news story is available only for your personal, non-commercial use. Information in the story may be outdated or superseded by additional information. Reading or replaying the story in its archived form does not constitute a republication of the story.
SALT LAKE CITY — Already up by two touchdowns in the second quarter, backup quarterback Jason Shelley replaced Tyler Huntley on the field for one play. Utah was on California's 1-yard line and another score seemed imminent.
Shelley faked a handoff to running back Zack Moss as the offensive line pushed right to sell the run, and tight end Brant Kuithe pulled left to set the block for Shelley. The play worked perfectly as the redshirt sophomore easily trotted in for a 1-yard rushing touchdown and the Utes went up by three scores.
Hobbled by a leg injury sustained during the Arizona State game the week prior, Huntley ran down the sideline with a limp to celebrate with his teammate as one of the first people to congratulate Shelley. Huntley's status to play that Saturday was questionable leading up to the pregame warmups, and there was a chance he wouldn't even start, so any amount of running was expected to be limited.
Injured or not, Huntley is playing.
"I'm good," he said with a smile. And really, there's nothing more to say for a guy that will find a way to get onto the field regardless of the obstacles in his way. The senior quarterback has yet to complete a full season as the team's starter and he's intent on playing all 12 games of the regular season — even if it means playing through some pain.
Some outside the program may worry about Huntley's health or what he's doing to his body (team trainers wouldn't let him play if it would risk his overall health), but his teammates see a team captain willing to do whatever he can to help the program achieve its lofty goals. It's one of those unquantifiable aspects to sports — you can't measure the impact it has on the team, but it's noticeably there and his teammates feed off his dedication.
And to his credit, Huntley is having the best season of his career. He's one of the greatest reasons Utah has an offense ranked No. 8 in offensive efficiency, according to ESPN, and has the team beating opponents by an average of 27.1 points (30.8 points in Pac-12 play).
Huntley is the fifth best quarterback in the country in total QBR and has a season completion percentage of 73.1%. Following his latest game, where he played only one half and threw for 214 yards and one touchdown on 11-of-17 passing, Huntley leads the nation in percentage of catchable passes at 85.9%.
Offensive coordinator Andy Ludwig said Huntley is "playing very, very well," which has him "fired up" for the offense. The offensive veteran has schemed well to Huntley's strengths and allowed him to work the offense in an efficient manner. Ludwig has also given Huntley years worth of knowledge to combat the various defensive looks the young quarteback sees each week.
"He's got a great master plan," Huntley said of his coach. "Every week he comes in and he just addresses everything on spot, so I feel like that's what prepares us the most. He comes in, from Monday, talking about the plan that we're going into. So that's why we all feel so confident in him."
For Huntley, it's a noticeable difference to what he had under former offensive coordinator Troy Taylor, who also served as the team's quarterback coach.
"Coach Troy is a great coach, but coach Andy Lud has been around the game a long time," Huntley said with a smile on his face. "He knows, like, a lot about football. Coach Troy did a good job of teaching me, but coach Lud is taking my learnings to the next level, and I really appreciate that."
Huntley had shown signs of progress in his junior season, leading Utah through an October where the Utes scored more than 40 points in each game of the month. It was the first consistent sign that Utah finally had an offense worth its always consistent defense. But then injury derailed the season and Huntley's progress was stunted.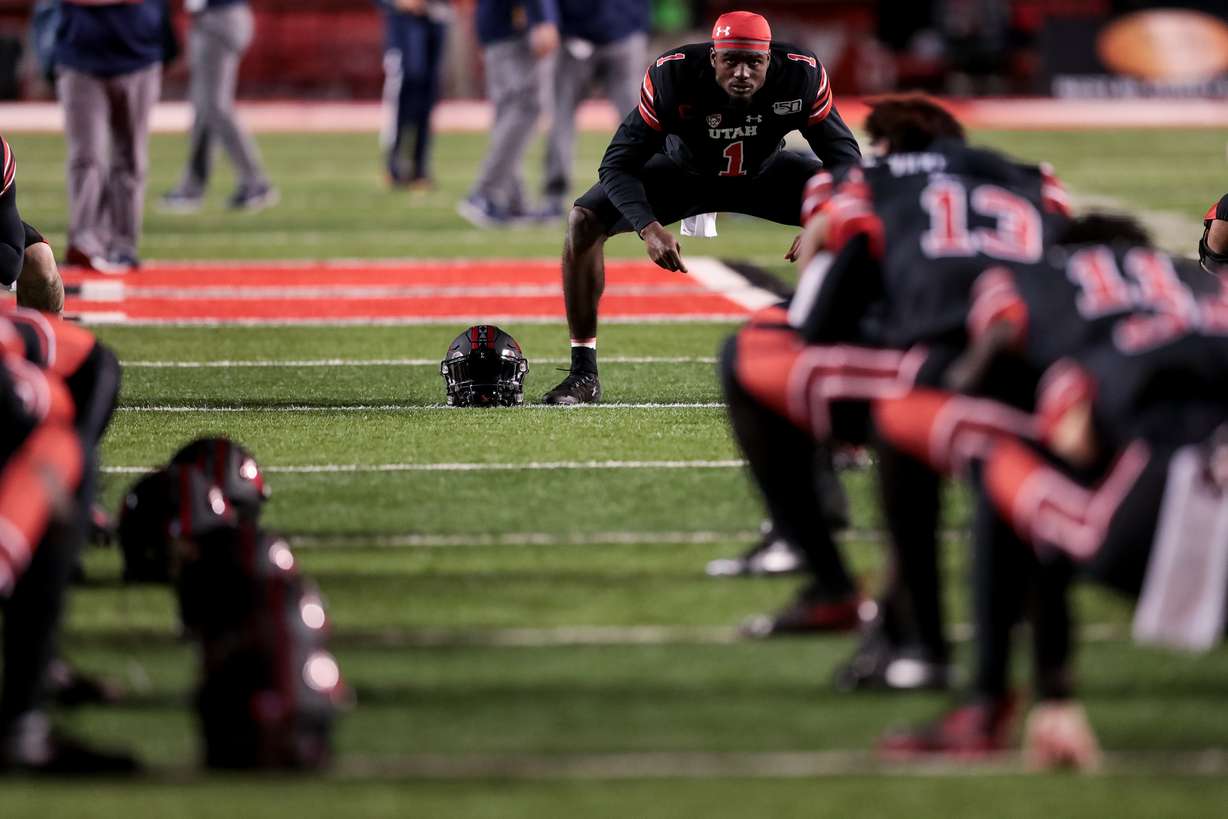 After that, Huntley never stopped working and took charge of the team in a more meaningful way. He's never been a man of many words, but teammates saw a noticeable change in how he conducted himself and approached the game. Coaches admitted there was a light switch, of sorts, that turned on for him — it all clicked.
"I think he's playing better now than at any point last year, but you could see him coming on and starting to really gain momentum," head coach Kyle Whittingham said. "And who knows where he would have been if he hadn't got hurt last year? But you started to see it flicker last year, but it's on full flame this year."
Football transformed from a sport to something of a business for Huntley.
"The game always made sense to me. It's just about bettering myself as a player, you know?" Huntley said. "I started taking extra steps, as in going to treatment more, watching a little bit more film, and just the little things. It was just the little things, and so I put so much effort in now."
"He's extremely focused and he wants to be a great football player, and he works very hard at it," Ludwig said. "He's been extremely coachable since the day I walked in the building and, again, we're just trying to get a little bit better each day, and he's doing that."
But even though Huntley is having a special season, he rarely talks about himself; it's always about other teammates or position groups. Asked what he's most confident in about a Utah team that is 7-1 and on the cusp on claiming another South Division title, Huntley quickly said the team's defense is No. 1, among other viable answers about the team.
"It ain't about me, it's about us winning — us going out and winning," Huntley said. "And that's putting our team in the best position to have a good season, going out and being 1-0 each week."
×
Most recent Utah Utes stories