Estimated read time: 5-6 minutes
This archived news story is available only for your personal, non-commercial use. Information in the story may be outdated or superseded by additional information. Reading or replaying the story in its archived form does not constitute a republication of the story.
This story is sponsored by KSL Cars.Your next car is waiting. Search Utah's largest selection of new and used cars.
Down here at KSL Cars, we like to get spooked. So we passed through the listings underworld and found ads that are scary in their own way — especially if you're the seller and want to get your vehicle sold. From phantom photos to skeletal descriptions, these bad ads are more terrifying than a blinking check engine light.
If you posted one of these ads, take a look at our tips for creating a great listing, and let's get something new in your garage (after you clean up the Spook Alley).
The vertical Taurus
Every photo for this Taurus SHO is displayed vertically. Maybe this car has Spiderman powers? It appears to be sticking to a wall, which is actually the driveway. In other photos, the cockpit looks rocked back like a space capsule. At least they were upfront with the branded title.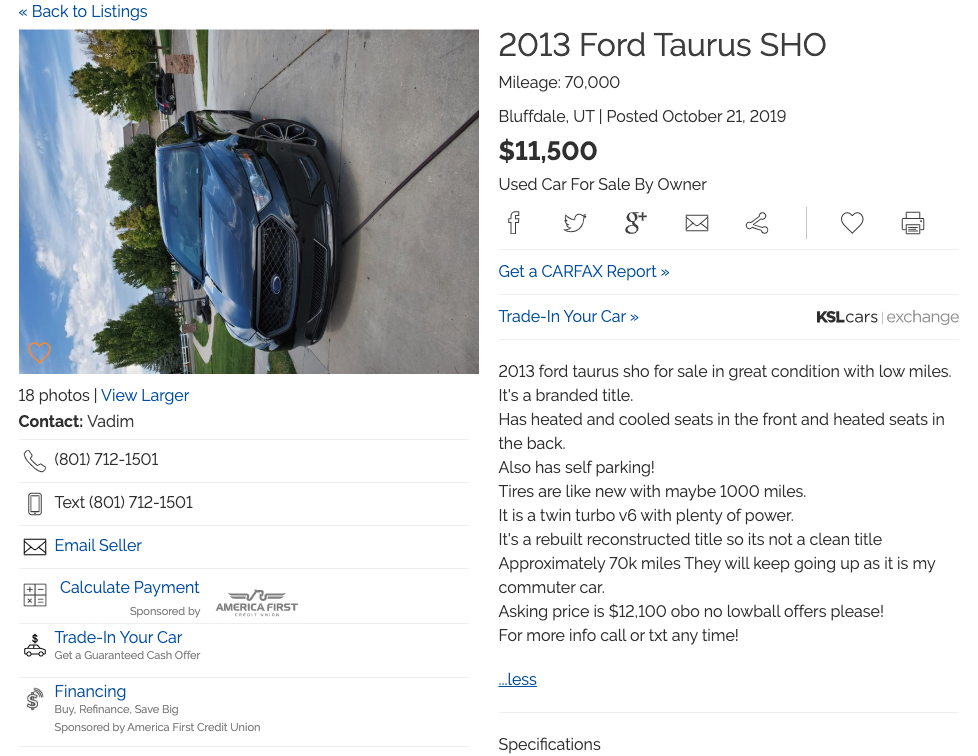 The doppelganger Yaris
Aaaaaaaahhh! Twin Toyota Yarises! They look exactly the same, and they're at the same dealership for the same price! Are we seeing double? Oh wait, they listed the same car twice. Please double-check your ad, and take one down before you make us paranoid. View Listing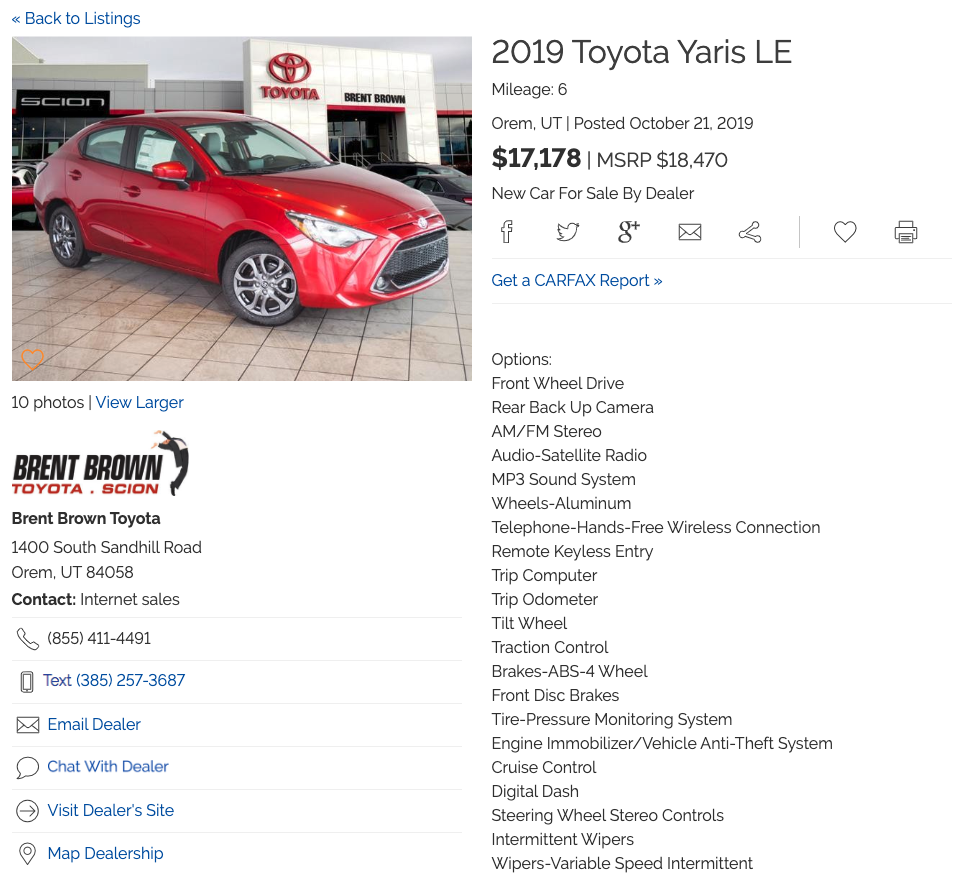 Invisible cars
Can you see ghosts? How about these vehicles, which have NO photos in the listings? There are about 3,400 listings on KSL Cars without any images — horrifying. Buyers need some good visuals to imagine themselves in your car or truck. Use a phone, raise your flip phone from the dead, make some police sketches… anything is better than nothing. We'll single out this 1986 Jeep Cherokee listing, which describes it as a "Cool old Jeep" but doesn't let us see it for ourselves unless we have paranormal powers. View Listing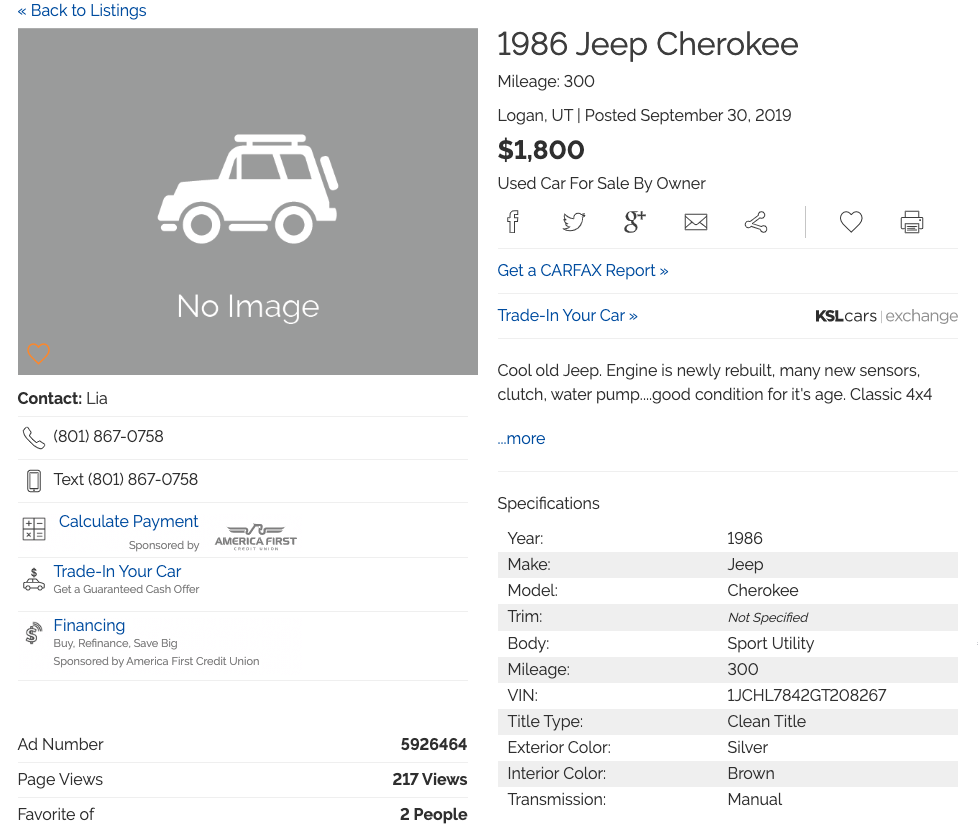 Mysterious past
KSL Cars provides ample space to tell the story of your vehicle and how it might make your buyer happy. This 2001 Hyundai Accent ad just says "1000 or best offer." We will assume 1000 refers to U.S. Dollars, not shrunken heads or vials of fresh blood. Let's create our own history for it since few clues were given: "This Accent racked up 205,000 miles doing espionage work for the CIA. It is very reliable, but for the safety and security of its new owners should not be driven in major U.S. east coast cities." The lack of photos only adds to the mystery. View Listing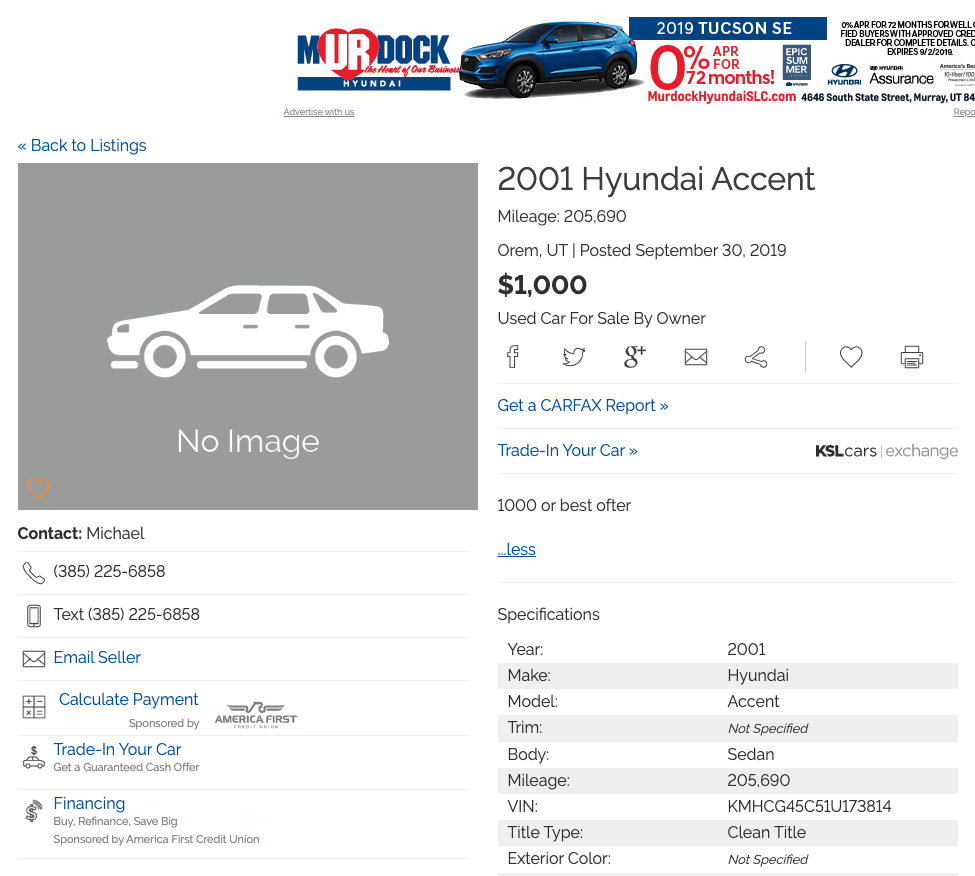 Out with the trash
Getting a little picky here: This 2016 Corolla is all polished up but is photographed in a dirt lot by a dumpster. Take a tip from the car ad pros and don't shoot your car out back with the trash. View Listing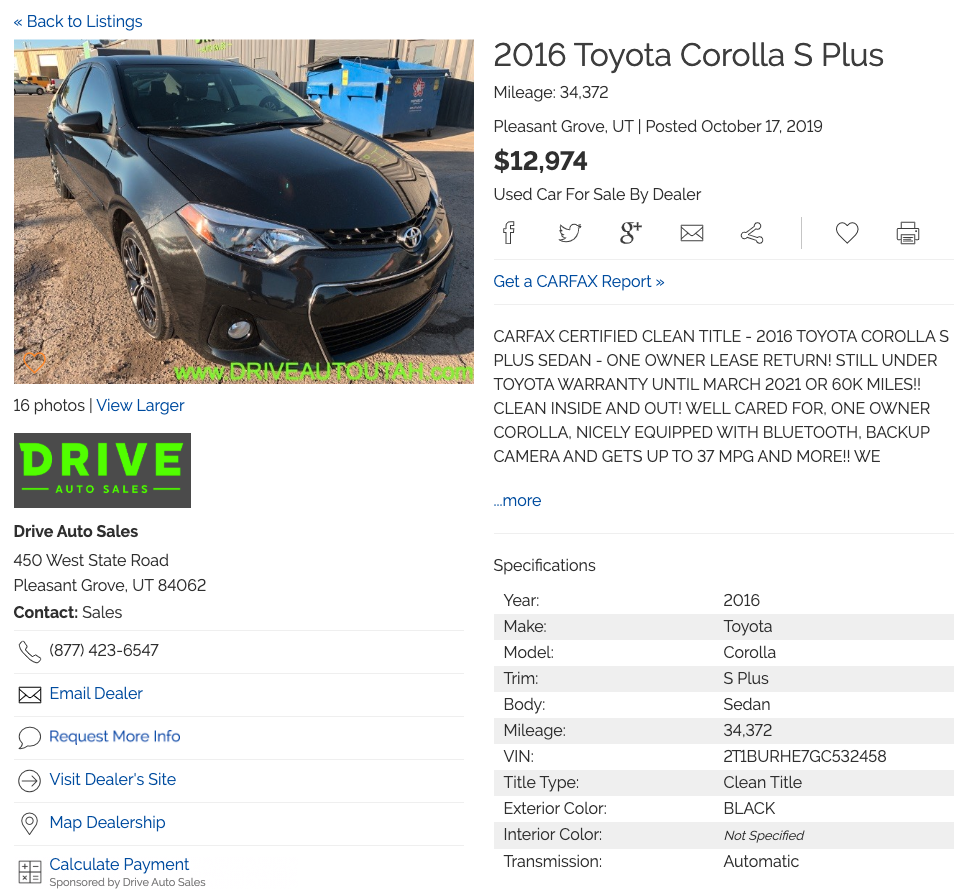 Jumping Freestyle
Quoting the description of this 2005 Ford Freestyle: "When driving it jumps & im not sure what it is." It could be a motor mount, a miss in the ignition, or a poltergeist for all we know. Besides new tires, that's all the description you get. Photo tip: Shoot the interior with the door open, not through the window. View Listing
We won't do your bidding
This ad's for a 1974 Rolls-Royce with a fuel leak, which is only scary if you're a smoker. It calls itself a one-owner, which is fine, even though that owner hit something with the front fender. Our issue is the description's closing: "No reserve, happy bidding." Perhaps they've mixed up KSL Cars with another site that uses an auction format. View Listing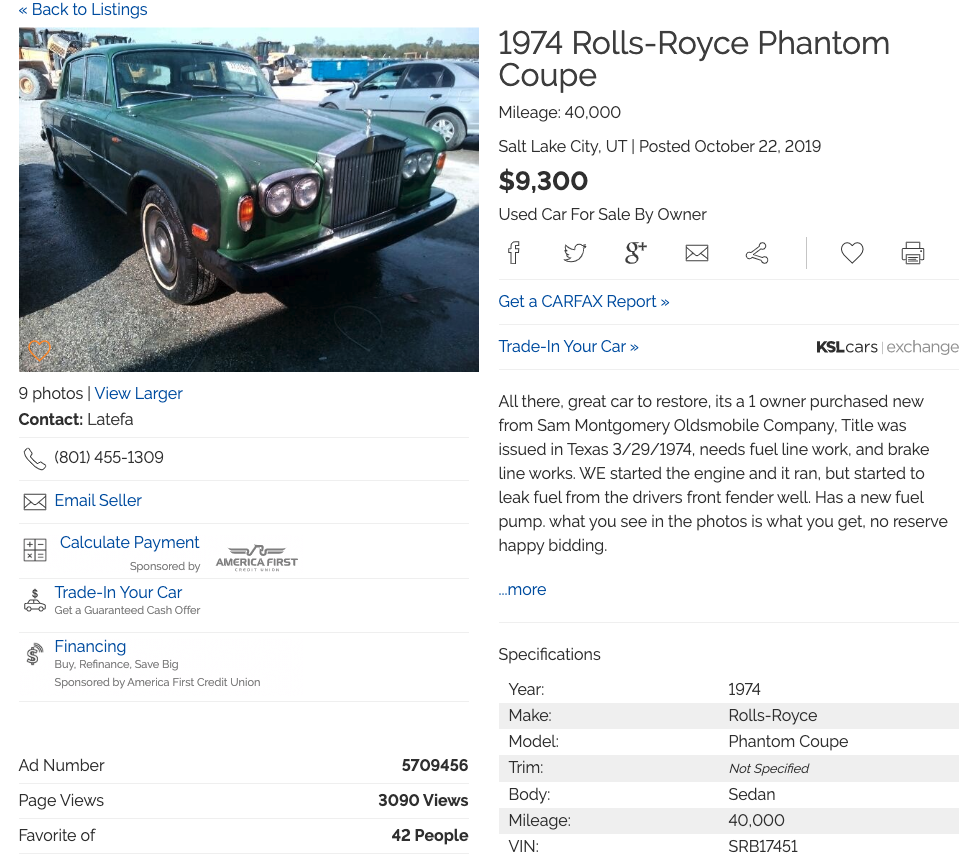 All bad Aveo
The owner says "Scooty Puff Jr. was involved in a tragic accident and needs facial reconstruction surgery and a loving home." Cute, but the listing goes on to say that Scooty Puff Jr. had great maintenance. The frightening thing is that all three photos only show the damaged parts of Scooty Puff Jr. Is that all you want us to remember about loveable Scooty P? We're sure S-P Jr. has plenty of redeeming qualities, but we can't see them, and maybe that's why the lil' Puff has been on KSL Cars a month now.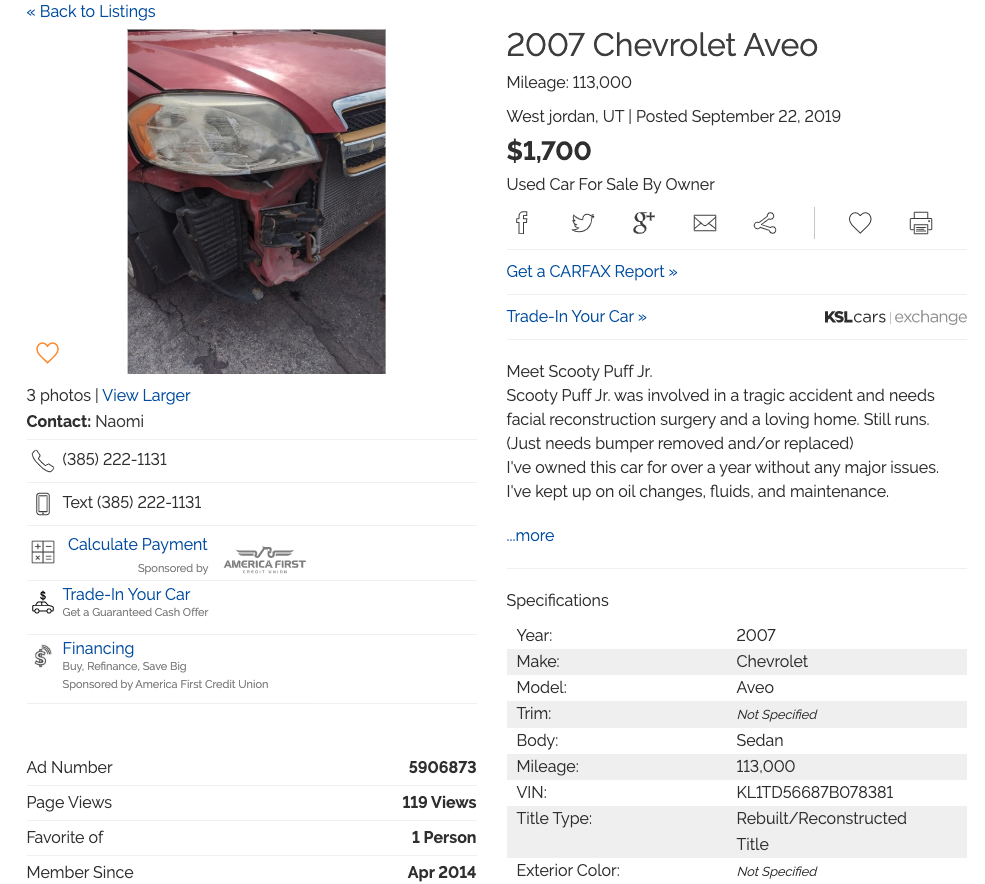 Enigmatic Acura
First, the photos for this 2008 Acura TL Type-S (a great car) are all wide shots at a lake in the snow, but it was listed September 22, so we deduce they are not current. The seller's name slot says "A," so we'll assume he's into spy work. When describing the maintenance, A says "I use the most authentic parts because I want to keep it forever." That's exactly what a vampire would say. Something's not matching up here. Spooky.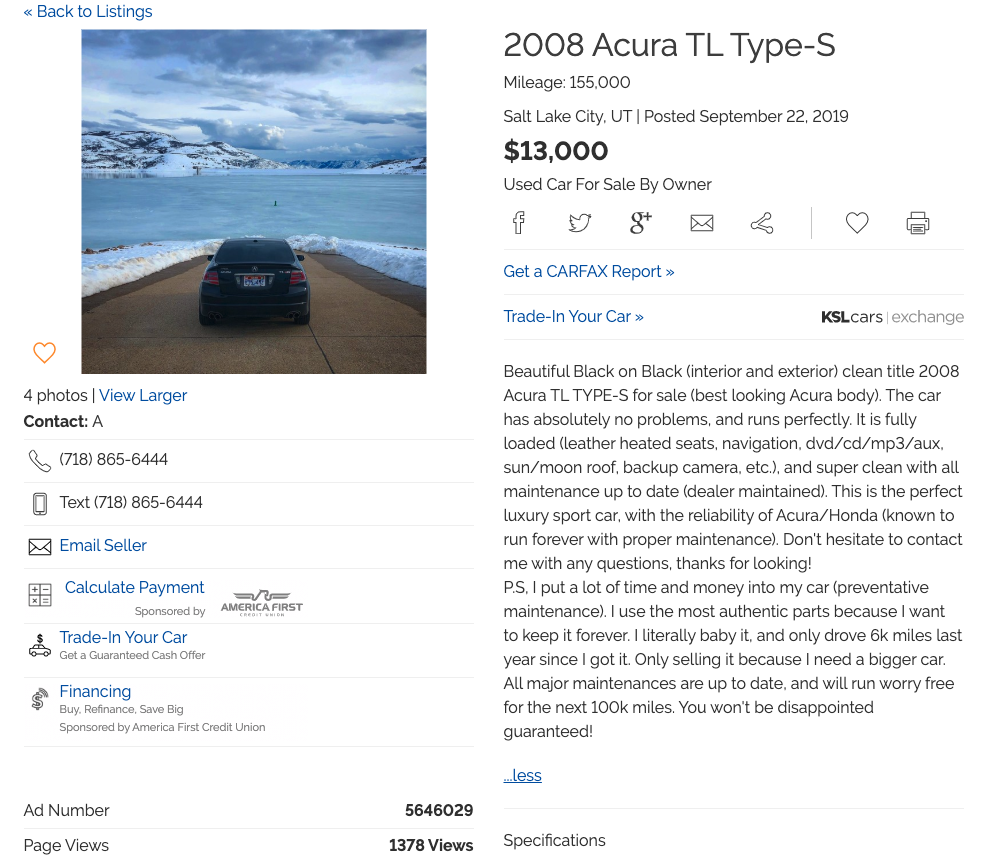 Toying with our brains
The seller of this 1981 Pontiac Firebird said: "I'm just toying with the idea of selling it." Is he teasing shoppers? Is he waiting for us to beg for it? Is this some kind of scary clown bit? He's also toying with the photo uploads: the pics repeat three times or so, making us question our sanity as we swear we've seen them before.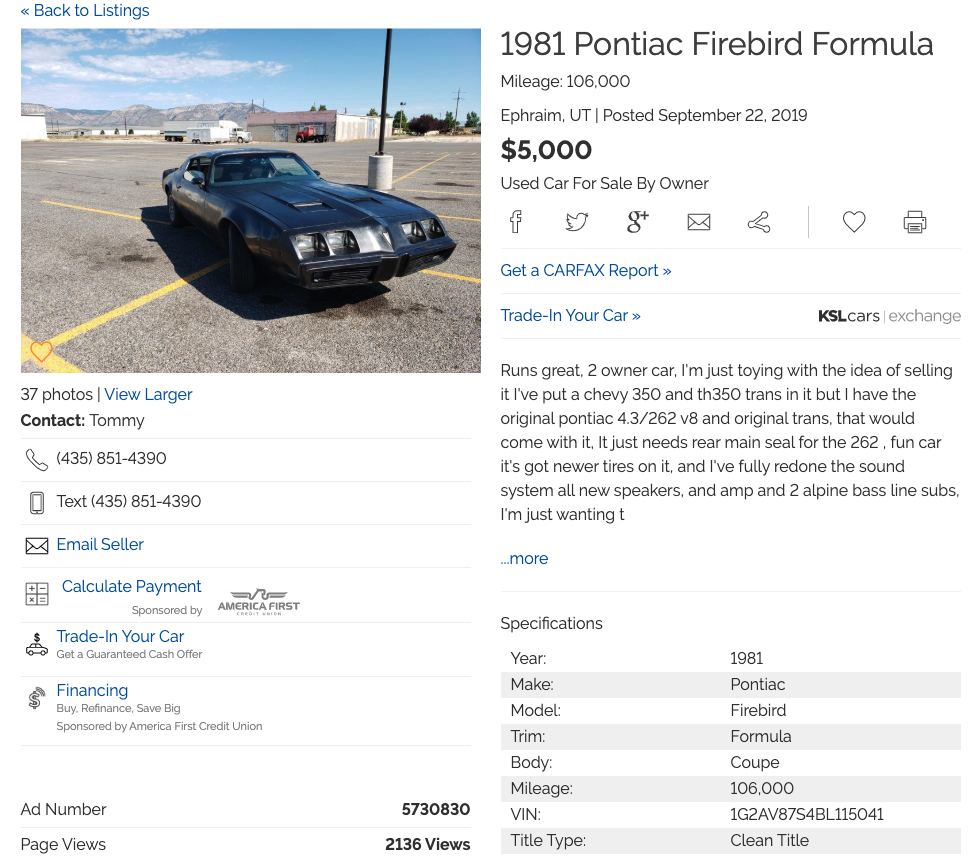 The $1 Tercel
Ahh, the strange world of $1.00 listings. It seems like a magical fairyland at first but has more of a Beetlejuice vibe the deeper you go. Those of us who start searches with $1.00 as the low-end parameter usually revise the search to at least $500 to avoid the place. This Tercel, which is open to trades, looks like a great commuter, but unless she's really letting it go for $1.00, it's hanging with the wrong crowd on searches. Maybe that's why it's been on KSL Cars since September 22.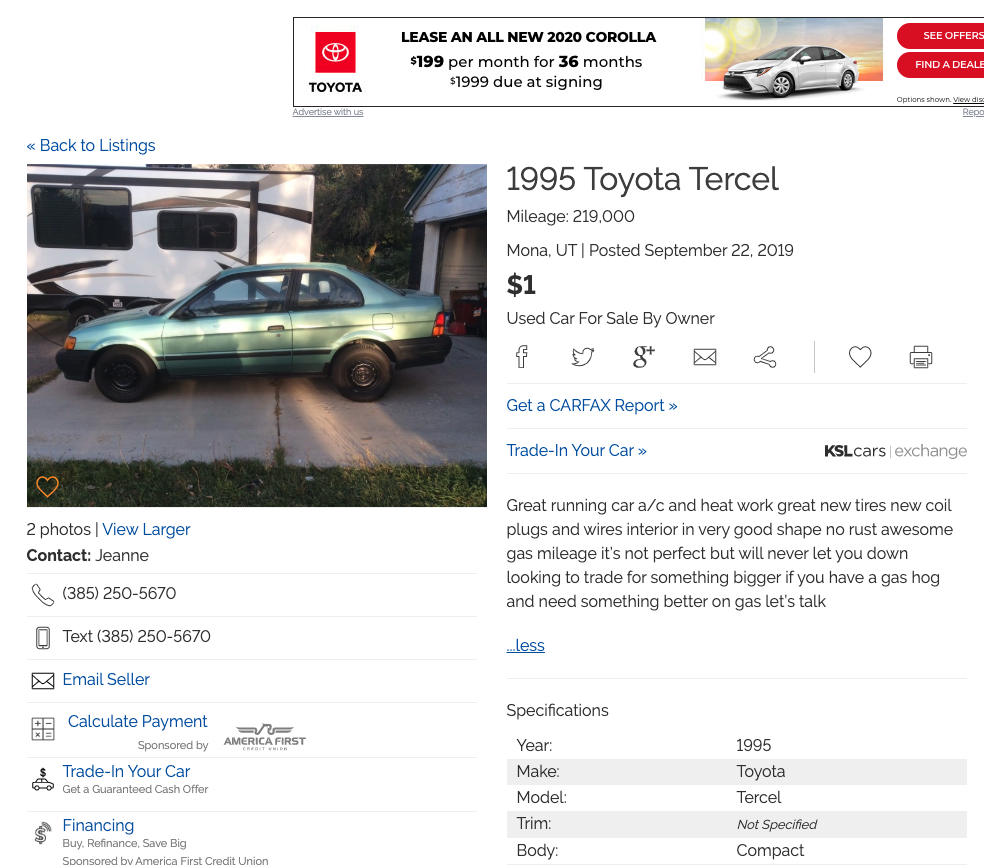 ×