Estimated read time: 3-4 minutes
This archived news story is available only for your personal, non-commercial use. Information in the story may be outdated or superseded by additional information. Reading or replaying the story in its archived form does not constitute a republication of the story.
SALT LAKE CITY — In case you had forgotten over the long offseason, Donovan Mitchell reminded everyone just how special he can be.
A two-handed, high-flying dunk after he sprinted around a screen?
How about back-to-back spin move layups with an acrobatic finish thrown in on the second?
What about rebounding his own miss before banking it in to give Utah a 4-point lead with under a minute to go?
Or the long floater with 21 seconds remaining to clinch the game?
Mitchell did that and more Wednesday in Utah's season-opening 100-95 win over the Oklahoma City Thunder.
The third-year star had 32 points on 14-for-22 shooting to make sure the Jazz (1-0) started off the season right.
"When you have teammates that trust you, coaches that trust you with the ball, it really makes it easy to keep going," Mitchell said. "Making the right plays – whether it's getting to the rim or finding Royce (O'Neale) on the three. I think that's one thing I've really put a lot of emphasis on is keeping it simple and not really doing too much."
A smile spread over Mitchell's face when the improved spacing got brought up. He didn't want to criticize his former teammates — teammates that he loved and respected — but there was no denying that with Bojan Bogdanovic in one corner, Mike Conley in another, Joe Ingles or Royce O'Neale roaming around and Rudy Gobert's dive ability that things were more open for Mitchell to attack.
"It makes the reads a little bit easier," said Mitchell, who also finished with 12 rebounds and three assists. He became just the fourth Jazz player to record 30 points and 10 rebounds in a season opener.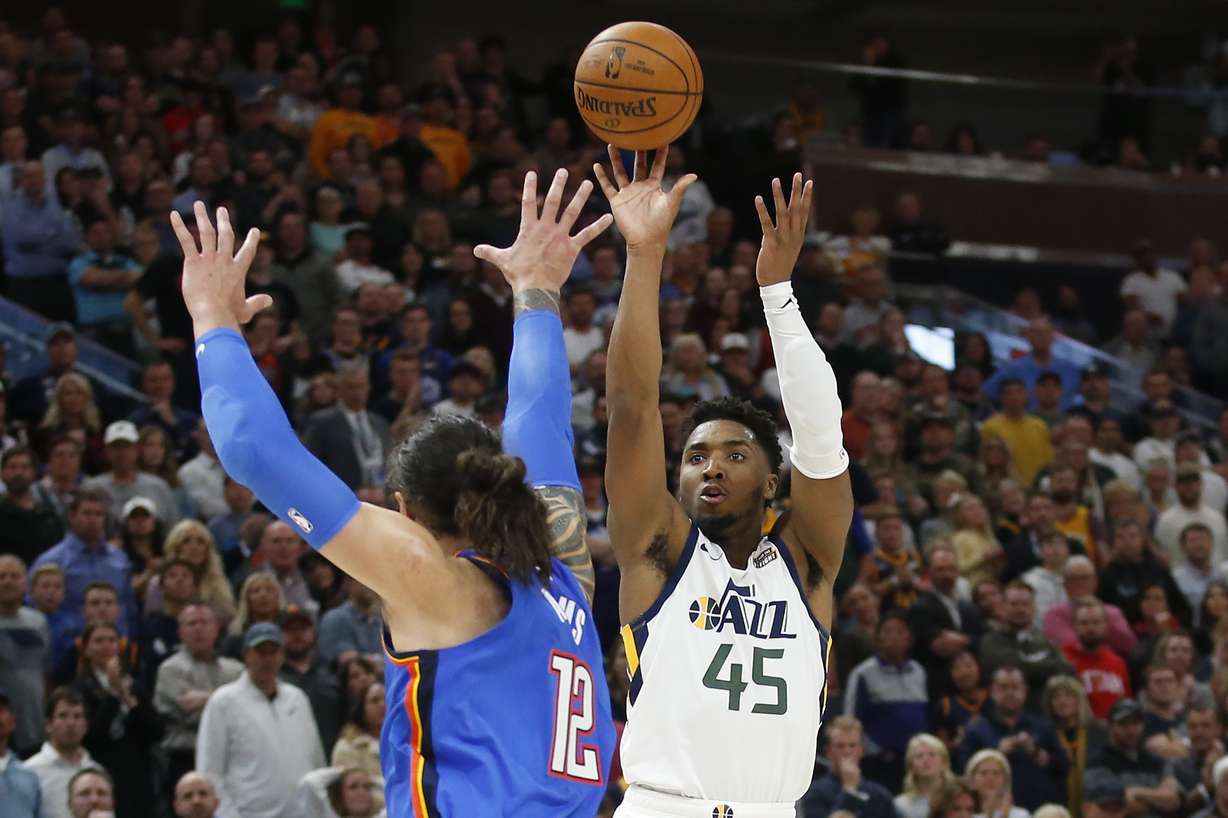 It makes opponents' lives' a little harder. The Thunder tried to take away Mitchell's shot from deep and the rim. When they actually succeeded at that, he made them from mid-range — especially late.
But it was a strange start for Mitchell. His first official field goal attempt didn't come until 6:29 left in the second quarter. But then Mitchell was, well, Mitchell.
He had the highlight play of the night when he went around a screen, dribbled by a defender and flew in for an explosive two-handed dunk to end the first half.
'Just being able to find a mismatch and just attack," Mitchell said of the highlight play. "It helps when you have (Rudy Gobert) down there because now the big has to decide — does he come up and help, does he stay with Rudy — and that's the indecision. So for me, it's just about seeing that."
That dunk seemed to kick start Mitchell's offensive game. He scored 22 points in the second half, including 14 in the fourth quarter to lead the Jazz to the win. And he was the one that the Jazz leaned on down the stretch — especially as Mike Conley struggled to one of the worst nights of his career, going 1 of 16 on the night in his Jazz debut.
"I might have been too excited for the first game or something but if I'm a betting man I probably won't do that again," Conley said of his off night.
But the Jazz would probably bet on Mitchell replicating his performance. Mitchell scored 10 of the Jazz's final 15 points as they held off the Thunder.
"He's our leader," Bojan Bogdanovic said. He's one of the best backcourt players in the league."
Bogdanovic fought through a turned ankle to score 16 points, Royce O'Neale had 14 points and Emmanuel Mudiay had 12 off the bench to bring some scoring the point guard position.
Gobert, meanwhile, finished with 7 points and 14 rebounds and anchored a defense that was once again able to lock down an opponent.
"Rudy gave himself for a large portion of the game and defended like he's capable of doing," Jazz coach Quin Snyder said. "It's just a very, very good win for this group."
×
Most recent Utah Jazz stories