SANDY — As far as league structure and postseason qualification, Saturday night's women's soccer season finale at Rio Tinto Stadium didn't mean much.
But it did mean at least one thing: the chance for Utah Royals FC to snap a four-match losing streak.
Consider that mission accomplished.
Christen Press and Amy Rodriguez each scored a first-half goal to lift Utah Royals FC to a 2-1 win over the Houston Dash in front of an announced crowd of 9,513 fans during Saturday night's season finale.
Kristie Mewis added a goal for the Dash, but the result held for Utah (10-10-4, 34 points) to snap its season-long losing skid on the final night of the regular season.
It was the kind of performance the Royals could have used in the second half of the season, or at least the last month, when do-or-die for playoff positioning became the norm.
In that sense, a touch of bittersweetness surrounded the victory.
"In a way, we kind of feel like we let the playoffs slip through our fingers," Rodriguez said. "There were parts of the season where we played great: we were in form, we were scoring goals and doing the right things. And then we let it slip away from us.
"Right now, we're all disappointed. We wished we could've brought a championship, or at least made the playoffs. We think this city deserves it, and we plan to do better next year."
🚨 @ChristenPress early goal 🚨

1-0 | #UTAvHOUpic.twitter.com/AbVpnATuF2

— NWSL (@NWSL) October 13, 2019
The Dash (7-12-5, 26 points) and Royals had already been eliminated from the four-team playoffs in the nine-team National Women's Soccer League. So Saturday's match didn't have much on the line, other than pride, respect and getting a jump on next season.
But Utah took over the game early, with Press' goal in the third minute and Rodriguez adding another in the 23rd of a match where Houston struggled to hold on.
Press opened the scoring early into the match to give the Royals a leg up. The U.S. international just missed on a long cross from outside the box, but Katie Stengel was there to toe-poke the rebound back to Press for a goal inside the far post.
Press had a hand in doubling the advantage, too.
The Royals' leading scorer dished an open look to Vero Boquete around the top of the box, and the Spanish midfielder hit Rodriguez in stride before finishing off past Houston goalkeeper Jane Campbell in the 24th minute for a 2-0 advantage.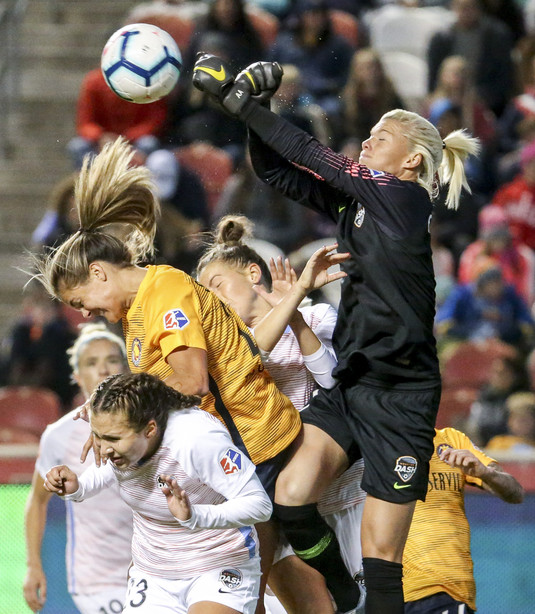 "We know we can do that. We do that in training a lot," Royals midfielder Lo'eau LaBonta said. "But it's unfortunate when you don't execute in the game. We missed a lot of opportunities, as well.
"But it was great to put on that attacking show for our fans, the ones who come out every week. We were doing it for them at the end of the day."
Utah outshot the visiting Dash 10-2 in the first half, including a 6-1 margin in shots on goal.
The team showed, in many ways, the kind of freedom that coach Laura Harvey wishes her side had illustrated all season in a consistent fashion.
"What pressure have we got today? Just personal pride. But in the last four games previous to this, every single one of those games mattered," Harvey said. "I think we have to look at that: Are we putting too much pressure on ourselves? Do we prepare differently when the pressure is on?
"Maybe. And those are the things we have to dig deep into."
The offseason starts now for Utah Royals FC. And it promises to be an offseason with some form of change — new players, new additions, and a strong possibility of new teams in the NWSL.
But will it feature a new coach in Sandy? Harvey had something to say about that, as her name appears high on the list of potential candidates to fill the head coaching vacancy of the U.S. women's national team.
"I won't be the women's national team coach," she said. "I can say that."
Several minutes later, the England-born head coach poked her head into the press room with a small addendum of clarification.
"And my plan is to be here in Utah," she added.
×
Photos
Related Stories