SALT LAKE CITY — Adelaide 36ers coach Joey Wright knew what his team was walking into.
"I mean, it'd be awesome to go out there and win, but realistically, that's not going to happen," Wright said before the game.
It certainly didn't.
Even without Donovan Mitchell, Rudy Gobert or Mike Conley, the Utah Jazz looked just as advertised on Saturday in their preseason opener, beating Adelaide 133-81 at Vivint Arena.
It had been over five months since the Jazz last played a basketball game — five months the Utah front office has used to turn the team into a possible title contender. So while it was against a pro team from Australia, you can forgive fans for getting a bit over excited over a few things they saw Saturday.
Like when Bojan Bogdanovic nailed his first 3-pointer; or when Jeff Green stole the ball and flew in for a tomahawk slam; or when Royce O'Neale was the best player on the court for the majority of his minutes; or when Miye Oni seemed to float in the air as he waited for a lob pass that he slammed home.
But wait there's more: Like how the Jazz put up 44 points in the third quarter; or how Tony Bradley put up a double-double; or how Jarrell Brantley — headband and all — made an outstanding off-hand pass through traffic.
Or ... OK, you get the point.
The Jazz were good — dominant even. Utah shot 55% from the field and had seven players in double figures as they easily carved up the overwhelmed 36ers' defense.
"I thought we played the way that we wanted to play from the beginning of the game as far as guys moving the ball and attacking collectively," Jazz coach Quin Snyder said. "I thought we started to defend a little better as the game went on and then, really, I thought we had some breakdowns at certain points; but everyone was focused on guarding when they came in the game.
"I was really happy with the fourth quarter, the way those guys played together and defended and made all of those minutes important."
Saturday won't be what the Jazz look like for the rest of the season, though. Nigel Williams-Goss won't be the starting point guard often (if ever again) and Georges Niang won't end up with more minutes than Jeff Green many times, but the game — no matter how lopsided it got — did provide some things Jazz fans should get used to seeing.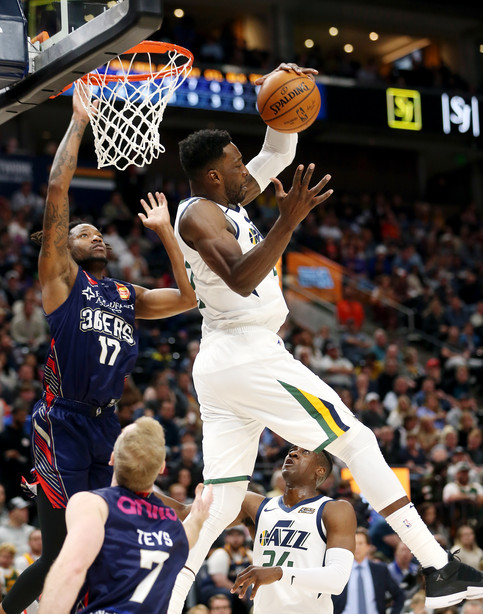 Green will be used to push the tempo, using his unique blend of size and skill to create mismatches in transition, which was seen almost immediately when he stole the ball early in the game and took it in for a towering dunk. He used those types of plays to score 16 points on 6-of-8 shooting.
Expect more of those, and expect the Jazz to use Bogdanovic's playmaking too.
The Croatian finished with four assists in 20 minutes of play as the Jazz allowed him to work off the dribble. Ed Davis lived up to his reputation by grabbing seven rebounds in his 18 minutes — he knew how to get boards, simple as that.
Those were the new additions the Jazz fans came to see, but the best player on the court may have just been a familiar face: O'Neale.
O'Neale came off the bench to score 12 points and dish out six assists. After a rough start for the Jazz, O'Neale came in and things immediately turned into a rout.
"I always want to keep getting better, be the best person I can be, the best player I can be," O'Neale said. "I'm gonna fight every day and fight for the team."
There weren't a lot of negatives Saturday — and considering the opponent, there shouldn't have been. That means the Jazz left Vivint Arena feeling good about the future.
"Defensively, we can be something special," Green said. "We just have to continue to communicate, continue to get better, not get content. And offensively, we have scorers on this team. We have numerous guys who can put numbers on the board. Defensively, I think, is where we're going to be very, very special."
×