SALT LAKE CITY — The Utah State Aggies fell 42-6 to the No. 5 LSU Tigers Saturday morning in Louisiana.
The matchup was unlike the recent Power-Five games Utah State (3-2, 2-0 MWC) has seen in which they've managed to keep the game close. But the only two scoring plays the Aggies came up with were field goals from Dominik Eberle.
Utah State quarterback Jordan Love threw for 130 yards and three interceptions on 15-of-30 passing in the loss.
LSU's domination started within the early minutes of the game with a drive that included a fumble recovery and a holding penalty that ended with a 7-yard touchdown pass from Joe Burrow to Derrick Dillon. The Aggies answered two drives later when Cameron Haney got an interception an Eberle hit a 30-yard field goal.
The Aggie defense got a stop on the next drive but scored again the same way, with an Eberle 47-yard field goal. That would be the last time Utah State put any points on the board.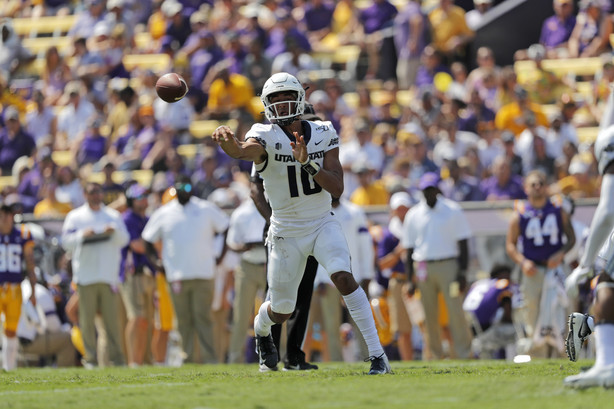 The Tigers picked ramped up their scoring three minutes into the second quarter on a touchdown to make it 14-6.
From then on, the game seemed to follow a simple pattern: Love would get pressured in the pocket and throw a frustrated pass, and then he would find a receiver a play or two later to complete a pass before a turnover (in the form of interception or sack) would follow. LSU would seemingly answer each time with a touchdown.
The rushing game in the second half proved unfruitful for Utah State and LSU took off. The tempo offense that usually comes from the Aggies was stunted by the Tigers and the defense finally worn down thanks, in part, to an injury to Tipa Galeai.
Utah State receiver Siaosi Mariner also joined the injured list after an apparent shoulder injury. The beating in the score was nearly mirrored by the three players whose playing time was cut short in the game due to injury.
Joe Burrow ➡️ Ja'Marr Chase 🔥 pic.twitter.com/cgqBzgupYB

— SEC Network (@SECNetwork) October 5, 2019
Utah State struggled to get out of three-and-out situations throughout the duration of the game as LSU continued to score. Other than a missed LSU field goal and a forced punt in the fourth-quarter, there were no real Aggie highlights to sugarcoat the loss.
The defense did finish with twice as many total tackles on the game and two sacks. David Woodward led the team with 16 of the team's 90 total tackles.
The Aggies will have a bye next weekend before facing Nevada at home on October 19.
×
Related Links
Related Stories