BACK ON THE BANDWAGON — College football is back.
No, we're not talking about another preview of this week's season opener between BYU and No. 14 Utah (there will be plenty of those to come in the next 72 hours). We're not even talking about opening games for 98% of the sport.
But Week Zero is here, and between Florida-Miami and Arizona-Hawaii, what a way to open the 2019 campaign. Not even Lee Corso — aka the Guy Who Picked Utah to play Clemson in the National Semifinals — could have dreamed up a better first Saturday.
Here are some of our favorite moments from Week Zero. As always, click the video above for more Great Clips of the Week.
Welcome back, college football
College football returned to television sets around the country with a bang Saturday afternoon.
No, we're not (just) talking about Villanova's 34-14 win over Colgate, or Youngstown State's 45-22 thrashing of Samford.
For fans of the Football Bowl Subdivision's "Week Zero," there was plenty to like — and that's not even mentioning Florida's 24-20 win over Miami (we hope you all took the "under").
In the nightcap, Arizona quarterback Khalil Tate had one final play to make something happen and force overtime in the Wildcats' season opener at Hawaii.
With time running down, Tate broke away for the end zone, hoping to make up the 31-yard difference for overtime. He spun to his right, dived upfield and headed for the goal line — until Hawaii's Kalen Hicks and Manly Williams, the defensive end who trailed Tate after missing on a sack, converged on the quarterback to stop him at the 1-yard line.
Yes, that's how close "Pac-12 After Dark" came to "Pac-12 Overtime."
Instead, Hawaii is celebrating a 45-38 win — and Rainbow Warriors coach Nick Rolovich is celebrating with the ultimate "scoreboard" chant on Twitter.
Never change, college football. Never change.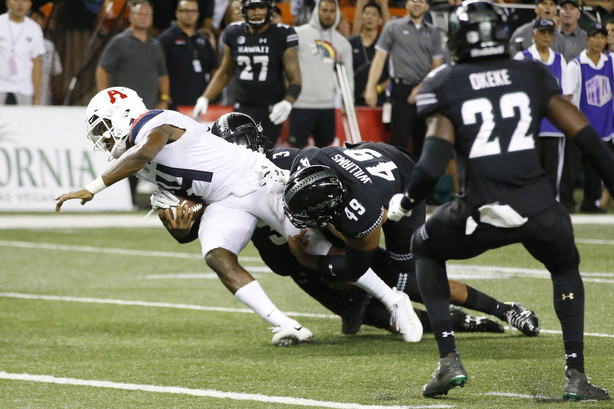 One lucky break
Rory McIlroy won the FedEx Cup title by shooting 18-under par at the Tour Championship, finishing four strokes up on his nearest competitor.
The native of Northern Ireland is the second golfer to win multiple FedEx Cup championships, and he was given a $15 million bonus for the feat — about $5 million more than when he won the same Cup three years ago.
He might want to give that $5 million to a well-placed drain cover in Atlanta.
McIlroy's good — there's no doubt about that — but sometimes it really is better to be lucky.
Utah lacrosse assistant pulls off nutmeg
By day, Marcus Holman is an assistant coach to his father for the University of Utah men's lacrosse program. But every summer, the younger Holman heads out to play professionally.
This season, he's been doing that with Archers in the first-year Premier Lacrosse League. After this week's game, it's easy to see why the 28-year-old attacker still has lacrosse in his blood.
Holman scored a ridiculous goal for the Archers in an 11-8 win over Whipsnake in Albany, New York. He put one between the keeper's legs.
The goal didn't just help the Archers to a win, improving their record to 2-4 in the league's inaugural season; it also helped Archers qualify for the postseason.
Holman's team will face Redwoods in a first-round playoff game Sept. 6 in Columbus, Ohio. Whipsnakes will face Chaos a day later, with the winner earning a second-round bye and advancing straight to the PLL championship.
×
Related Stories