SALT LAKE CITY — In late July, Jazz fan Chad Crowell sent a petition signed by over 2,000 Jazz fans to Gail Miller. The plea? Please build a statue of Jerry Sloan.
On the southeast corner of Vivint Arena, John Stockton and Karl Malone have been immortalized by bronze effigies. But Sloan — who was just as much, if not more, synonymous with the Jazz as that Hall-of-Fame duo during his 23 years as head coach — hasn't had the same honor.
"It's hard when he doesn't want it," former Utah Jazzman Bryon Russell said, thoughtfully.
To be clear, Russell doesn't know exactly what his former coach thinks about a statue being erected in his likeness, but after nine seasons of getting challenged and pushed by Sloan, he has a pretty good idea. And it's the same one that everybody else who knows — or even know of — Sloan has, too.
Sloan has never made it about himself; not during his time as a coach or after his retirement.
During his Hall of Fame speech, he talked about all the people who surrounded him — his family, his coaches, his players, his assistants, the Jazz owners — not his accomplishments. And when the Jazz chose to honor him by hanging a banner, he didn't agree without some protests.
A statue in front of the arena, even if it was alongside his top two players, doesn't seem like something Sloan would be interested in.
That selflessness, one of his defining characteristics and one of the reasons a fan base is hollering for a permanent edifice, is also likely the reason it hasn't been built yet.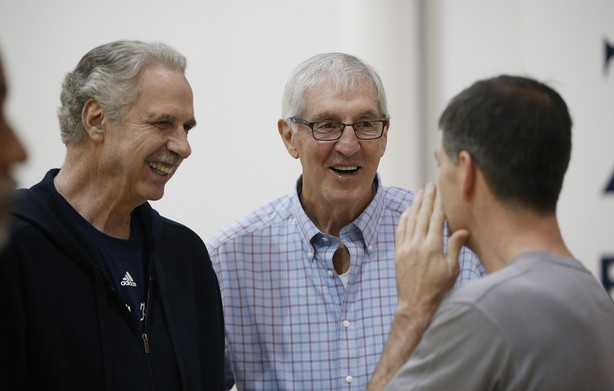 But to Russell, it's something his former coach deserves.
"I'd give him one," Russell said. "I really would. He made it possible in the 90s. My hat goes off to Jerry Sloan."
He won't get many arguments from fans up and down the Wasatch Front. Sloan was instrumental into Utah's rise to a Finals team. It was his plays and his system that Malone and Stockton ran to perfection and it was his no-nonsense approach to the game that not only commanded respect from but also helped raise a generation of Jazz fans from the sidelines.
He might not have been the most successful coach, but he was the most consistent — and the most loyal. That meant the world to Jazz fans.
Sloan's health has been deteriorating over the past half-year as the effects of Lewy body dementia and Parkinson's disease take their toll. He used to be a regular at Vivint Arena, making opposing players double-take when they saw him walking through the halls and eliciting loud cheers each and every time he was shown on the arena's large video boards.
When his health started to keep him from coming, fans noticed.
"I know he doesn't want us to be pouting," Russell said. "That's him, 'Don't pout.' I just wish him the best. I wish he didn't have to go through the problems that he is going through. He knows that I love him. I really do love him as a person and as a coach."
It's his health that has so many fans calling for a statue to be built sooner than later — they want him to still be around when it's unveiled. Not so he can see it, necessarily, so they can celebrate with him.
Guys, just got the mail and look what was waiting. Don Stirling took the time to respond to our petition for coach Sloan's statue. Can't say enough about what a first class organization the @utahjazz are 💛@spencechecketts@DJJazzyJody@andyblarsen@E_Woodyard@Lockedonsportspic.twitter.com/5tKuaL7buW

— José Inglés (@CrowellChad) August 15, 2019
"We are aware of the myriad fans throughout Utah who desire a Coach Sloan statue to be erected," Utah Jazz executive vice president Don Stirling wrote in a letter in response to Crowell's petition. "The historical impact of Coach Sloan to our team, our organization and our community is towering. Right now, our thoughts and prayers are with Coach Sloan his wife, Tammy, and the Sloan family."
Currently, there is only one NBA head coach that has a statue built from them: Boston great Red Auerbach. It takes accomplishments, longevity, and a lasting impact on a team and city — everything that Sloan is.
"I consider him one of the best coaches ever — that's with a ring, without a ring," Russell said. "Rings don't determine to me who is better than who."
So what would a Sloan statue look like? With so many memorable looks, it's hard to tell.
"I wouldn't want him crossing his arms," Russell said. "I probably would want him pointing and looking. I hope it's a good one. I hope it's a real good one."
×