SALT LAKE CITY — Sitting before family and peers at his high school in Lawndale, California, while hundreds of onlookers joined online, Jordan Wilmore patiently awaited his turn to share the news.
After a recruiting process that saw the four-star running back decommit from USC and narrow his decision down to three other schools in the Pac-12 — all of which had a seemingly equal chance at the 5-foot-8 recruit — it all came down to an afternoon decision on National Signing Day.
Arizona State. UCLA. Utah.
The buildup to that Wednesday in February seemingly gave Arizona State the odds-on favorite to be his collegiate destination. The Sun Devils were his final official visit the weekend before signing day, and they made a great impression.
But UCLA and Utah remained strong contenders and both were hopeful he'd eventually don their respective hat when he announced his decision and signed his letter of intent.
"First and foremost, I'd like to thank God, because without Him none of this would be possible," Wilmore said, finally addressing the crowd. He looked confident and calm despite his life-changing decision.
"For the next three or four years — this is kinda hard, I'm not gonna lie — I will be attending the University of Utah," he said as he slipped on a Utah polo shirt and added the Utah hat atop his head.
The decision was made; Utah had its next running back for the future.
To the Utah coaching staff, it was a major win, as they've too often become familiar with an athlete in a similar position and high ranking don a rival school's hat. Now it was their turn to gloat as they looked to the future.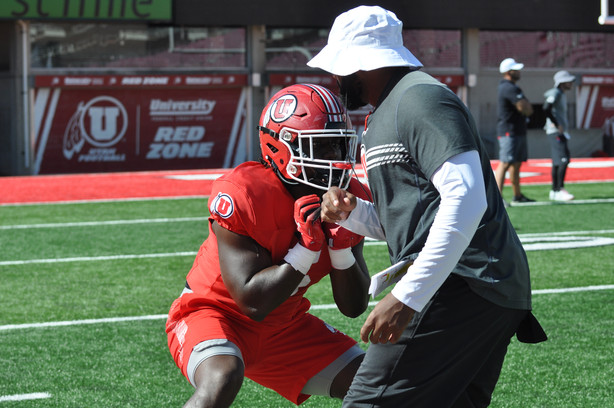 And already in his freshman campaign, the young running back is turning heads in fall camp. His head coach, Kyle Whittingham, a calculated man that doesn't like to overstate someone's ability or potential, has repeatedly praised the freshman's ability showcased in his first season with the program.
"Jordan Wilmore was what we thought he was," Whittingham said, speaking about how he did after the team's first scrimmage of the season. "As we watched him live, he was very good."
But Whittingham doesn't want to get too carried away, always measured when talking about his players. Wilmore is no different, even if he is getting some early praise from his head coach.
"It's still early," Whittingham said. "I don't want to give him too much right now because there's still a lot of work to be done, but he's been very impressive so far. Still got a lot of work."
Still, Wilmore has gotten opportunities in fall camp to run with the first-team offense to showcase his talent, even though there are proven guys ahead of him in the depth chart. Though he may be young, Wilmore attacks the game with a physicality that resembles the incumbent starter in Zack Moss.
Coming out of high school, Wilmore was the No. 4 rated all-purpose back, according to 247Sports Composite. He rushed for over 2,000 yards in each of his last three years of high school and led his team to a California Interscholastic Federation and state championship in his final season. That got him named the CIF Southern Section Division 5 Offensive Player of the Year in 2018.
"He's a natural runner. He's just got great instincts," Whittingham said. "If you watch his high school tape, you know over 6,000 yards. I don't care who you are, what level you play, if you're rushing for 6,000 yards that's an accomplishment. He was in a good league down there. He's got physicality to him, he's 205 pounds on about a 5-foot-9 frame. He's running between the tackles well, he's got speed to get outside."
And even though the game is still coming at him fast, and the speed has been the biggest adjustment to the collegiate world for him, Wilmore remains humble and focused on "showing them I can play." As a four-star recruit with a lot of attention on his ability to acclimate to the next level, he knows the spotlight isn't going to be easy.
"I know people are watching me," Wilmore said. "Some people want me to do good, some people want me to do bad. And honestly, that can mess up an incoming freshmen's mindset, like having them jacked up, like just not studying his plays and doing the little things to get better on the field. But I'm just focused on being a better person here and a better player."
Whether he gets playing time this season remains to be seen, but the coaching staff is encouraged by what they see and his name will continue to be topic of discussion leading up to Utah's first game of the season.
×