SANDY — A single plant, almost looking like it was a carryover from the office's previous tenant, sat alone on a table.
Those two things were really the only signs that the corner office near the top of the Larry H. Miller headquarters in Sandy belonged to someone.
That someone: New LHM Group chief executive officer Steve Starks.
"I walked in a few minutes before you did," Starks told a small group of reporters gathered in his new office on Wednesday.
Starks has been with the company for the last 12 years; and over the last four-plus years, he's served in one of the LHM group's most public positions: president of the Utah Jazz and the company's sports and entertainment arm.
If Starks looks north from his new office, he might just be able to see the place that will define his tenure as Jazz president.
In September 2017, a concert was held at Vivint Arena for LHM employees and construction workers. The concert served as a celebration. It marked the completion of an ambitious $125 million arena renovation that updated everything from the concourse to the seats to the sound system, and plenty in between. And it was all done in just 129 days.
"The highlight for me was when the arena opened and we had that welcome back concert after the renovation," Starks said. "Partly because so much time and effort and energy and stress went into that project.
"Our team worked together very collaboratively; we were creative, we had tremendous support from Gail (Miller) and the family, the contractors and subcontractors came together. For me, that's probably the defining moment of my experience (as Jazz president)."
That was the highlight moment — not the thrilling playoff victories, not seeing Donovan Mitchell ascend into a young star or Rudy Gobert win back-to-back Defensive Player of the Year awards, though he enjoyed those as well. The opening of the renovated arena was meaningful because of what it gave to the community: a place to gather and create bonding moments and lasting memories.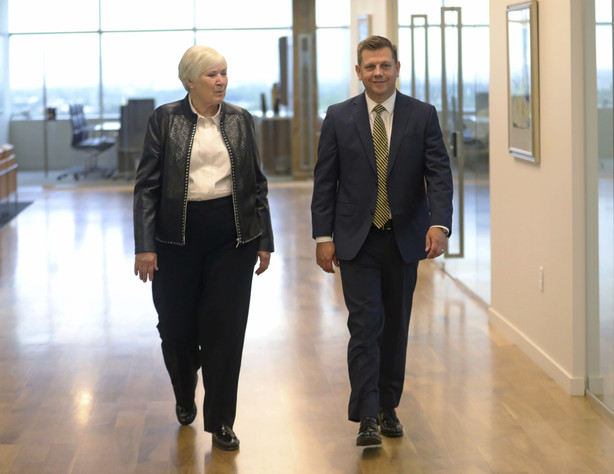 "We feel a sense of stewardship because so many people create experiences and memories at those venues," Starks said. "Whether it's going to see a premiere movie for the first time with your kids, or going to the ballpark on a summer night, or going to a concert or Jazz game. Those are really important to our community, so we take that very seriously."
Starks' tenure as Jazz president will have a lasting impact.
There's the updated arena, which allowed the Jazz to bid for another All-Star Game ("We hope to find some good news here before not too long," Starks said) as well as host NCAA tournaments and be a location for potential Olympic events.
There's the renovated Jazz practice facility that has been raved about by just about every player — current Jazzman or not — who has been through it.
And there's the success the Jazz have had with him at the helm.
"I think of where he's brought the team to; I mean we've got some exciting things ahead of us," Miller said when asked about Starks' legacy as Jazz president. "Hiring Quin Snyder, and bringing in players we have, and watching and supporting what they're doing: It couldn't have happened without Steve. That's part of why he's going to stay involved, just because there's a continuity. You don't want to ruffle feathers at this point in the game. It's very important that we keep things steady, and go into the season with that confidence that we've built."
Starks will continue to stay heavily involved with the Jazz as CEO — and admittedly more so than his predecessor Clark Whitworth was. Starks will still be an alternate member of the NBA Board of Governors and will continue to assist in basketball operation decisions just as he did as team president.
"Because we have worked together as a team — Dennis (Lindsey), Justin (Zanik), Quin and I — I think everyone is excited that that continues," Starks said. "We want to support them. We want to give them every resource they need, every opportunity to hit our goal, to hand the trophy to Gail Miller at center court after winning the NBA finals."
Don Stirling will be the interim president until the company finds a permanent replacement for Starks. Stirling has been with the company since 2013 and was promoted to executive vice president of LHM Sports and Entertainment last year. He has a long history in sports, including working for the NBA league offices, the Denver Nuggets and the Salt Lake Olympic Organizing Committee.
"He's a very steady hand on the wheel," Starks said.
×