Estimated read time: 6-7 minutes
This archived news story is available only for your personal, non-commercial use. Information in the story may be outdated or superseded by additional information. Reading or replaying the story in its archived form does not constitute a republication of the story.
This story is sponsored by MountainStar Healthcare. Our hospitals and outpatient centers deliver high-quality, cost-effective patient care – when and where it's needed.
On any given Saturday, many parents across the globe spend their mornings sitting in bleachers, lawn chairs and on blankets in the grass, cheering their little ones on. Utah parents are no stranger to the life that is kids sports.
In fact, more American children are participating in organized sports than ever before, and at younger ages, says the American Academy of Pediatrics (AAP). Encouraging children to participate in sports is a great way to help them cultivate talents and sportsmanship while maintaining a healthy lifestyle.
But even though participating in team sports is generally healthy for children, orthopedic experts at MountainStar Health note it's important to approach each game and practice with injury-prevention in mind. Something that can be a fun activity can quickly turn sour if your child is injured.
Injury statistics
Not every kid participating in sports is going to get injured, but it's not uncommon, either. The Centers for Disease Control and Prevention (CDC) is reporting an average of 8.6 million sports and recreation injuries per year; the highest rate is among children between 5-14 years old.
Of those injuries, local doctors are seeing a trend.
"Ankle sprains are one of the most common injuries in kids. Some ankle sprains get better within a few days, but some can take up to three months to heal," says Dr. Andrea Matich, a sports medicine physician at MountainStar Peak Orthopaedics. "It's extremely important that kids or adults allow the ankle to heal fully before getting back out there."
Clearly, kids are out playing more and unfortunately, getting injured more. But perhaps instead of changing how often kids play, changing how they play is the answer.
The American Academy of Pediatrics has some useful tips for parents looking to prevent their kids from getting injured on the field or court:
Appropriate equipment
Ill-fitting shoes and safety gear can cause many preventable injuries. Check in with your child throughout the sports season to make sure all cleats, shoes and equipment fit comfortably. Although shelling out the cash for new and updated safety equipment seems like a hefty price to pay, consider the cost you might end up paying if your little one gets injured. A $40 pair of shoes is cheaper than a broken ankle. Make sure your child wears any and all suggested safety equipment.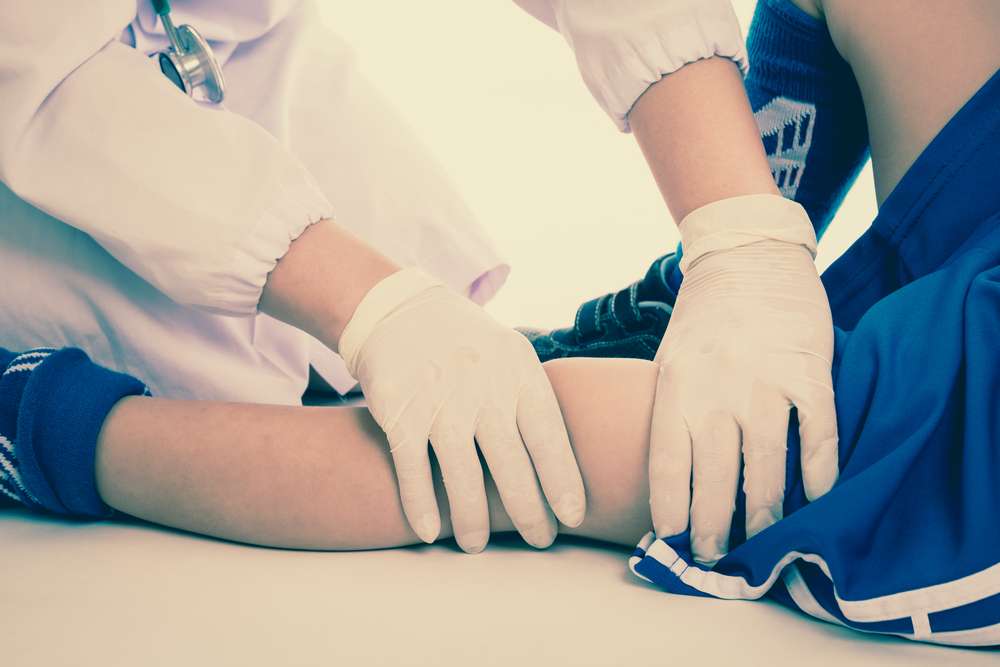 Maintenance and proper playing surfaces
Many injuries happen because the playing field, court or surface isn't properly maintained. For example, you might notice potholes in the grass for soccer and lacrosse fields or floorboards buckling on a basketball court. Teach your kids to avoid those problem areas on fields and courts, and when possible, consult with the coaches or facility staff to fix the problems.
Avoid surfaces like asphalt and concrete for basketball, and instead, opt for more forgiving surfaces like an indoor gym.
Proper adult supervision
Whether the kids participating are five or 15 years old, it's vital that parents and coaches are committed to their safety. Do your research before signing your kids up for a team sport. Make sure the coach enforces all rules and regulations, and check to see whether an emergency medical professional is present at games and events. Coaches should also have training in CPR and other life-saving techniques. Talk with the coach to see if their philosophy promotes the health and well-being of each player.
Adequate preparation and planning
Many sports injuries can be prevented simply by doing a general warm-up and cool-down before and after each activity. In addition, each child should be aware of the rules of the game or sport they are playing.
Drinking plenty of water before and after activity, along with allowing time for rest and hydration periods during practice will also go a long way in preventing injuries.
In the end, sports won't be fun for anyone involved if injury is a result of play.
Treatment
Even the most careful of kids and precaution measures are not immune to accidents or injuries. If you are certain the injury is minimal and can be treated at home, the thing to remember is R.I.C.E.: Rest, Ice, Compression, and Elevation.
For other, more worrisome injuries, a doctor should be consulted.
"I would recommend kids with an ankle or joint injury to see a Sports Medicine Physician. Our clinic has same-day appointments for new injuries that can save a trip to the ER. Of course, more serious injuries such as open fractures should still go to the ER. That way we can rule out any more serious damage like small fractures, high ankle sprains or other conditions that will need different treatment," says Matich.
Overuse awareness
With a higher number of children participating in sports at younger ages than ever before, it's important to be aware of injuries caused by overuse. Injuries from overuse were once exclusive to professional and college-level athletes, but they are becoming more common among younger athletes ages 12-18, according to the AAP.
While it seems obvious that overuse is a result of too much playing time, there could be several reasons for these climbing numbers. "One of the big problems we are seeing now are injuries in kids who play sports year long," says Matich. "The recommendation is that kids have at least two months off from their sport each year. It's also recommended that kids cross-train in different sports and don't specialize too early in life."
Overall, the goal of youth sports should be the health and happiness of each child. Make an appointment with one of the sports physicians at PeakOrthoClinic.com for a specialized consult and treatment plan for you or your child.
Editor's Note: Anything in this article is for informational purposes only. The content is not intended, nor should it be interpreted, to (a) be a substitute for professional medical advice, diagnosis, or treatment. Always seek the advice of your physician or other qualified health provider with any questions you may have regarding a medical condition; (b) create, and receipt of any information does not constitute, a lawyer-client relationship. You should NOT rely upon any legal information or opinions provided herein.You should not act upon this information without seeking professional legal counsel; and (c) create any kind of investment advisor or financial advisor relationship.You should NOT rely upon the financial and investment information or opinions provided herein.~ Any opinions, statements, services, offers, or other information or content expressed or made available are those of the respective author(s) or distributor(s) and not of KSL. KSL does not endorse nor is it responsible for the accuracy or reliability of any opinion, information, or statement made in this article. KSL expressly disclaims all liability in respect to actions taken or not taken based on the content of this article.
×
More stories you may be interested in