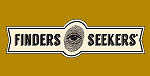 This story is sponsored by Finders Seekers.
Whether you have a scheduled family night every week or you take family time when you can get it, you probably are always looking for new ideas. Sure, going for dinner and a movie is fun, but after the fourth week in a row, you're probably looking for a less expensive option.
If you're looking to use some critical thinking skills, along with a bit of imagination, maybe you should be solving mysteries. While you could solve the mystery of who left the car light on overnight, it's more fun to solve a real case. A local company, Finders Seekers, delivers a monthly mystery directly to your door.
The Utah company began when three friends, who share a love of mystery and puzzles, went to an escape room experience together and left thinking "we could do this, and do something better," said co-founder Cody Dingus.
Each package contains clues, a story, and guarantees lots of time to work together as a family. Depending on your sleuthing skills, each box takes one hour or more to solve.
Get your mystery
Finders Seekers is a monthly subscription box box that delivers an escape-room-in-a-box adventure to your doorstep. You don't have to commit to a long-term subscription and you can try it for just $20 with the coupon code KSL5.
In each box, you'll get several clues and tools to help you solve "the Find," which is what the adventure is called. Boxes might have clues like a map, a black light, a decoder tool and more. Since you're solving the mystery from your own home, the experts have crafted each box to feel like you're at the scene of the crime.
You get a new box every month and you can rest assured you won't get the same mystery twice. "When we started, we thought it would be challenging to come up with new clues every month," Cody says. "But two years later we've done over 150 puzzles and clues, and it hasn't been difficult at all. We get immersed in the research and traveling, and then we let the place dictate the feel and the puzzles themselves."
Put your sleuth hat on
Once you've got your monthly box, it's time to find out where your mystery is taking you. Package contents vary each month, but you can be sure that each puzzle to solve has a specific locale (don't worry, you can do these at home in your sweats) along with various clues and puzzles to help you discover the secret. All you need is a phone or computer with access to a search engine.
Not only are these boxes entertaining and fun, but they'll help you hone your research techniques, both old-school and modern. Learning and engaging in critical thinking as a family will help you learn new things about each other.
"We really want to provide an uplifting option," Cody says. "You're able to solve fun, challenging mysteries and puzzles, but the educational, historical aspect means there's also learning involved." Think of it as a sort of escape room you can do without ever leaving the house.
Give yourself a pat on the back
Once you've solved that month's box, you'll come away feeling accomplished and oh-so-clever. The boxes are designed to be fun and fascinating, but also to help you learn about real-world cultures, underground societies, and scintillating trivia. Once you've completed the mission, you can enter to win the ultimate prize: discounts on future boxes.
Summer may be perfect for outdoor fun and plenty of it, but you also need time to just relax t home. There are few better ways than to lounge around solving these mystery boxes with the family. Check out these rave reviews to see how other families are enjoying their monthly mystery nights.
And if you want an additional mystery challenge, take the quiz below to see if you are a candidate for one of the world's most secret societies.
Fill out the form and you could win a six-month Finders Seekers mystery box subscription.
×