SANDY — Even when the ball was supposed to be played to someone else (sorry, Damir Kreilach), Real Salt Lake forward Sam Johnson can't help but go for goal.
On Wednesday night, he bagged another — this time, a ball meant for him.
Johnson scored the only goal of the match just before the 40th minute, and Real Salt Lake went on to top the visiting Columbus Crew, 1-0 in front of an announced crowd of 19,030 fans at Rio Tinto Stadium.
Aaron Herrera's booming clearance — a rocket sent downfield from his own 18-yard box — provided the space for Johnson to scurry on to the end of it. The Liberian international raced past a pair of Crew defenders and furiously finished inside the bottom corner for his team-high seventh goal of the season.
Just as goalkeeper Nick Rimando drew it up, he said (and yes, he was kidding).
"I just told him to hit it away," Rimando said of Herrera. "I know, seeing that locker room, that we didn't have our best performance tonight. But we fought, and the bounce went our way on that play."
RSL coach Mike Petke praised the pass, praised the decision, and even posited that maybe — just maybe — Johnson would've been a star track and field sprinter in another career, another life or on another day.
"He's deceptively fast," Petke said. "He has very long strides, and it's very great to see that from the sidelines. And it was a great finish."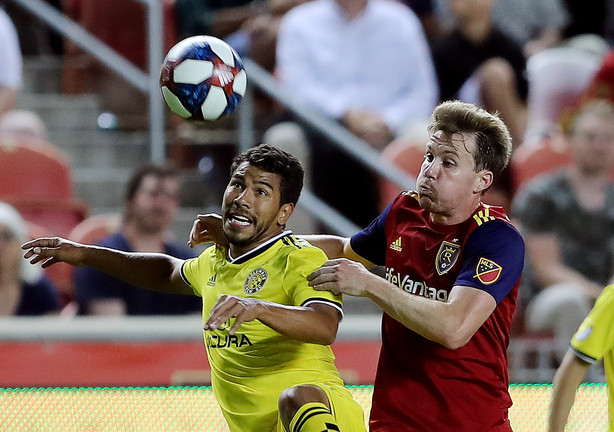 Rimando earned the shutout for Real Salt Lake, which out-shot Columbus 14-7 and held the Crew without a shot on target. This, despite owning a simply majority of 55.4 percent of possession — and drawing four yellow cards, on Herrera, Corey Baird, Nick Besler and Bofo Saucedo.
Still, a win is a win — something RSL will take for the second-straight home match, to pair with a draw in its last road outing at Chicago. Those three points helped Salt Lake inch up the standings to a tie for sixth place in the Western Conference with 26 points — one point behind Minnesota United and the Houston Dynamo.
"Six points in two games, four days apart," Petke recounted. "But — and this is a compliment to my team when I say (it) — I know they can play a lot better. Great shutout, great grittiness to keep the result. But when we are at our best, it's far from what we were tonight. And again, that's a compliment to my players."
Next up:
RSL will hit the road briefly Saturday at San Jose. Kickoff is scheduled for 8:30 p.m. MDT on KMYU and KSL.com.
The club returns home next Saturday, July 13 to face Philadelphia.
×
Related Stories