CHICAGO — Real Salt Lake did something in its return to Major League Soccer play Saturday night that it hadn't done in more than a month.
Earn a result.
Chicago's Aleksandar Katai and RSL's Albert Rusnak each scored a goal in the first half, and Salt Lake played to a 1-1 draw with the Fire at SeatGeek Stadium.
"It's a hard-fought point on the road," Rusnak told team sideline reporter Samantha Yarock after the match. "We appreciate every point we can get on the road. Our objective was to get three, but if you can't get three, you take one point. That's what we did.
"We're probably going to maintain the same spot in the table, but we know we're going to go home, that we have some home games coming up, and those will be crucial for us to take all the points."
RSL (6-8-2, 20 points) were put on the back foot from the fifth minute, when Katai put a free kick on a rope into the bottom right corner for the 1-0 lead. It was the fourth goal of the season for the 28-year-old Serbian, who drilled a laser past Nick Rimando that gave the Fire (4-6-7, 19 points) a lead until Mo Adams committed a handball just after the half-hour mark.
Rusnak stepped up to the penalty spot, slipping his fourth penalty goal past goalkeeper Kenneth Kronholm in the 33rd minute to equalize at 1-1.
The goal was the Fire's only shot on target until halftime, as RSL out-shot the hosts 5-1. The visitors also held 61 percent of possession, and had a clinical 73 percent passing accuracy in their final third through the opening 45 minutes.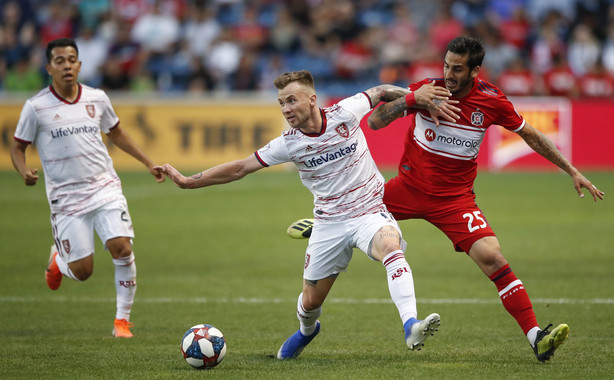 "We had a lot of the ball in the first half to create those opportunities," RSL coach Mike Petke said. "For me, the balance of the team was a strength tonight, defensively. Not leaving gaps like we have the last few games. Against a team like this, the attacking force was pretty good, and they were able to connect a lot of passes. But our balance was pretty good."
Chicago flipped the script in the second half, out-shooting RSL 6-2 after the break.
MLS's all-time leader in every major goalkeeping statistic came up big again in the 89th minute, preserving the draw with a Herculean effort as the Fire threw numbers forward, searching desperately for a match-winner at home that would snap a five-match winless skid across all competitions, including a 2-1 loss to second-division St. Louis FC in U.S. Open Cup play.
So if the visitors feel a little hard-done by the result, there's a reason for that (and it's not just for a few 50-50 calls by head referee Baldomero Toledo, including ending the match before Real Salt Lake could take one final corner kick).
"The one thing I'll say was it was equal for both teams, and not just for us," said Petke, whose players were visibly bristled by the way the game ended. "I'm not advocating for red cards … but again, consistency. I know MLS (officiating) is a tough job. I get it. But aside from that, I think the frustration was there from both teams. I think we kept our composure, for the most part, but to end on a corner kick is just classic."
RSL haven't won a game since May 24, which also coincides with their last home match — a last-gasp 2-1 victory over Atlanta United at Rio Tinto Stadium.
¯_(ツ)_/¯#CHIvRSL || #MLSpic.twitter.com/DIZPBOWAct

— Salt City FC (@saltcityfc) June 23, 2019
Now the club will return to Rio Tinto Stadium, where they will play eight of the next 11 matches — including four of the next five.
"At home, we have to be a fortress. We have to be on the front foot," Rusnak said. "And most importantly, we have to take three points."
Next up
Real Salt Lake is back at Rio Tinto Stadium beginning next Saturday, June 29 against rival Sporting Kansas City. Kickoff is scheduled for 8 p.m. MDT on KMYU and KSL.com.
×
Photos
Related Links
Related Stories