Estimated read time: 3-4 minutes
This archived news story is available only for your personal, non-commercial use. Information in the story may be outdated or superseded by additional information. Reading or replaying the story in its archived form does not constitute a republication of the story.
SALT LAKE CITY — Former Villanova forward Eric Paschall likes a lot of things about the Utah Jazz: the culture, the practice facility, the guys in the locker room.
Well, maybe not all the guys in the locker room.
"I'm kind of sick of Donovan," Paschall said. "Nah, I'm playing. I'm playing."
It was a joke that only longtime friends can make. And Paschall and Donovan Mitchell are longtime friends.
The two grew up together in Dobbs Ferry, New York, they played on the same New York Metropolitan AAU Sports Association teams — Riverside and The City in their youth — and even faced off in a prep national championship game.
The pair might just be reunited again come draft night.
Paschall, who is being projected to go between the late first and early second rounds in the NBA Draft on June 20, was part of a six-man pre-draft workout on Tuesday at the Jazz's practice facility. Utah holds the No. 23 and No. 53 picks.
With his old friend starring for the Jazz, Paschall has watched more Utah games than most draft prospects, and he thinks he could fit right in with the team.
"I know they are a very defensive-oriented team, they pride themselves on that," Paschall said. "I have been out here with Donovan, and I have been around the guys, and I just like the culture. Everybody is cool. Everybody accepted me."
Paschall is a 6-foot-8 power forward that averaged 16.5 points and 6.1 rebounds during his senior season at Villanova. He's a bulky stretch four who shot 34.8% from 3-point range on 5.6 attempts per game last season.
So the Jazz could think he's a pretty good fit, too.
"He's a good shooter," Jazz vice president of player personnel Walt Perrin said. "He's got a body that can play small ball four with his strength. One of the officials was telling me he's got the ability with his wide shoulders that he can contest a shot and hit the guy with his shoulder, instead of hitting with the arm, and the officials aren't going to call a foul.
"He's got NBA range," Perrin continued. "Now, he didn't shoot it very well today, but he does have NBA range. We know he can shoot the ball."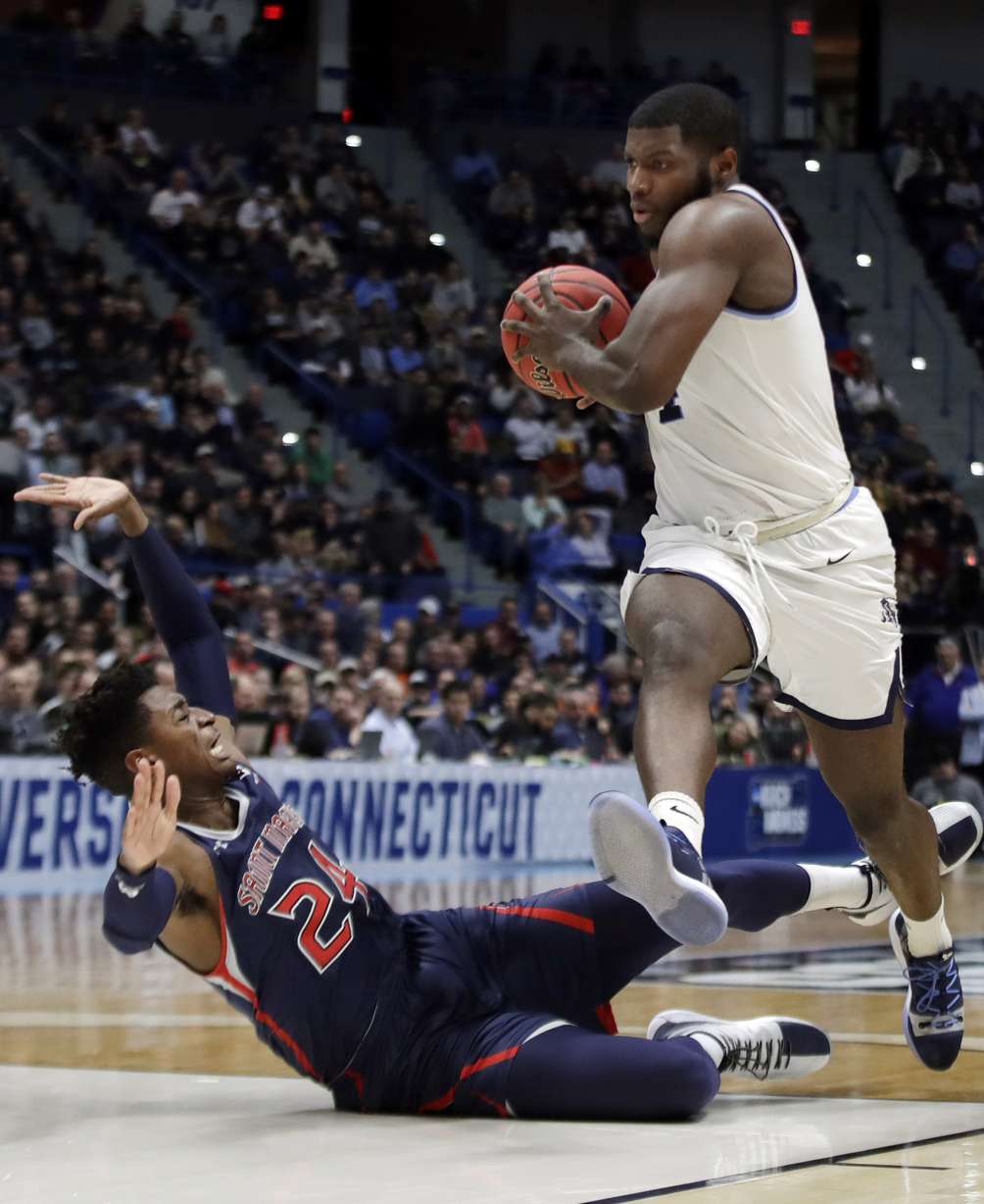 Perrin said that Paschall does have some things to work on — namely his ball handling, passing and getting more consistent with his shot — but Paschall knows that, too.
"Every stage you gotta reinvent yourself," Paschall said. "Going into college, you need to reinvent yourself. Going into high school, you need to reinvent yourself. Going into the AAU circuit, you have to reinvent yourself everywhere."
When it comes to the Jazz, Paschall does have a pretty good voice in his corner. Paschall and Mitchell still talk frequently, and the Jazz star guard even sent him a message leading up to the workout to wish him well. And that message was genuine because that's who Mitchell was when they were kids and who he still is.
"If you meet Donovan, he's the same exact person," Paschall said. "Growing up, he stayed the same. He stayed humble. He blew up out here, and he's still the same dude. Me and him still talk all the time."
Paschall didn't just want to use Tuesday's workout as a chance to showcase his skillset to Jazz management, he also wanted to clear something up about the time Mitchell's Brewster Academy victory over Paschall's St. Thomas More in the 2015 National Prep Championship game.
See, Mitchell always claims that he locked Paschall up that game. The Villanova forward remembers it a little differently.
"I was like, Donovan, 'you can't say you locked me up. You face guarded me, you didn't even let me touch the ball.'" Paschall said. "He's going to hold that story over my head. If you ask him about it, he's going to say the same thing, 'Oh, I locked him up.' We still go back and forth over that to this day."
×
Most recent Utah Jazz stories