Estimated read time: 3-4 minutes
This archived news story is available only for your personal, non-commercial use. Information in the story may be outdated or superseded by additional information. Reading or replaying the story in its archived form does not constitute a republication of the story.
SALT LAKE CITY — With former head coach Jesse Marsch in the stands, who now represents RB Leipzig in Europe, the New York Red Bulls put on a show Saturday against Real Salt Lake — at least, in the second half.
The visitors, in the middle of a three-game road trip spanning an entire month, could only hold out for so long.
Omir Fernandez, Daniel Royer and Michael Murillo each scored a goal, and New York added an own goal to cruise to a 4-0 victory over Salt Lake at Red Bull Arena in Harrison, New Jersey.
After winning three in a row, Real Salt Lake (6-8-1, 19 points) lost its second-straight match as it headed into the league-mandated Gold Cup break.
"It's hard to explain. We lost a lot of communication," RSL winger Sebastian Saucedo said. "We gave up a lot of things that we normally do. And that's what happens when you play against a good team. If you lose communication, they punish us. That's what happened."
The Red Bulls (7-5-3, 24 points) poured it on in the first half, looking for a goal, out-shooting Salt Lake 10-5 and holding the visitors to a single shot on target. Nick Rimando kept the home side, playing without star striker Bradley Wright-Phillips, at bay with four saves.
"The plan was excellent in the first half," an exasperated RSL coach Mike Petke said. "We knew we were going to be under it, but we managed it excellent. The second half, we didn't."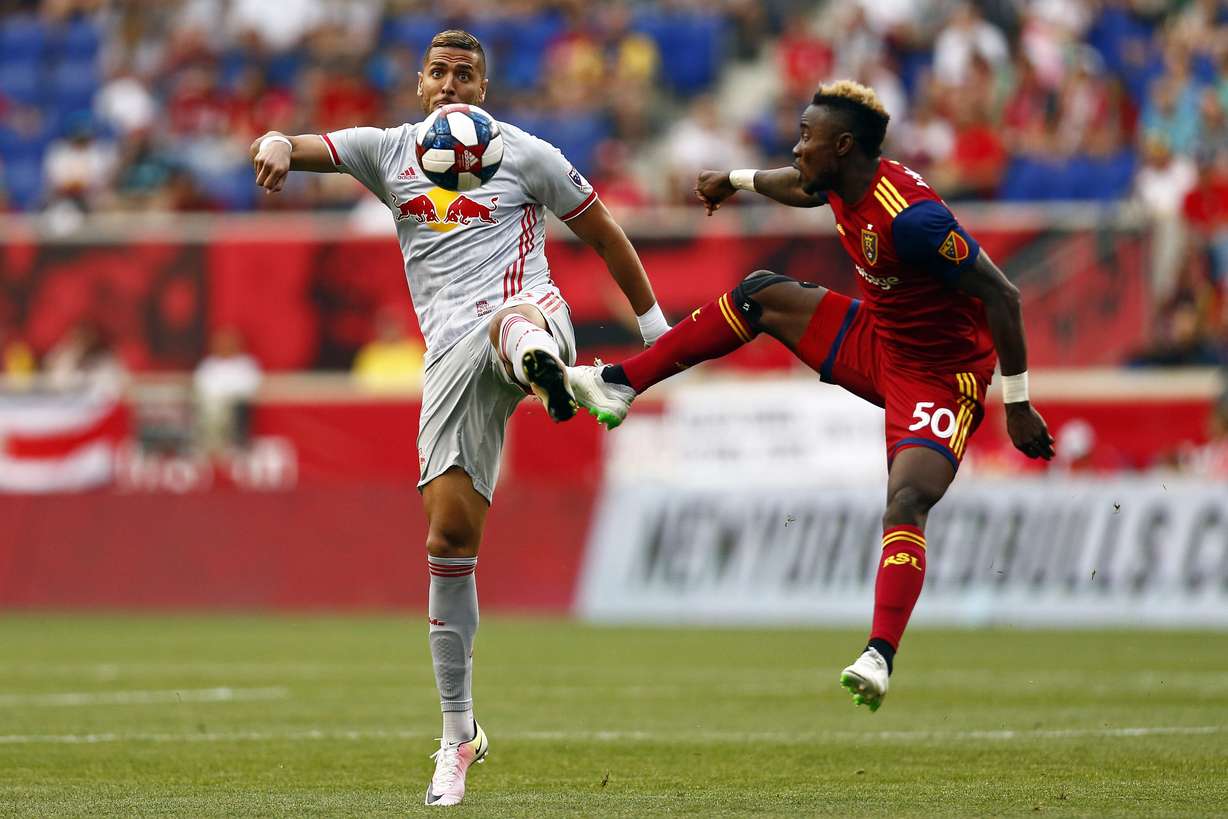 As Rimando was a challenge for the Red Bulls, so too was New York counterpart Luis Robles for Salt Lake. But it was only a matter of time before the Red Bulls took advantage.
RSL, quite frankly, didn't respond to the occasion.
"We had opportunities to score," Saucedo told RSL sideline reporter Samantha Yarock. "If we don't score on those opportunities, this is what happens. If we score two goals (by halftime), then something else happens.
"This starts with me, personally. I lost my runner. I'll take responsibility for a few of those goals, with Aaron (Herrera). We gave it our all in the first half, and the second half fell apart."
New York went ahead in the 58th minute, first through an own goal that ultimately caromed off center back Marcelo Silva (along with a trio of RSL players).
But only 90 seconds later, Royer doubled the advantage with his third goal of the season, giving the Red Bulls a 2-0 lead for the final half hour. Murrillo poured it on in the 64th minute, slotting home a goal past RSL's sloppy defensive — and the rout was on.
Fernandez finished off the scoring with seven minutes left in regulation, finishing off a cross from fellow substitute Andreas Ivan in the final moments of the game.
RSL — playing without key midfielders like Albert Rusnak and Damir Kreilach —allowed 19 shots, including nine shots on target from the Red Bulls.
"There was communication in the first half," Petke said. "There was movement. … In the second half, there wasn't."
Next up
Real Salt Lake doesn't play another match in MLS play until June 22, when it travels to Chicago for a 6 p.m. MT kickoff. The club will also host Los Angeles FC at 8 p.m. June 11 in a fourth-round match of the U.S. Open Cup.
"We're a special team. I've said it so many times," Saucedo said. "At the end of the day, we hate losing like this. This break will help us spend time with family and recharge our batteries. But we have to go at it. At the end of the day, our goal is to make the playoffs.
"It's these type of games that get us out of position. It takes character to get out of this."
×
Related stories
Most recent Real Salt Lake stories