Estimated read time: 4-5 minutes
This archived news story is available only for your personal, non-commercial use. Information in the story may be outdated or superseded by additional information. Reading or replaying the story in its archived form does not constitute a republication of the story.
Utah's heritage of pioneering is both noble and unique. Yet when it comes to Utahns' collective landscaping choices, many choose styles that are meant for places like New York, Japan, or England.
Unfortunately, the plants chosen to decorate those cities' landscapes are usually not well-suited for Utah summers. Making them live in this desert environment costs water, time, effort and money.
When designing a landscape, Utah residents should consider the climate for which the landscape was developed. Many of the famous landscape designers that influence Utah's landscaping practice were in climates more fertile, wet and mild than our own.
Lancelot Brown hailed from England. He is responsible for transitioning landscapes from flat gardens using rigid, formal lines to using the ups and downs of the terrain to create a more natural look.
Frederick Law Olmstead was the chief landscape architect for Central Park in New York City and is often considered the father of landscape architecture in America. As homesteaders and pioneers moved west, they brought these traditional landscaping practices and styles with them.
Today, Utah homeowners don't have to guess which plants will thrive during the heat of the summer. Localscapes is a program developed to help homeowners install landscapes that match their local climate. It is a series of classes and workshops focused on moving from a high-maintenance, high-water landscape designed for wetter climates to low-maintenance, low-water, landscapes specifically designed for Utah.
These landscapes celebrate the desert surroundings and are just as beautiful as those requiring more water, if not more so. The tailoring of plants and terrain to suit your surroundings is what Brown did for England and what Localscapes can do for Utah.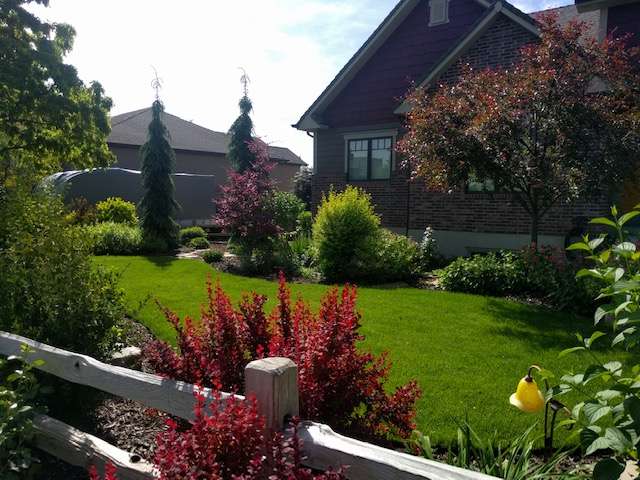 Localscapes consists of five basic elements:
Central open shape
The first step is a central open shape that can be made of anything from lawn, to brick, to groundcovers. Central open shapes should be designed with the irrigation system in mind. They shouldn't be less than eight feet wide, should be unobstructed, and should be irrigated on their own, apart from any other zone.
These provide "white space" for the landscape, giving the eye a place to rest as it looks over the landscape as well as providing an organized feel. Lawn is never the default ground cover, it is always designed as a central open shape if it is being used in the landscape.
Gathering areas
Add seating areas for people to gather. Whether it be a large patio off the kitchen for entertaining, a fire pit for the kids, or a reading nook for morning coffee, gathering areas increase the functionality of any landscape.
Activity zones
Add all those fun elements you've always wanted; vegetable gardens, chicken coops, trampolines, play areas, sandboxes, giant chess sets, etc. Give yourself reasons to get out and enjoy your yard.
The more gathering areas and activity zones, the less maintenance you'll have to do. If you want an extremely low-maintenance landscape consider adding more hardscape features such as basketball hoops, RV pads, or increase the size of your entertaining areas.
Paths
Paths connect the different elements of your localscape making them more useable. Make sure to choose the correct surfacing materials for the correct path. Paths need to have snow removed during the winter. The path from the driveway to the front door should be made out of materials that makes shoveling easy — such as concrete or brick. Paths that are only used seasonally can be made from whatever material you choose.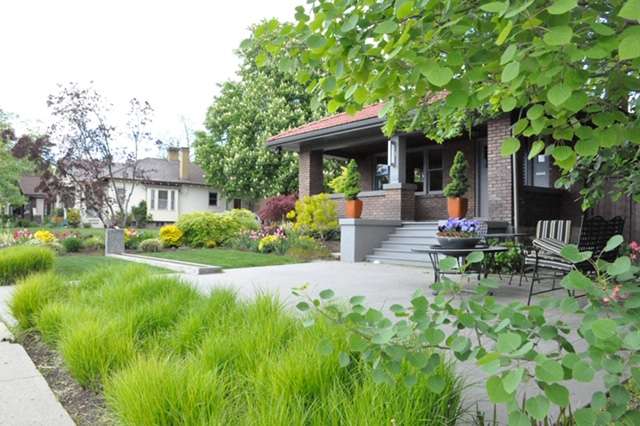 Planting beds
Once the first four elements have been installed, every remaining area becomes planting beds by default. Planting beds include trees, shrubs, ornamental grasses, and perennials. Select plants that will do well in our area and make sure they are on their own irrigation zone since turf typically requires much more water to thrive.
Keep annuals out of perennial beds, as they require much more water. Consider planting annuals in pots and strategically placing them around your gathering areas.
Sixty percent to 70% of the water used residentially is used on landscape. By installing plants and flowers which thrive here, Utah landscapers can save large amounts of water while decreasing maintenance and increasing curb appeal.
For ideas of plants that thrive in the Utah climate, visit a learning garden, such as that at Weber Basin Water Conservancy District. The experts there can help you visualize how these plants look and work together in a landscape.
To learn more, visit either Localscapes or Weberbasin.com for example designs or lists of classes in your area.
×