Estimated read time: 4-5 minutes
This archived news story is available only for your personal, non-commercial use. Information in the story may be outdated or superseded by additional information. Reading or replaying the story in its archived form does not constitute a republication of the story.
SANDY — Utah Royals FC is in the midst of the Women's World Cup prep, and — like most teams in the National Women's Soccer League — missing several key figures to international duty.
But they aren't missing Amy Rodriguez.
On the contrary, the 32-year-old striker seems to be in the midst of a career renaissance.
Rodriguez scored her fourth goal of the season, and Makenzy Doniak added a second for the Royals for the first time all year as Utah took a 2-0 shutout Saturday from the still-winless Orlando Pride at Rio Tinto Stadium.
It was the first time the Royals (4-1-1, 13 points) have scored two goals in a match all season — to go along with the club's fourth shutout.
Nicole Barnhart made four saves to preserve the clean sheet for Utah, which surged to the top of the table — two points clear of second-place Chicago.
"It's so nice to have that comfort goal, to have that little bit of a cushion instead of a frantic 5-10 minutes," Rodriguez said. "And it felt so good to come away with the win today."
After moments of possession, with the most dangerous chances going to Orlando (0-6-1, 1 point), Utah's Vero Boquete drew a penalty kick when she was fouled while receiving a pass just inside the 18-yard box.
That sent Rodgriguez to the penalty spot, and the veteran striker calmly roofed a shot with authority for her fourth goal of the season to give the Royals a 1-0 lead just after the 30-minute mark.
"I've been in this game for a long time. I understand that PKs can be a pressure moment," said Rodriguez, who has played professionally since 2009. "But that's what strikers are meant to handle. I knew where I wanted to go. I was confident in my shot, and I just went up and took it."
Boquete landed awkwardly on her right leg during the play. But while the Spanish midfielder returned to play a few moments after receiving treatment, she came off with a right quad injury just before the 40th minute by Erika Tymrak.
The Royals have one more match, next Saturday at Washington, before taking a two-week hiatus during the Women's World Cup group stages from June 3-14 — and any time missed by the former Spain international will be a key omission by head coach Laura Harvey's squad as they push through the departure of seven World Cup internationals.
Harvey didn't set a timeline for Boquete's return to play, but felt optimistic the injury won't cause an extended absence.
"It's been something that's been bothering her for a couple of weeks now," Harvey said of Boquete's quad. "We've been managing it, and I think we got it early enough that hopefully it won't be long term. But no timeline."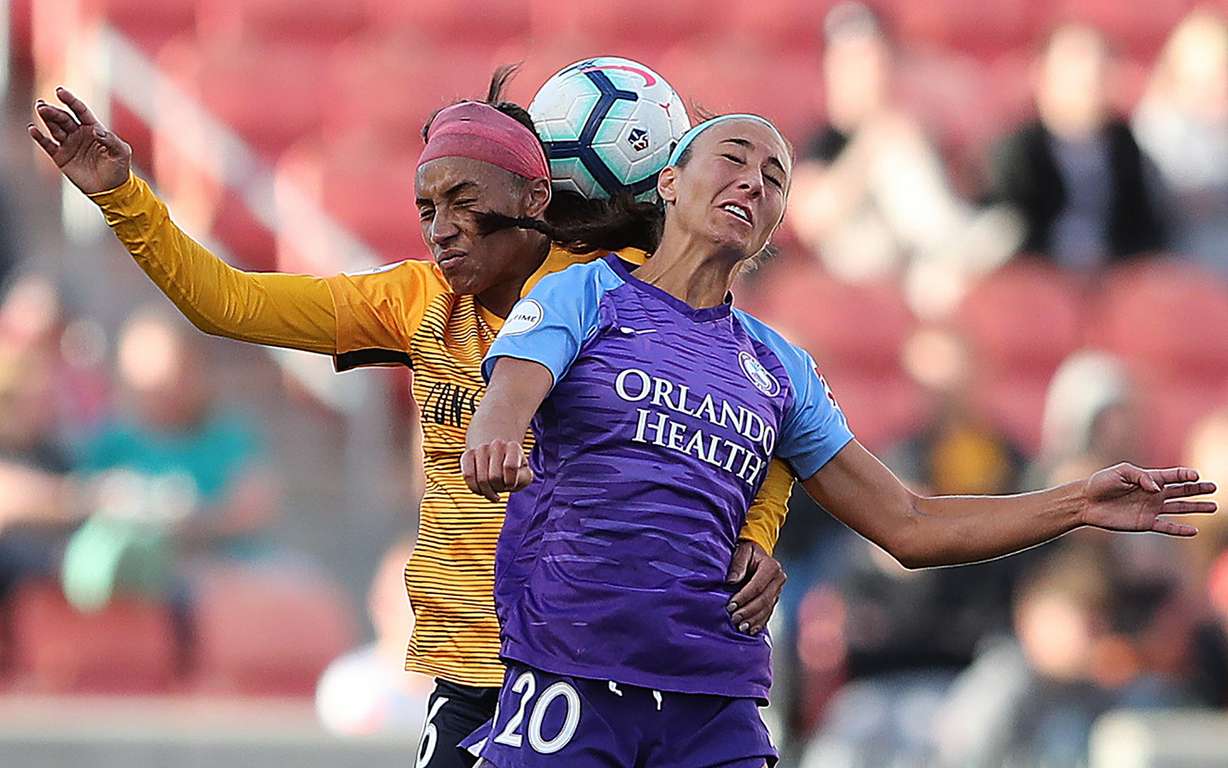 The Royals out-shot the Pride 16-12, but put just three of the strikes on target before the 88th minute. Meanwhile, Orlando threw numbers into the attack, searching for the equalizer and hurling "the kitchen sink" at goal, Rodriguez said.
But center backs Sam Johnson and Gaby Vincent, who made her first professional start Saturday, kept the back line with fullbacks Becca Moros and Katie Bowen in order long enough to withstand the force of a thousand blows — or at least 12 corner kicks.
"The flow was on their side, and the momentum," said Vincent, a Louisville product who started the year as a preseason trialist with the Royals. "It was difficult. But that's when grit comes in. You just ride out that wave until we get more control of the ball."
Doniak gave Utah the breathing room it needed in the 89th minute, doubling the advantage with a counter-attacking gusto from a wide-open spot in front of Orlando goalkeeper Haley Kopmeyer.
It was the first goal in NWSL play since Oct. 2, 2016 for Doniak, who missed all of 2017 with a knee injury before being traded to Utah from the North Carolina Courage.
"The last couple of times when we went up a goal, it's only been by one," Rodriguez said. "It was so nice to have Mak come on. I've been in her corner all year, because that was me last year. I couldn't be more excited for Makenzy."
Next up
The Royals hit the road next Saturday, June 1 to face former BYU star Ashley Hatch and the Washington Spirit. Utah returns to Rio Tinto Stadium to face New Jersey-based Sky Blue FC at 8 p.m. MT June 15.
×
Photos
Related stories
Most recent Real Salt Lake stories