Estimated read time: 4-5 minutes
This archived news story is available only for your personal, non-commercial use. Information in the story may be outdated or superseded by additional information. Reading or replaying the story in its archived form does not constitute a republication of the story.
SANDY — Real Salt Lake's Jefferson Savarino saved his best touch of Friday night's "futbol" match with Atlanta United for last.
The Venezuela international scored in the final seconds of stoppage time, lifting Real Salt Lake to its third-straight win 2-1 over Atlanta in front of an announced crowd of 17,214 fans Friday night at Rio Tinto Stadium.
Sebastian "Bofo" Saucedo scored for the second-straight match — from nearly an identical spot on the pitch for Real Salt Lake (6-6-1, 19 points), who defeated the reigning MLS Cup champions for the first time in the short-lived franchise's history.
Atlanta (6-5-3, 20 points) scored with 12 minutes left in regulation to equalize when Venezuelan international Josef Martinez tallied his sixth goal of the year.
But the hosts never gave up. They never bowed out. Even when destiny seemed headed for a draw after 90 minutes, they didn't give up.
They never doubted.
Well, almost never, Savarino admitted with a grin as he spoke through a translator after the match. Maybe just a little bit, he said.
"I was really happy, first for the three points for the team," Savarino said through a translator. "But also happy for the fight of the team for all 90 minutes."
With his father in the stands on a two-month visit from his native Venezuela, Savarino took a dish from Everton Luiz in the third minute of stoppage time that scorched the far post as he sailed by Atlanta goalkeeper Brad Guzan.
Surely Venezuelan national team coach Rafael Dudamel was smiling at the sight of the goal, as well as the equalizer by Martinez, a fellow Venezuelan who hails from Valencia, a six-hour drive from Savarino's Maracaibo in a country currently uprooted by political upheaval.
But did the hosts deserve all three points, even at the expense of his national teammate?
Of course, Savarino replied.
"We had a lot of opportunities, and we could have scored many goals before (his game-winner)," Savarino said. "But thanks to God, we scored in the 90th minute and grabbed the three points."
His head coach agreed; RSL deserved that win, even if — at times — they didn't always act like it (more on that in a moment).
"These players have confidence. Not overconfidence. Not anything more than they should have. But we have good players," said RSL coach Mike Petke, before gesturing to a beaming RSL owner Dell Loy Hansen in the hallway outside the postgame press room. "My owner was here and I'm glad he was watching that. He's happy."
Saucedo, the 22-year-old more commonly known as "Bofo," admitted that maybe — just maybe — RSL didn't deserve all three points. They blew so many chances, unable to convert on 15 attempts with just five shots on target, that perhaps a draw was fair, according to the rationale.
Then Savarino's moment of magic happened, and those thoughts vanished.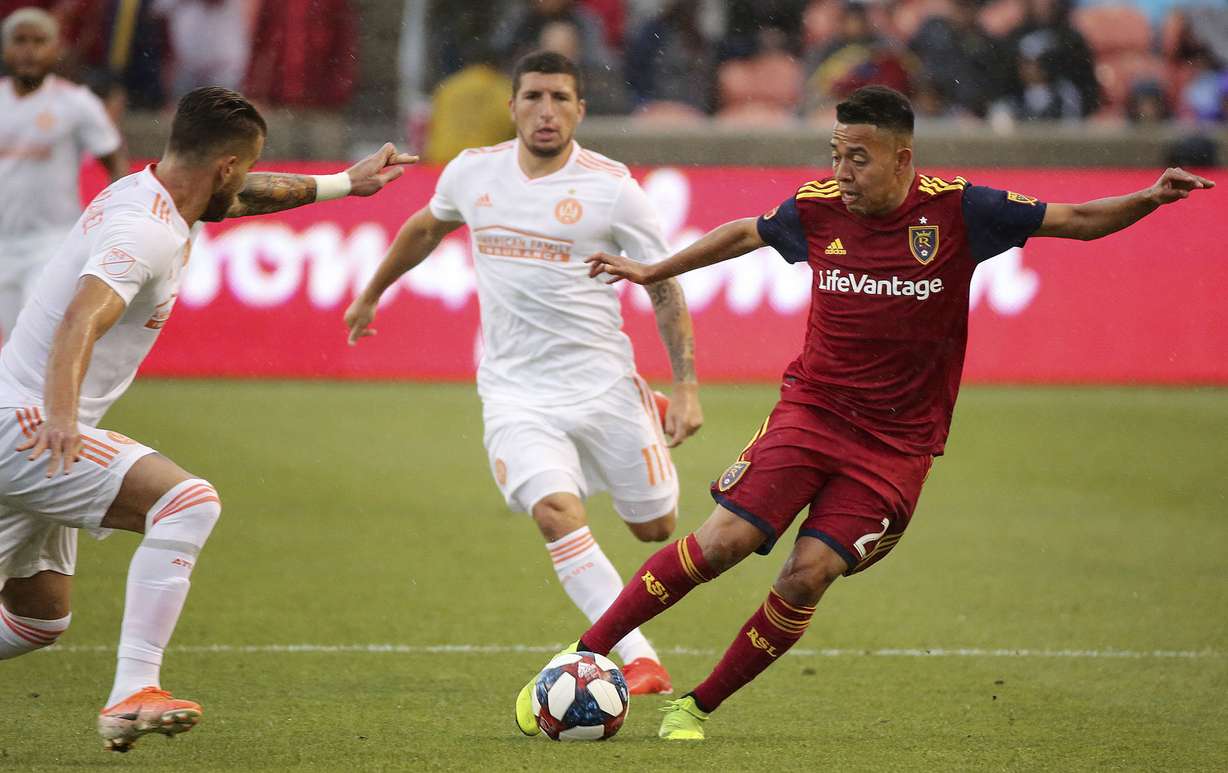 "I think we all know that we have very good players and talented players," Saucedo said. "The fans deserve these type of games. We play for this — to enjoy these games. I'm pretty sure there will be a lot more games coming with more goals. But we just beat the defending champions, and there's a reason we should have a chip on our shoulder."
Saucedo had his own moment of magic, too, taking a pass from the far side of the field from Albert Rusnak before unleashing a screamer from familiar territory, just off the 18-yard box, in the 35th minute to give Real Salt Lake a 1-0 lead that held up well past halftime.
Even as Rusnak featuring on the box score, Saucedo, who is growing into an MLS veteran, credited another teammate for his second goal of the year.
It was Damir Kreilach, the Croatian midfielder whose overlapping run drew two defenders away from Saucedo and opened up all the space he needed to uncork from distance.
"If it wasn't for Damir making an overlap, I don't think I would've had an opportunity to shoot on goal," Saucedo said. "I received the ball, he made an overlap, and Brad the goalkeeper gave me space. I'm happy enough to be able to place it and celebrate with our fans."
Next up
Real Salt Lake hits the road to play Wednesday at Montreal during an extended East Coast road trip. The club's next home match is Saturday, June 29 at 8 p.m MT against Sporting Kansas City (KMYU, KSL.com).
×
Photos
Most recent Real Salt Lake stories