Estimated read time: 5-6 minutes
This archived news story is available only for your personal, non-commercial use. Information in the story may be outdated or superseded by additional information. Reading or replaying the story in its archived form does not constitute a republication of the story.
Any seasoned parent knows the stress caused by taking a child to dentist or doctor appointments. The crying, the screaming, the refusal to walk — it can all be difficult to handle. Even as these little kids grow up, the dental anxiety might not go away. The Cleveland Clinic reports between 9% and 15% of Americans actively avoid going to the dentist because of anxiety.
While there are things adults can do to alleviate anxiety at the dentist, like sedation, there are actually a few things kids and their parents can do to help make the dentist a positive experience. In fact, experts say the father of the children should be the one to take kids to the dentist because it can actually reduce their dental anxiety.
Why dad?
According to a study by Dr. Maryam Fazli, mothers of children tend to show more signs of anxiety at the dentist, and the children pick up on that anxiety. As a result, children become more anxious. He recommends the father take the children to dental appointments because the father, in general, shows less anxiousness in that setting.
For those who don't have the option of bringing dad, Fazli suggests bringing the mother's anxiety and stress levels down. Moms accompanying their kids should be positive and not give false hope, Parents Magazine says. Don't say things like "everything will be fine" because it might give your child the idea that they won't need a filling or anything more than a cleaning. By simply being positive and vague, your child won't have anything concrete to worry about.
To help mom lessen any anxiety she might have about bringing the kids to the dentist, finding a good dentist is crucial. Parents should look for a good family dentist who can learn about all members of the family and remember specific accommodations or treatments they might need.
When to start
Although it depends on each child, the American Dental Association recommends bringing your child to his first dental appointment within six months of his first tooth appearing. Your dentist can discuss with you how often your child should go in for visits as well as let your child explore the office and become comfortable with the provider and staff.
The earlier you start bringing your baby in, the more comfortable parents can become with the process and dentist.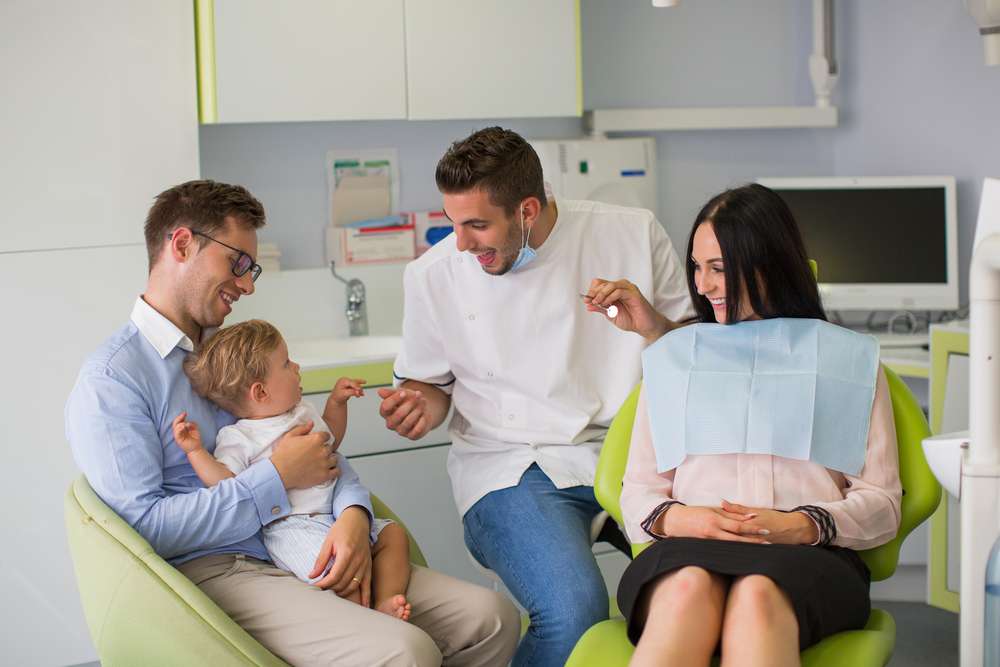 How often
Just like adults, children should visit the dentist every six months. According to the National Association of Dental Plans, children's teeth are more susceptible to decay, especially in baby teeth, so these visits need to be regular.
Keeping these regular appointments will also help your child become familiar and comfortable with the routine of dental visits. If your dentist doesn't' have positive rewards for the children who visit his office, make sure to treat your child after her appointment to help her recognize a positive outcome of your visit to the dentist.
While it would be counterintuitive to take your child out for ice cream afterward, you could visit a dollar store or go to the park as a reward.
With such a high prevalence of dental anxiety among Americans, it's perfectly normal for you and your child to feel some apprehension before your child's dental appointment. The most important thing to do is keep an open line of communication between you and your child's dentist so neither of you will be stressed during your appointment.
Stubbs Dental provides a full range of dentistry for the whole family. They are also experts in dental anxiety and can work with you and your loved ones to make sure you have a positive experience.
×