Estimated read time: 4-5 minutes
This archived news story is available only for your personal, non-commercial use. Information in the story may be outdated or superseded by additional information. Reading or replaying the story in its archived form does not constitute a republication of the story.
Spring is here, which means grilling season is about to be in full swing here in Utah. With the growing popularity of pellet grills, it can be unclear to the grilling novice how to perfectly cook something as simple as a steak compared to a traditional grill.
Because cooking a steak on a pellet grill can be daunting at first glance, here are five tips on how to cook the perfect steak on your new pellet grill.
Choose meat carefully
To ensure that the perfect steak is cooked on your pellet grill, some advanced planning is necessary. If you plan on cooking a steak, plan on purchasing a freshly packaged steak on the same day you plan to cook them, preferably early in the day. This allows time for the steaks to sit out and rise to room temperature, usually taking from four to six hours, explains Traeger. Cooking a steak when it is too cold can result in longer cook times and thusly, tougher meat.
In addition to buying fresh meat and allowing it to rise to room temperature, don't be shy about picking meat with a fair amount of marbling. The white streams in a steak are thin bits of fat that will dissolve into the meat while it cooks and will make your steak moist and soft.
Prepare the meat
Before you slap that ribeye onto the grill, take care to properly season your steak. No matter the rub of choice (salt and pepper work fine, too), be sure to massage into the steak, not sprinkle. Always using a touch more seasoning than you think you're going to need, suggests Traeger. Don't be shy about getting your hands dirty in this step, how you season a steak can make all the difference.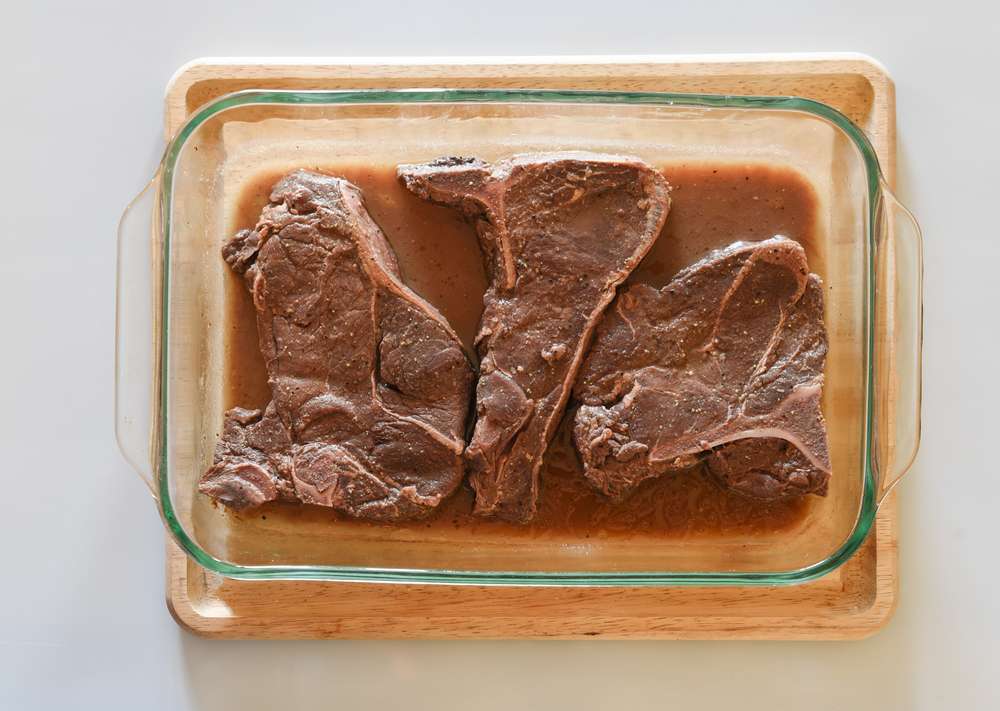 An important aspect of preparing the meat is the question of marinating. If you choose to marinate your steak, Traeger suggests doing so for at least three hours, ideally overnight.
Prepare the pellet grill
When using a pellet grill, it is imperative to have the right wood pellets ready for your meat. When it comes to steak, Traeger recommends hickory, oak, or mesquite for the boldest and most unique flavor.
Also, to ensure the efficiency and potency of your pellet grill, Traeger recommends making sure the steak is going to be going on a grill that is clean. With a pellet grill there are a few additional maintenance items, but with regular cleaning and maintenance comes maximum efficiency and flavor.
Before throwing your steak on, make sure the grill grate is clean, the firepot ash is vacuumed out, and that grease bucket and drip trays are cleaned off. And, as always, keep your pellet grill covered when not in use.
Smoke, then grill
Once the grill is clean and filled with your choice of pellets, and your steak is up to room temperature and rubbed, you are ready to start cooking. To take full advantage of your pellet grill, be patient in letting the meat absorb as much smoke flavor as possible — usually taking about 30 minutes.
After the steaks are thoroughly smoked, remove from the grill and turn the grill up to roughly 375 degrees. Once the grill is to temperature, replace the steaks and cook until the steak is cooked to your liking. Traeger explains that 120-130 degrees is considered rare, 130-135 degrees medium rare, 135-145 degrees medium, 145-155 medium well, and 155-165 for well.
Top it off
Once the steaks are done, top them off with a pat of butter and perhaps the slightest sprinkle of parsley. The butter won't take away from the flavor of the meat, but instead will amplify its flavor and juiciness. Be sure to cut against the grain, and enjoy!
Having the perfect steak can be a nearly ethereal experience, one that is most likely to be achieved when being cooked on a pellet grill. If you have yet to experience the difference a pellet grill can make, then be sure to enter the UTA contest in which one lucky winner will win a new Traeger wood pellet grill.
In the app and can't see the quiz? Click on this link.
×