This archived news story is available only for your personal, non-commercial use. Information in the story may be outdated or superseded by additional information. Reading or replaying the story in its archived form does not constitute a republication of the story.
SANDY — For 270 minutes, plus stoppage time, Utah Royals FC had built a fortress, an impenetrable defense that paved the way to three-straight shutouts and back-to-back-to-back 1-0 wins — the best start in the National Women's Soccer League.
That defense had withstood the force of some of the NWSL's top offensive talent. Chicago's Sam Kerr, Orlando's Alex Morgan and Marta, and Washington's Ashley Hatch.
Houston's Rachel Daly did what all of them couldn't do in the first month of the season: she scored a goal.
And then she scored again.
The England international had a brace, helping the Houston Dash hand the Royals their first loss of the year, 2-1, in front of an announced crowd of 10,138 fans Saturday afternoon at Rio Tinto Stadium.
Houston goalkeeper Jane Campbell made three saves to preserve the win for the Dash (3-1-1), who vaulted to the top of the league table with 10 points in five matches.
"Rachel Daly is a fantastic finisher, and if you let her shoot, she's going to score," said Utah midfielder Mandy Laddish, who made her first start since suffering a season-long hip injury that kept her sidelined for all of the 2018 season. "It's unfortunate that we allowed those two goals, but that doesn't mean we are going to stop fighting."
Amy Rodriguez opened the scoring for Utah (3-1-0, 9 points), finishing off a pass from Vero Boquete in the 26th minute to give the Royals a 1-0 lead. It was a dream start over 25 minutes.
But games aren't meant to be played over 25 minutes.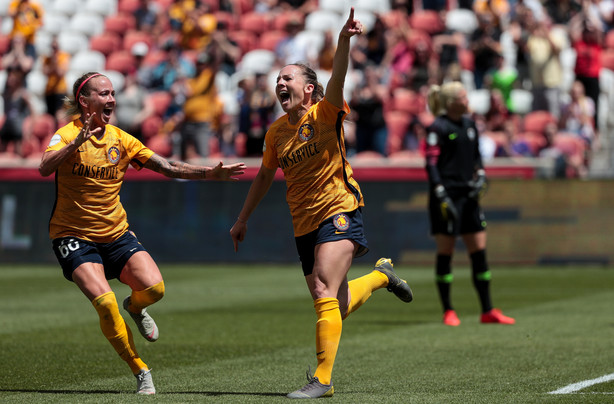 "Vero's so good on the ball. She's a great midfielder to play with because she attracts so many defenders to her," Rodriguez said in praise of the Spanish international.
"But the goals that they scored over our goal, it just makes me angry. We should've won the game and we didn't. Our first loss of the season does not feel good, and we're going to have to come back even better next weekend."
Daly scored twice over a span of eight minutes of game time, giving the Dash the lead for good in the 50th minute.
Daly, fresh off a call-up into England's squad for this summer's Women's World Cup in France, raced to the back line to take a ball off a failed clearance. After Utah's Sam Johnson tried to intercept a long ball from Houston center back Amber Brooks, Daly leaped to the loose ball and finished with a shot that dipped inside the far post for the equalizer.
Daly doubled the advantage less than five minutes into the second half, rushing down the right flank after a pass from Arianna Romero and beating the defense inside the far post for the 2-1 lead.
Utah coach Laura Harvey put the onus of the two goals scored on the defense — but not on her back line.
Defending in Harvey's system is a team-wide approach, and the Royals have prided themselves on being among the toughest teams in the league to break down, even in losses.
Daly unlocked something that few players have, but the veteran coach said the Royals will require some introspection before next week's showdown at defending champion North Carolina.
"We didn't defend well," Harvey said. "Rachel Daly is a lone forward, and you can't give her 30 yards of space.
"We don't normally do that. We've got to address that, look at it, and be better."
Utah had chances to equalize late. Makenzy Doniak, who came on as a second-half sub to make her first NWSL appearance since October 2017 saw a shot with just over five minutes left skim high over the crossbar.
Daly earned a red card at the start of the 90th minute, forcing the Dash to finish out the four minutes of stoppage time with 10 players.
But the equalizer never came, leading to disappointment — both in the stands and on the field.
"I take this loss personally," Rodriguez said. "We're going to have to bring it even harder next weekend. We're going to have fire under us because we're all just pissed right now.
"We're going to have to bring it next weekend. We're on fire because we're pissed right now."
Next up
The Royals will travel to Cary, North Carolina next Sunday, May 19 to face the defending champion Courage. Kickoff is scheduled for 3 p.m. MDT on KMYU and KSL.com.
Utah's next home game comes Saturday, May 25 against Orlando.
×
Photos
Related Stories