Estimated read time: 3-4 minutes
This archived news story is available only for your personal, non-commercial use. Information in the story may be outdated or superseded by additional information. Reading or replaying the story in its archived form does not constitute a republication of the story.
HERRIMAN — Ten games into Major League Soccer's 34-game season in 2019, and Real Salt Lake has 10 points — just one point behind the final playoff spot in the Western Conference.
For the math-inclined, that's an average of 1.0 points per game, or the third-worst rate in the conference that will send seven of its 12 teams to the postseason (much, much) later this fall.
Is it time to panic, coming off back-to-back losses, including a 2-1 defeat to the Portland Timbers at home?
OK, so maybe it's not time to press the red button, but RSL players and coaches aren't taking their recent run of form lightly, either.
"There's plenty of season left," RSL striker Corey Baird said after training at the RSL Academy in Herriman. "We're not at the bottom of the table. We're not out of it. Teams can get hot at any time and go on a streak."
Plenty of teams have found ways to struggle, excel, falter again, and pick it up in time to go on a playoff run — or even win MLS Cup, like Real Salt Lake did in 2009.
But for a team that has now lost two games at home, the road to recovery will likely involve stealing points on the road.
Which brings us to Saturday.
Salt Lake (3-6-1, 10 points) will head away from home but stay in the Mountain time zone this weekend when it takes the short flight to Dick's Sporting Goods Park to face Rocky Mountain rival Colorado at 7 p.m. MDT (KMYU, KSL.com).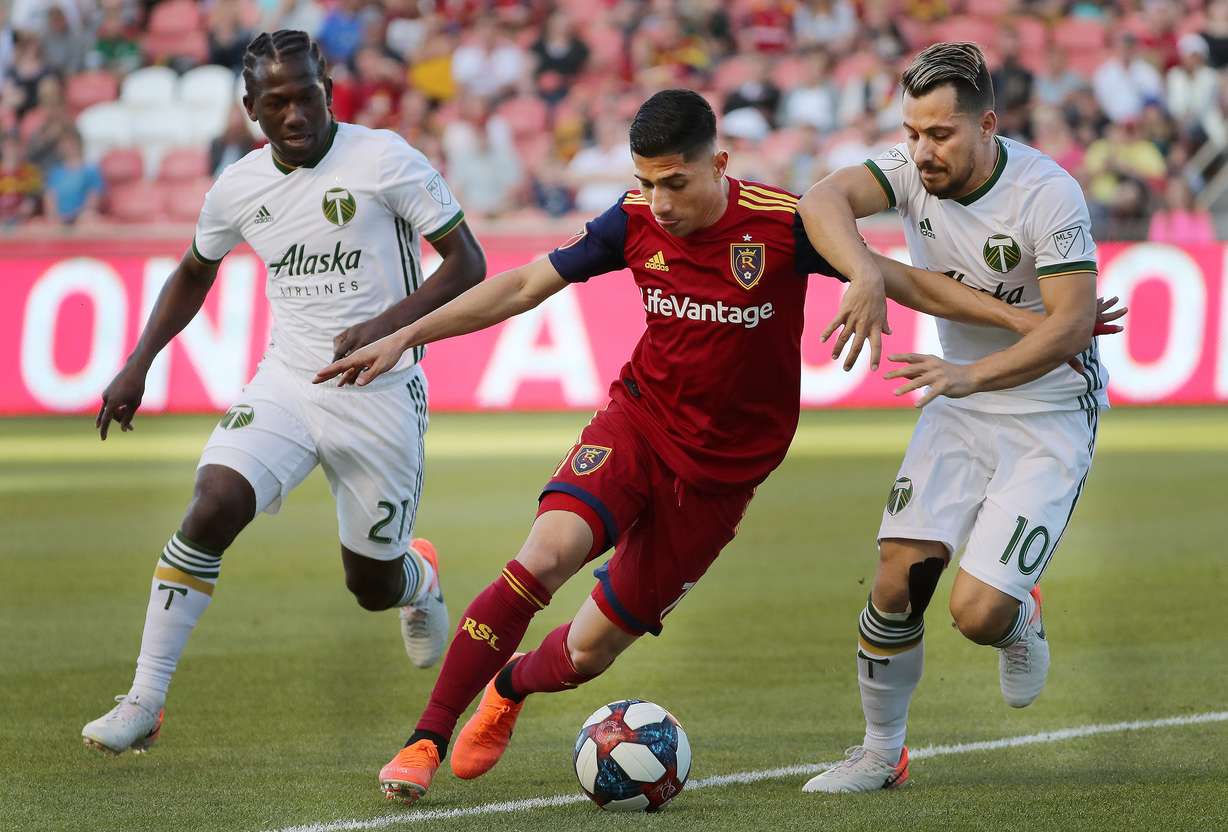 And remember that part about being the third-worst team in the west in points per game?
The Rapids (0-8-2, 2 points) are one of those worse teams, still winless on the season and just over a week removed from firing head coach Anthony Hudson.
"I feel like we could be, and we should be, a little bit higher in the table," midfielder Albert Rusnak said. "For us to lose the games we did at home, that's not something we were used to from last year. We're going to improve on that.
"But this Saturday is a great chance for us to get the three points that we lost at home against Portland."
The Rapids are struggling. An attempt to sign several MLS veterans like Benny Feilhaber from LAFC, who just turned around and signed with Sporting Kansas City at the 10-game mark of the season, proved unfruitful.
Colorado is stuck at the bottom of the table, mired in disappointment, struggling to find momentum, score goals and pull itself out of a hole.
That makes them a perfect opponent for Real Salt Lake, as much as they need a win, right?
"Cliche-wise, it's a trap game," RSL coach Mike Petke said. "There's always a response when there is a coaching change, and I thought there was a response last week – even though they lost. We're not getting caught up in their record."
So 10 games into the season, is it time to hit the panic button for Real Salt Lake?
Not even close.
"There have been a lot of positives, but a lot of learning moments, as well," Baird said. "I think we had a decently tough road stretch at the beginning, playing teams that were hot and are at the top of the league right now. That's not really an excuse, though; we want to be one of those top teams, and we have to find ways to get points there."
Real Salt Lake at Colorado Rapids
When: Saturday, May 9 at 7 p.m. MDT
Where: Dick's Sporting Goods Park in Commerce City, Colo.
TV: KMYU
Streaming: ESPN+ (national), KSL.com (local)
×
Related links
Related stories
Most recent Real Salt Lake stories