Estimated read time: 5-6 minutes
This archived news story is available only for your personal, non-commercial use. Information in the story may be outdated or superseded by additional information. Reading or replaying the story in its archived form does not constitute a republication of the story.
OREM — Sue Nyhus didn't even want to broach the thought.
The ninth-year Utah Valley women's golf coach was the leader in the clubhouse, having shot 80 during a qualifying round for the U.S. Women's Senior Open in Englewood, Colorado.
If 80 doesn't sound like an ideal score to qualify for a major event, even on the women's senior tour, consider the conditions she did it in: cold, windy, a high of 39 degrees.
Not ideal for an 18-hole round of golf, to say the least.
So when Nyhus finished with a positive result at Glenmoor Country Club and saw her 80 atop the leaderboard, she felt relieved.
But Nyhus also didn't want to jinx the qualifying win. Not this time. Not right now. That's why when a reporter from the local Colorado PGA Section approached her about a post-round interview, she declined. Even with just one more group on the golf course, Nyhus had to wait and see if she would be going to the U.S. Women's Senior Open. This one was too important.
The reporter looked at her quizzically. Eventually, though, he relented.
A short time later, the final group was in the clubhouse. Nyhus's name still sat atop the leaderboard.
Then she confessed why she was so hesitant — and became a little emotional.
"That's when I explained to the reporter that I had just made history," Nyhus recalled.
A few days later, while back in practicing for the last test of a historic bucket list item, Nyhus again explained to a reporter what she had recently done. The weather was warmer this time, while she took practice swings on the driving range at Golf the Round in South Salt Lake. But the excitement in her voice and glimmer in her eye was still there.
With a spot in the U.S. Senior Women's Open, which will be played May 15-19 at Pine Needles Lodge & Golf Club in North Carolina (Fox Sports 1), the former BYU golfer and longtime fixture in women's golf in the state of Utah had just become the first golfer in the United States — male or female — to qualify for every championship offered to her.
Nyhus's quest for the "career grand slam," a feat unmatched in golf previously, started when she qualified for the U.S. Girls' Junior Championship as a youth, and continued with stops at the U.S. Women's Amateur, U.S. Women's Open, U.S. Women's Amateur Public Links, U.S. Senior Women's Amateur, Women's State Team, U.S. Women's Amateur Four-Ball and finally last week's qualification for the second-ever senior open.
That's a big deal, not just for Utah golf — but nationally.
"There's no question (it's a big deal); we were just so used to Sue being a magnificent, extraordinary champion that maybe it took a little while for it to sink in for us," said Paul Pugmire, the executive director of The First Tee of Utah and close friend of Nyhus who will be in her gallery next week. "But I don't think it can be said loudly enough: this is something special."
When she first got to Denver, Nyhus wasn't sure this would be the year to accomplish history.
Temperatures ranged from 34 degrees to a high of 39, with a winter storm warning brewing and winds to accompany the approaching gale. The weather was so cold that by the time Nyhus got to the second hole, her golf towel had frozen solid — she was banging it on the cart path, the loud 'clang' echoing off nearby structures, just to soften it up enough to wipe dirt off a ball. It was miserable.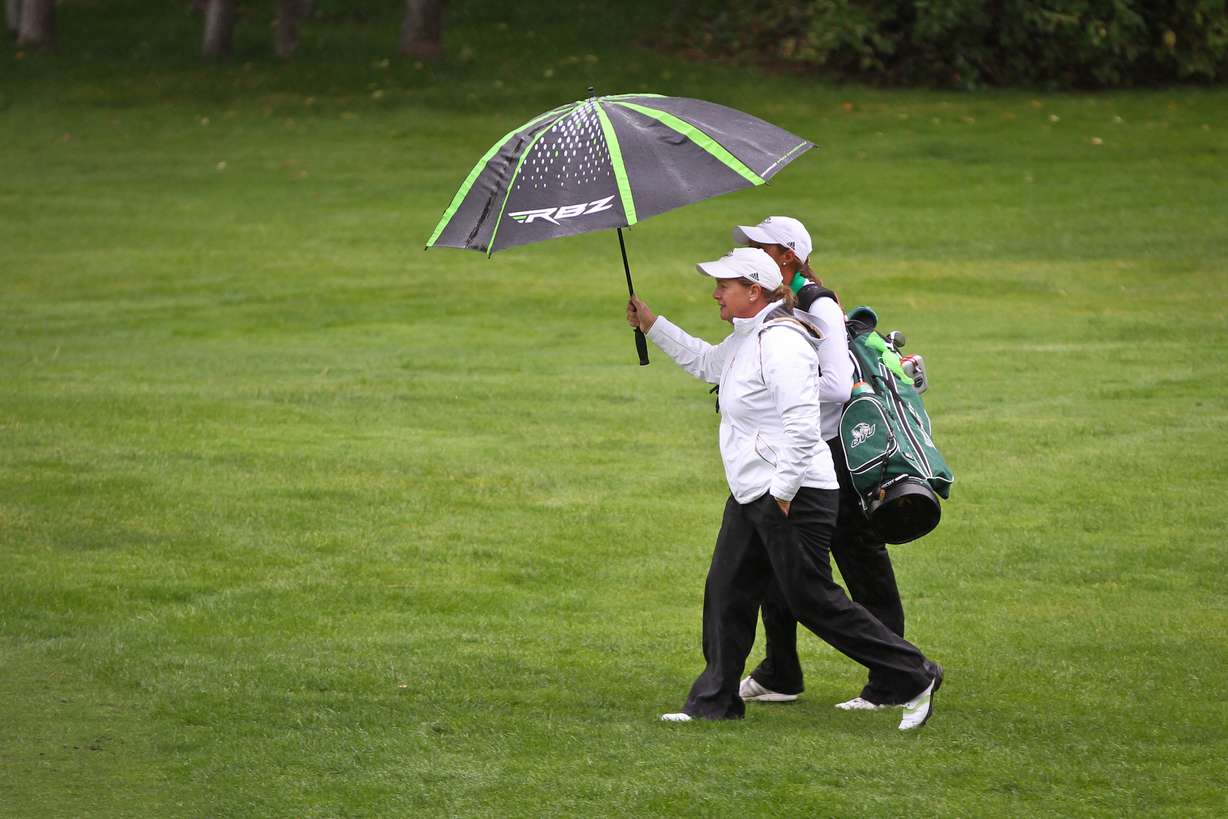 But Nyhus pulled up her ski socks; strapped on two extra layers of windproof and waterproof slacks; doubled up her core with a mock-neck shirt, fleece jacket and a windbreaker; stuffed hand-warmers inside her gloves; and pulled her now-famous wool hat tight over her ears.
Then she went to grind on what would've otherwise been a perfect attempt to qualify for the historic succession.
"The golf course was set up perfect for a Women's Open qualifier," Nyhus told KSL.com. "But the conditions didn't lend themselves to be able to play at that level on that day.
"There were at least seven forced carries on the golf course over lakes …. With all those layers, none of us could swing a club fast enough to stop the ball from carrying. So you'd fly it over (the hole) and chip it back; that was just the whole day."
It was a lesson in grinding, in never giving up, and staying in the moment — all things she tries to teach her college golfers every day. The Wolverines finished three shots back of the Western Athletic Conference title, just missing NCAA regional play, and most of them had no idea their coach was heading to Colorado to try for the professional milestone.
Nyhus hasn't held pro status for long, either. She reverted to amateur status in the mid-1990s to take advantage of the Utah PGA Section's amateur tournament circuit, and after her second child was born.
When the chance to turn pro came about earlier this year (without impacting her tournament eligibility), Nyhus leaped at the chance. She'll use the status to teach other female golfers that they can play, too.
And if the chance to play at a prestigious event like Pine Needles comes up, she'll play her best, shoot for medalist honors, and maybe try to make enough money to pay off her mortgage.
But as far as the results for next week, Nyhus is playing with house money.
"Every time you can successfully stay in the moment, you just become a better human being," Nyhus said. "All of the good things happen in the moment; not in the past, and not in the future. It's a new friendship you strike up, that relationship with a loved one; all of them are in the moment.
"If it takes golf for me to practice being in the moment, so be it."
×
Related links
Most recent News stories