Estimated read time: 6-7 minutes
This archived news story is available only for your personal, non-commercial use. Information in the story may be outdated or superseded by additional information. Reading or replaying the story in its archived form does not constitute a republication of the story.
SANDY — It's far from the end of the season, but the Utah Royals jumped up to a place three weeks into the 2019 campaign in the National Women's Soccer League, where they always wanted to be.
The top of the table.
The Royals lead North Carolina by one point after the Courage's stunning scoreless draw with league-worst Sky Blue FC on Saturday night. And after Utah's 1-0 victory over the Chicago Red Stars late Friday night — the second-year club's third-straight 1-0 victory to start the season — it's hard to imagine a better start.
Also true: Utah (3-0-0, 9 points) leads the league in points per game, having a full game in hand on North Carolina (as well as most of the NWSL) thanks to starting the season with a bye in the opening week.
But games in hand are only as good as you make them, so we'll leave that for another day.
Right now, it's hard not to like what the Royals are doing — even in their first match without a trio of U.S. internationals called into head coach Jill Ellis' side for the upcoming Women's World Cup in France.
So how did Utah — a club in just its second season — go from missing the four-team playoffs by less than three points a year ago to best-in-the-league in one short offseason?
Defense
It starts with defense. The Royals are the only NWSL side that has yet to allow a goal, posting three-straight shutouts behind goalkeeper Nicole Barnhart.
"I've been a part of a few championship teams where we've had goalkeepers who had to make big saves, and that's what you are seeing out of Nicole Barnhart," said forward Amy Rodriguez, who rooms with Barnhart on the road. "In today's game, she held her ground. She was that brick wall for us. And I couldn't be more proud of her and happy that she's playing on our team."
The 37-year-old net minder has had plenty of help from her defense, as she'll be the first to mention. Even when U.S. international Becky Sauerbrunn was out of the lineup, fellow center back Sam Johnson made Barnhart look just as good.
The Royals stand to lose three members of the starting back line to the World Cup, with only rookie left back Michelle Maemone not called up to represent her country in France: Scottish captain Rachel Corsie likely gets called into pre-World Cup camp with Scotland, and left back Katie Bowen has already been confirmed to represent New Zealand this summer. Kelley O'Hara, who started last year at left back but came on as a sub for the first two matches of 2019 due to injury, was also among Jill Ellis' callups for the United States.
But with the play of the goalkeeper teammates call "Barney" and head coach Laura Harvey calls "a joke of a human" for her prestige in goal, it's hard to see the defense letting up too much.
So is this the best soccer ever played for the former U.S. goalkeeper who once backed up all-everything standout Hope Solo?
Maybe not quite, Harvey says — but only because the 54-capped goalkeeper has won championships and set collegiate records with the lowest goals-against average (0.41) in Stanford women's soccer history.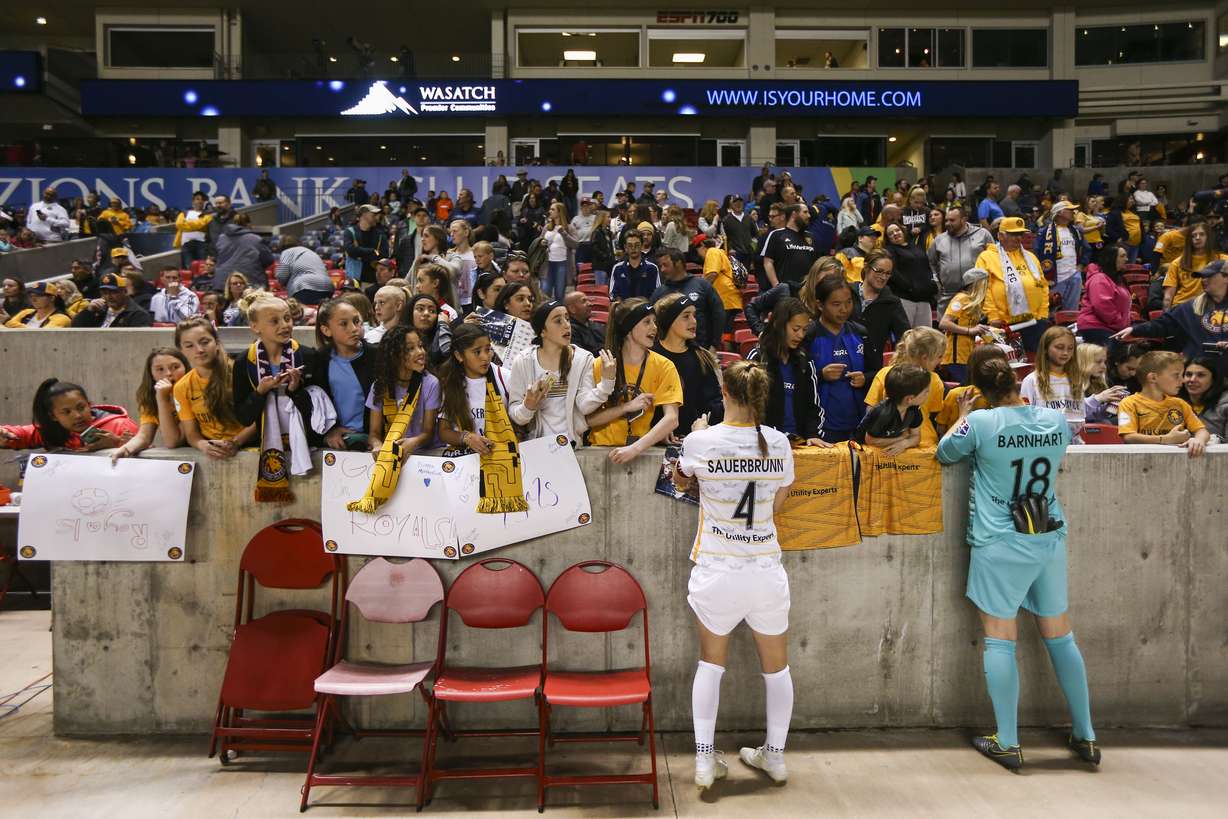 The veteran NWSL coach recalled a time when her Seattle Reign FC was set to play FC Kansas City. She saw Barney hobble into the stadium in a walking boot, clearly injured. There was no way she'd be available to play that day, Harvey remembered thinking.
But she did. And even though Barnhart hasn't been called in to the national team since 2013, she's never formally retired. Meanwhile, her club record has been sparkling, currently ranking among the top goalkeepers in the league.
"When someone doesn't concede goals the way Barney does, you can't keep dismissing her. Maybe age is going against her a bit, but she's been phenomenal for us," Harvey said.
Having that solid presence in goal has helped change the Royals' mentality since the 2018 season, from a squad still learning each other's names and understanding Harvey's system, into one that constantly looks for the goal-scoring opportunity — confident that they may only need to put away one or two goals, because of what they have in the back.
"Our mentality this year is intense," said Rodriguez, who scored the lone goal in Friday night's win over Chicago. "We are on our front foot, and we want to set the tone with a lot of teams. Laura and the staff have done a great job of motivating us, and that's what you are seeing on the field. That's why we are walking away with three points (Friday)."
Ownership
There's also a new sense of accountability. With new teams, players can be afraid to speak their mind, even for the good of the squad and the better of the season.
This year's club isn't like that. Harvey knows her team missed opportunities Friday night, but before she could mention specific scenarios to improve in Friday's post-match locker room, the players were already talking about it.
The cross on the game-winning goal? Not good enough, said a humorously self-deprecating Gunny Jonsdottir, who assisted on that winner to Rodriguez, (the goal-scorer disagreed, for what it's worth).
The chance on a free kick from 18 1/2 yards that Vero Boquete smashed off the crossbar? She wants that back, admittedly.
It's part of a mental shift in focus with this year's Utah Royals FC.
"We've got winners in this group," Harvey said. "They weren't happy with last year. They weren't satisfied with what that looked like. We know each other way better now.
"They want to win, and they aren't satisfied when they don't."
If results hold, the Royals should continue doing just that in the near future. Utah hosts three of its next five matches at Rio Tinto Stadium, against the Houston Dash, Orlando Pride and New Jersey's Sky Blue. A trip to Cary, North Carolina, to face the Courage on May 19 could be a landmine, with potential for the club's first loss of the season on the road against a team that has scored 10 goals and allowed just two.
But the Royals were unbeaten a year ago against North Carolina, saving face with a 1-0-2 record against the Courage — the only team in the league that could make such a claim.
So how long can this unbeaten start run out?
Who knows? But the Royals want to find out.
"Last year, I think we had nine points after 10 games or something," Jonsdottir said. "We just tied and tied. But starting off the season with three wins in a row and clean sheets, I think, is very important."
×
Related stories
Most recent Real Salt Lake stories