Estimated read time: 3-4 minutes
This archived news story is available only for your personal, non-commercial use. Information in the story may be outdated or superseded by additional information. Reading or replaying the story in its archived form does not constitute a republication of the story.
Editor's note: This article is a part of a series reviewing Utah and U.S. history for KSL.com's Historic section. ROCKVILLE, Washington County — A nearly century-old bridge that a small southern Utah town banded together to preserve is set to ceremoniously reopen next week.
The bridge, which was built over to the Virgin River in 1924, officially reopened to traffic in mid-February, but an official ceremony is slated for May 3. Rockville Mayor Pam Leach and a representative from the Utah Department of Transportation will speak at the event, and plaques will be handed out to those who helped save the bridge, said Joyce Hamilton, the town's deputy clerk.
In short, it'll be a celebration of seven years and thousands of dollars spent to preserve a slice of the town's history.
The 217-foot long one-lane bridge was designed for the scenic town by the U.S. Bureau of Public Roads to cut travel from Zion and Grand Canyon national parks by 33 miles and thus cut minutes of travel time. It was completed 94 years ago.
Two years after its completion, a daily bus service that would loop between Bryce Canyon, Zion, the Grand Canyon and Pipe Springs National Monument used the bridge for a faster route. That continued until 1928 when the Zion-Mt. Carmel Highway was finished. The bridge remained a fixture of the town for decades afterward allows its 270 residents to reach the town of Grafton, as well as places like Gooseberry Mesa and Smithsonian Butte, according to the Washington County Historical Society.
It's also the last surviving Parker Through Truss-type bridge in Utah, Rockville officials say, and it was added to the National Register of Historic Places in 1995.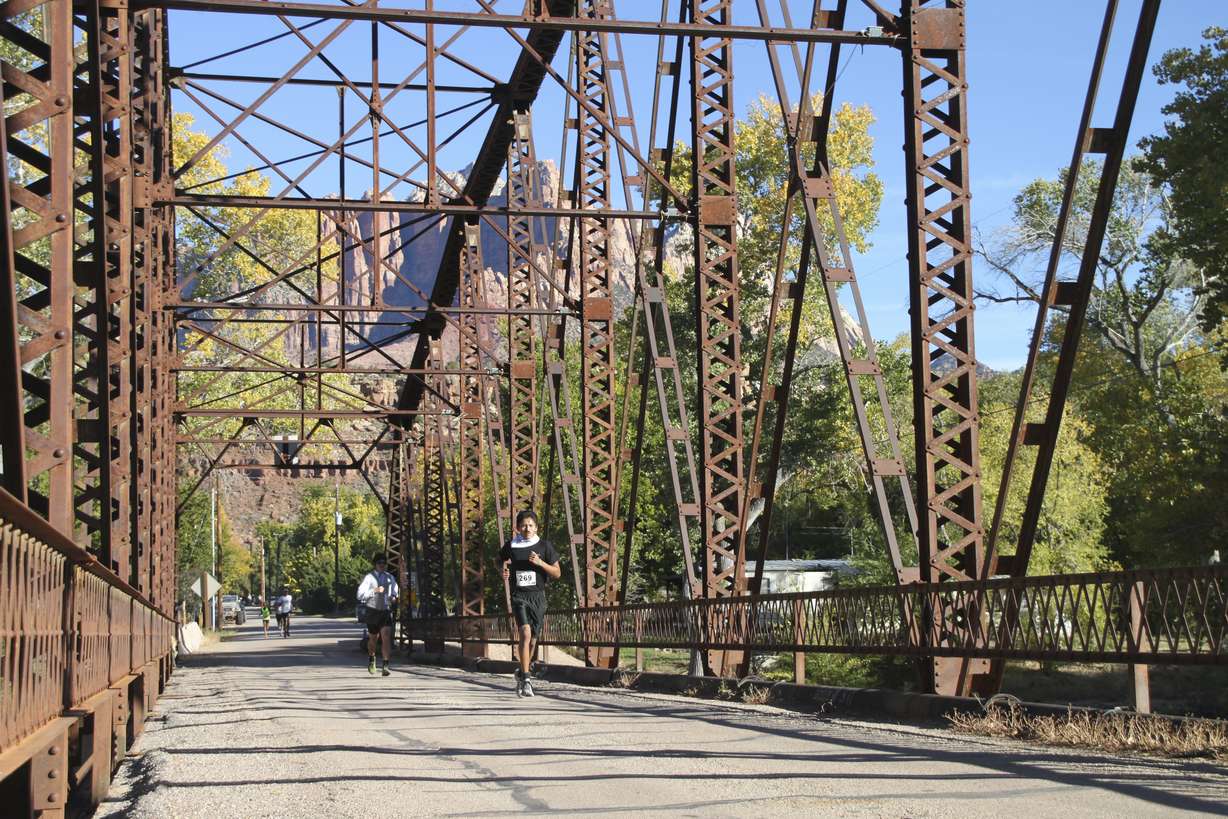 The fate of the bridge was put into question in 2012 when UDOT inspectors determined it was structurally deficient. In 2013 the town came up with a plan to replace it with a two-lane bridge, but a city survey found nearly three-fourths of the 57 percent of the residents who responded preferred preserving the bridge instead. In fact, at one point, roughly 20 percent of the entire town showed up to a meeting to voice their support to keep the bridge, according to Hamilton.
However, that came with a steep cost for a small town to cover alone. Even with Federal Highway Administration funding that covered more than 90 percent of the projected cost, the town was $169,250 short of repairing the bridge.
The town's elected officials sought and received additional funding from the state, collected donations and even sponsored art exhibitions, collection jars and auctions to help collect enough money.
The George S. and Dolores Dore Eccles Foundation, UDOT, the neighboring town of Springdale and dozens of others made financial contributions, according to town officials.
"That was a lot of money for our town to raise and the community came together and did a great job of funding it, supporting it and we could not have done it without all the support we received," Hamilton said.
The process to fix the bridge began in 2018 and concluded at the start of this year. It's still a one-lane bridge like when it opened 94 years ago, and it's back to being able to withstand 25 tons like it was once able to.
Hamilton said she believes Rockville's residents are relieved the seven-year ordeal has come to an end and they are pleased with the final outcome.
"They think the bridge looks really great," she said.
The celebration on May 3 is free and open to the public. Those wishing to attend can park at the Rockville Town Park and take a free shuttle to the ceremony at the bridge (on Bridge Road) or park alongside state Route 9. In addition to the speakers, light refreshments will be served.
×
Related stories
Most recent Southern Utah stories