This archived news story is available only for your personal, non-commercial use. Information in the story may be outdated or superseded by additional information. Reading or replaying the story in its archived form does not constitute a republication of the story.
This story is sponsored by Robert J. DeBry—more than 200 years of combined experience practicing personal injury law.
Utahns are known across the country as being friendly, family-oriented and generally nice. But when it comes to soda, the best way to describe Beehive state residents is dirty.
The New York Times might be the most prominent source to call out the local culture — noting that many Utahns are members of The Church of Jesus Christ of Latter-day Saints and avoid alcohol, coffee and other guilty pleasure drinks. So many turn to options like Diet Coke with a shot of coconut for an afternoon pick-me-up.
Of course, Utahns aren't alone in their love for soda. In fact, according to global research data, Americans drink 216 liters of soda per person each year. And while many people take their beverages sweetened, others opt for diet versions. In 2018, for example, Statista reports 52.83 percent of Americans 18-29 drank Diet Coke in a four-week period.
But people in Utah seem to take soda devotion to the next level — many are die-hard fans of their soda shops. And while some Beehive state residents are satisfied with almost any carbonated drink, others like to custom mix their beverages or prefer a specific brand or source.
There are even some folks in the state that will go to the grave drinking out of a red straw over a purple straw.
Here are some of the big soda leaders in the state and why people love them so much:
Sodalicious
This is the soda company known for mixology, where flavors and sodas mix for fun combinations. For newbies to the soda game, mixing flavor shots into any soda is called a 'dirty' soda. In particular, many people go for the "dirty Dr. Pepper" or "dirty Diet Coke." Usually, this involves a shot of coconut syrup and a fresh lime wedge. Sodalicious also has a "skinny" drink menu for those looking for a zero or low-calorie treat.
The company originated in Utah County and has multiple locations across Utah Valley, but today it is found across most of northern Utah and even has sites in Arizona and Idaho.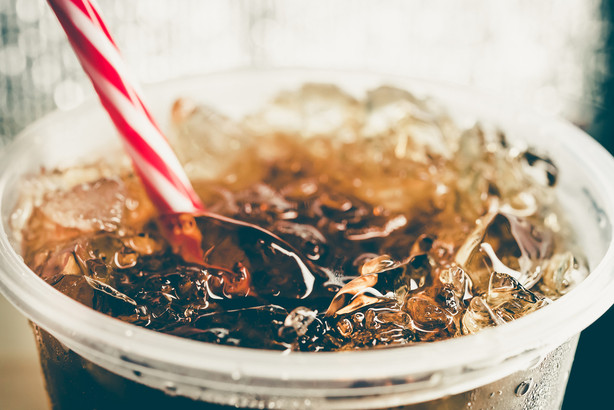 Swig
Self-described "home of the dirty soda," Swig also offers a menu of fun drink mixes, including a "shark attack" kids drink that comes with a gummy shark! There's a drink or treat for every member of the family at Swig, including Italian sodas, smoothies, energy drinks and more.
Swig has a pretty big claim to fame, as they've caught the attention of visiting celebrities. Actor Michael Peña visits the state frequently, and always makes a point of getting his drink fix at Swig. According to Deseret News, he loves the idea of throwing vanilla syrup in his soda.
To go with the sweet drinks, Swig also offers sugar cookies and scones for something to nibble on.
Grab a bite to eat and a sweet drink at a Swig location almost anywhere in Utah. From St. George to all the way up to Logan and even in Arizona, sweets and drinks are served fresh daily.
Swig takes their "dirty" sodas seriously — they filed a lawsuit against their competitor, Sodalicious, for using the term "dirty" to describe sodas with certain flavor shots, according to the Deseret News. Eventually, both companies agreed to settle before going to court, but it caused a bit of controversy among Utahns, especially those in Utah County.
FiiZ
FiiZ offers a "serious drink experience," for those looking for a carbonation fix. Just like Swig and Sodalicious, FiiZ has a full drink menu, but with a few twists. Italian sodas are on the menu here, as well as sodas with candy and whipped cream mixed in, too. It's a fully-customizable experience at this one-stop shop.
In addition to the full drink menu, FiiZ offers nachos, macarons, cookies, popcorn and even 'Cool Beads,' which are little balls of ice cream scooped into a cup, similar to Dippin' Dots.
Grab your sweet drink and salty snack at any one of the several FiiZ locations across the state.
Sip-N
Known for their "spiked" drinks, Sip-N likes to break the mold of the popular soda shops. Flavored water, frozen Chai, frozen hot chocolate, smoothies and more are some of the unique offerings of this soda shop.
As far as treats are concerned, there's no shortage of options at Sip-N. Choose from donuts, sundaes, shaved ice, cookies, brownies, and even sugar-free cookies. The four locations are all in Utah county or a little farther south, and the Provo and Payson locations offer loaded fries.
Maverik
Maverik stores and gas stations can be found on almost any main road in every part of the state. In addition to the wide variety of convenience-store bottled drinks, candies, and foods, Maverik's fountain sodas are a big draw for Utahns. Starting at only 99 cents, customers can get a big cup of soda, and some locations even have pebble ice.
Many locations offer self-serve flavor shot stations to make favorite combinations of soda and syrups.
McDonald's
Coca-Cola is "the burger's companion," according to McDonald's. Most people know to grab a burger and food at McDonald's, but stopping for a quick soda refresh is a great idea. Any size is only one dollar at the golden arches, and some people swear the drinks taste different at McDonald's than at other fountains. In fact, there are some actual reasons why people think this is true.
According to Business Insider, McDonald's takes their fountain drinks seriously by ensuring the water is top notch, the temperature is perfect, and the flavor is stored the best it can be.
Perhaps one of the biggest draws for soda-lovers with kids is the play-places that grace so many of the McDonald's establishments. For a dollar, parents can buy a drink and let their kiddos run wild in the play area.
Burger King
Burger King is one of the drive-thru chains that have installed Freestyle machines in many of their restaurants. While many fast food restaurants only have a few drink options, Burger King is one of the few that has over a hundred.
While they don't offer the one dollar drinks in any size, they do have typical fast food drink pricing, which isn't a bad deal when you consider all of the options and flavors to choose from.
Hollow Mountain Gas Station
Have you ever bought your soda from a cave? Well Hollow Mountain Gas Station, located in Hanksville can give you that unique experience.
"This small store is literally carved out of the mountain. Gas pumps, restrooms and a convenience store. Tip: use the restroom to actually see the mountain," according to Roadtrippers.
For just as much an experience as a drink stop, check out this one-of-a-kind convenience stop.
With the hot summer days coming up, keep this list in mind for your next soda stop! If there's a favorite local spot that didn't make it on the list, mention it below in the comments.
×