This archived news story is available only for your personal, non-commercial use. Information in the story may be outdated or superseded by additional information. Reading or replaying the story in its archived form does not constitute a republication of the story.
SALT LAKE CITY — The first round of the high school bracket challenge has concluded with only a handful of upsets.
All the No. 1 seeds survived the opening round, with most beating their opponent handedly; though Hillcrest had the closest matchup and beat Ridgeline with only 55 percent of the vote.
The most competitive region was in the West, where several matchups finished with the winner — West Jordan, Alta, Springville and West — getting only 51 percent of the vote; and Skyline narrowly getting past Provo by nine votes. The biggest winner of the first round, though, came from that same region where Wasatch claimed 70 percent of the vote against Cyprus.
Here's looking for a competitive and fun second round.
As a refresher for those that missed it or haven't already participated, the bracket challenge is meant to identify which high school is the best in the state — using whatever deciding factor you determine. Maybe it has the best sports program, academics or simply because the name rolls off the tongue — you get to choose.
Each of the schools included in the bracket was narrowed down from the state's three largest classification — 6A, 5A and 4A — and were put into the bracket based on their voting total.
Remember: Don't take this bracket challenge too serious and add some levity to your day. Voting will go through the day Friday and end at midnight.
If you can't see the above poll, click here.
Click the bracket to enlarge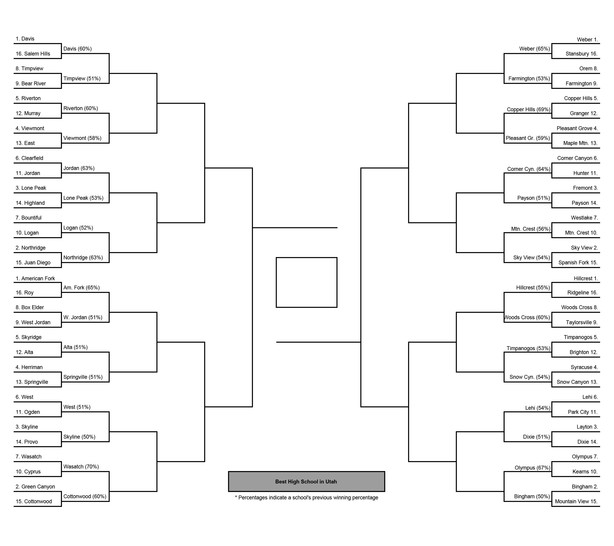 ×