This archived news story is available only for your personal, non-commercial use. Information in the story may be outdated or superseded by additional information. Reading or replaying the story in its archived form does not constitute a republication of the story.
SALT LAKE CITY — When Utah Jazz owner Gail Miller hears disrespectful language in her arena, she says it makes her want to jump up and shout, "Stop!"
And that's just what she did before her team played Minnesota on Thursday. Just before tip-off, Miller took center court and in a response to Monday's incident between a fan and Russell Westbrook, told her fanbase her thoughts on the matter. And what she expects from them going forward.
Here is her message:
"As the owner of the Utah Jazz, I feel it is important for me to express some thoughts and concerns about the unfortunate event that happened Monday night.
"I am extremely disappointed that one of our, quote, 'fans' conducted himself in such a way as to offend not only our guests in our arena but also me, personally, my family, our organization, the community, our players and you, as the best fans in the NBA.
"This should never happen. We are not a racist community. We believe in treating people with courtesy and respect as human beings. From time to time, individual fans exhibit poor behavior and forget their manners. Some disrespect players on other teams. When that happens, I want to jump up and shout, 'Stop!'
Gail Miller addressed tonight's crowd ahead of tip-off ❤️ pic.twitter.com/nJcmPD2kD4

— Utah Jazz (@utahjazz) March 15, 2019
"We have a code of conduct in this arena. It will be strictly enforced. Everyone that comes here — visiting teams included — deserves the right and the expectation to be treated with dignity at all times. When bad incidents like Monday night happen, it not only affects the players it is directed at, it also affects our players.
"Other teams are not our enemies. They are our competition. Competition is a good thing. It allows players to showcase their talents and it allows fans to encourage, appreciate, cheer for and enjoy those who share their talents with us.
"Our family has been stewards of this team for 34 years. We love sharing it with all of you and receiving your support. It is also important that you support our players as citizens of our community and treat them and their families with respect. They have chosen to become part of our community and they make us richer with their diversity.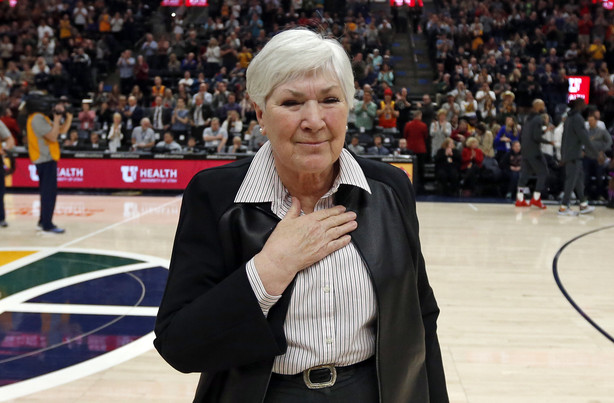 "My heartfelt request to all of you is that from this time forward, we all take pride in holding ourselves and those around us to the highest standard of decency. Use your energy cheering our team with your honest, sincere enthusiasm rather than degrading or demeaning players on the opposing team.
"No one wins when respect goes away. Let's be the supportive fans that are players know and deserve.
"Thank you, and go Jazz."
×