This archived news story is available only for your personal, non-commercial use. Information in the story may be outdated or superseded by additional information. Reading or replaying the story in its archived form does not constitute a republication of the story.
SANDY — Real Salt Lake took a step forward in 2018, qualifying for Major League Soccer's postseason playoffs and going on the road to a knockout-round win at Los Angeles FC.
So what's the next step for head coach Mike Petke's second full season in charge of the club?
For starters, taking a form that went 11-2-4 at home and earning more results on the road.
While Salt Lake finished the season with a 14-13-7 record, all but three of those wins came at Rio Tinto Stadium — making the club just 3-11-3 away from home.
That's the worst road record among the playoff teams in the Western Conference, and the second-worst road record amongst playoff teams league-wide from last year.
That needs to change, Petke is quick to say — especially with four of the first six matches away from home, including Saturday at 4 p.m. MST at Houston.
"I think every team would say, no matter if the schedule is condensed or not, you always want to start strong," Petke said after training this week. "We're 9 out of 15 games on the road to start, where we had one of the worst records in the league on the road.
"We're obviously looking to improve our road form."
Real Salt Lake knows the difference one point can make at the end of the season. Two years ago, the club missed out on the postseason by a point despite a win in the regular-season finale.
Then last year, with RSL sitting idle on "Decision Day," they needed help from Houston via a win over the LA Galaxy to get a crack at the playoffs.
They got it — but not after some nervous moments.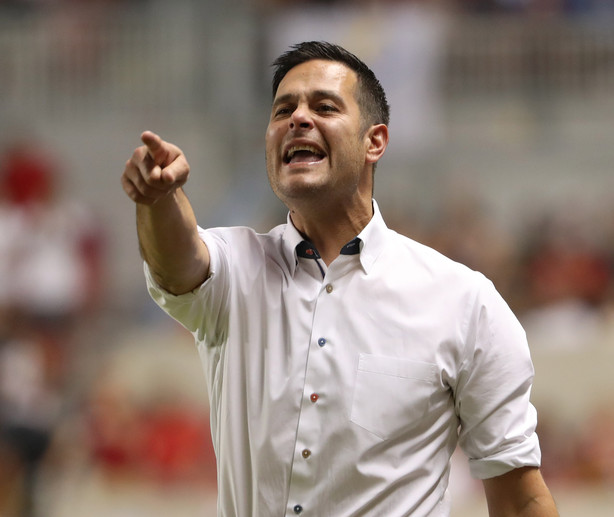 So would a strong start to the season matter for a club now entering its third season under Petke? Absolutely — but that might not necessarily mean a lengthy winning streak, given the circumstances.
"We're looking to get off to a hot start," Petke said. "But getting off to a hot start could mean some ties, to be honest with you — for mentality, for building up those little bit of points.
"The road is definitely the spot, in my mind, where you are going to make the playoffs or not."
To earn more points on the road, RSL can start by scoring more goals.
The club acquired center forward Sam Johnson from Norway in the offseason, and the Liberian international fits the true "No. 9" role that Petke has sought after during his entire time in charge of Real Salt Lake.
Coming in as a designated player, too, brings with it a need for Johnson to score — and score quickly and effectively. But this is also a player who was the top scorer at Valerenga a year ago, notching 11 goals in 21 appearances.
"Sure, there's pressure," acknowledged Johnson, 25. "Coming in as a designated player is pressure. But I'm cool with it."
He'll get help, of course. Salt Lake returns the majority of its front-facing attack from 2018, including wingers Joao Plata and Jefferson Savarino, emerging forward Bofo Saucedo and attacking midfielder Albert Rusnak.
RSL Season Preview
Then there's Damir Kreilach, who signed with Real Salt Lake prior to the 2018 season as a defensive midfielder — and went on to lead the team in scoring with 12 goals, including two game-winners.
Kreilach found himself playing everywhere from defensive midfielder to center forward for Salt Lake a year ago. He may not be asked to do that as much this year — but versatility will also help as RSL contends through the most midweek games in Major League Soccer history.
"We have such a big roster, and everyone can replace everyone," Kreilach said. "I think the most important thing is getting 100 percent on the field as in practice.
"The season is so long, that everyone will get a chance to play."
The league announced during the offseason a slight modification to the playoff structure, replacing a home-and-home playoff series with one-off games hosted by the higher-seeded teams.
That will move the MLS Cup final up to Nov. 10, a welcome change from cold-weather finales that have stretched into December.
But it will also mean more midweek matches as the league adapts to its 24th team with the addition of FC Cincinnati.
Midweek time will only get worse, too, with Inter Miami, Nashville and Austin FC already scheduled to join MLS in coming years.
Squad rotation will be critical for those trips, Petke said.
"Hopefully it comes out better than not in those critical moments," he added. "But now we certainly have no hesitation, no problems, and good attitudes."
Real Salt Lake at Houston Dynamo
When: March 2 at 4 p.m. MT
Where: BBVA Compass Stadium (Houston, Texas)
TV: KMYU
Streaming: KSL.com (local), ESPN+ (national)
×
Related Stories