SALT LAKE CITY — Donovan Mitchell vividly remembers the scene of his first dunk.
He was on an outdoor court in Harlem, New York, just off of FDR Drive, warming up with his AAU team. He dribbled, jumped like so many times before — except this time it was different. He got more bounce and was able to reach his hand just high enough to slam it home. After that, things get a little fuzzy.
"I didn't care about the game or any game that week," Mitchell said. "I just told everybody that I dunked the ball."
That may be a pretty accurate way to describe the actual games and events going on in Charlotte, North Carolina, at NBA All-Star Weekend — it's all about the highlights.
Mitchell will play in the Rising Stars Challenge Friday night before commentating the NBA Dunk Contest on Saturday. But the most impactful event of the weekend for Mitchell may have already happened.
On Thursday evening, he attended a celebratory event for Dwyane Wade held in Charlotte. Mitchell's relationship with Wade has been well documented. This past summer, the young Jazz star reached out to the veteran and Wade proved to be a willing teacher.
But what really stuck out to Mitchell on Thursday night was just how many people have been impacted by Wade.
"Did you see how many people were in the room? That's one thing that got me." Mitchell said. "You had Magic (Johnson). You had Pat Riley. You had Isaiah Thomas. You had Carmelo (Anthony). You had Chris Paul, Steve Smith, Grant Hill, Caron Butler.
"You had those guys seeing him, and he idolized some of those guys. That says a lot in itself. They were able to come on Thursday night. Nobody comes on Thursday night to All-Star."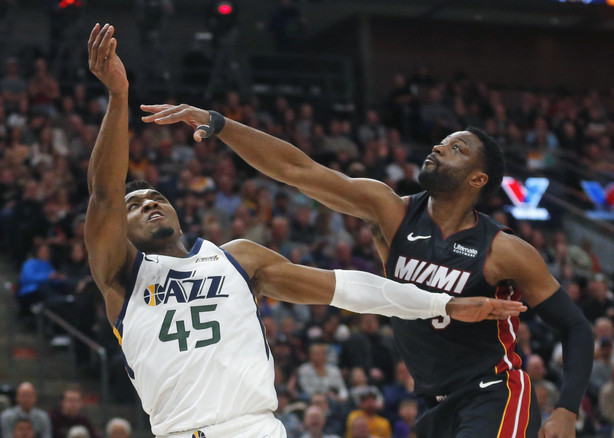 While Mitchell watched a video filled with career highlights of Wade at the event, he saw plenty of himself. The same moves, the same type of style; but he's hoping to be similar in a few more ways, too. He has the desire to leave the same kind of impact.
"It's not just what he does on the basketball floor, it's what he does as a person," Mitchell said.
The second-year guard is already well on his way to doing that. Just four days after winning the dunk contest last season, he attended a charity event. He has surprised high school students at assemblies and he continues to give away a pair of shoes to young fans before each game — just to name a few.
"For me, it's giving shoes away to kids before the game," Mitchell said. "For him (Wade), it may be visiting someone's mother or help building houses. He left such an impact on the game on and off the floor that I'm trying to replicate it."
Mitchell wants to duplicate his on-court success, too. Not just his moves or his stats — he wants the rings and championships.
"He won a championship in his third season," the second-year guard said. "That's extremely impressive. That's something I've always wanted to ask him about."
And not just about what its like to reach the pinnacle of the sport, but about how he got there and how he reached it so quickly.
"As a young player in this league, he got the respect from guys like Shaq, Tim Hardaway, Caron Butler," Mitchell said. "That's impressive. That's hard to do as a young guy. So for me, just trying to find a way to better myself."
Mitchell said the whole weekend is a "full-circle" moment for him.
There was the Wade celebratory dinner. Michael Jordan — the reason why Mitchell wears No. 45 (Mitchell called Jordan, "the greatest basketball player of all time — and he always will be.") — owns the hosting team. And Mitchell will be commentating the dunk contest a year after winning the event.
"For one, I wanted a courtside seat — no I'm just kidding," he said of commentating the event. "I've always wanted to do that. I've wanted to be like Shaq, Kenny (Smith), Chuck (Charley Barkley), and Ernie (Johnson) and all those guys and I just wanted to experience that."
×
Related Stories