SALT LAKE CITY — With more than 800 nominees for the 2019 McDonald's All-American teams — considered to be the most prestigious All-American squad in high school basketball — there were bound to be plenty of Utahns.
But nine nominees? That's significant.
Provo High star Lavender Briggs leads nine nominees for the 18th-annual girls game from Utah, a list that also features Union teammates Reagan Anderson and Tori Ross. Lone Peak's Maddy Eaton, Copper Hills' Breaunna Gillen, Corner Canyon's Kemery Martin, Bingham's Maggie McCord, Maple Mountain's Kelsey Owens and Layton Christian's Danyale Thomas.
"We are excited to recognize these McDonald's American Games nominees and give fans a first look at some of the nation's biggest rising basketball stars," McDonald's All-American Games selection committee co-chair Morgan Wootten said in a statement.
Added co-chair Joe Wootten: "As we head into final roster selection, we applaud these athletes for their accomplishments both on and off the court."
The final roster will be selected Jan. 24 at 1 p.m. MST on ESPN's "The Jump," with the girls and boys games to be played Wednesday, March 27, beginning at 3 p.m. MST on ESPN2.
Briggs, who has signed with Florida, was the No. 3 scorer in the state last year with 25.1 points per game, according to MaxPreps, to go along with 11.2 rebounds, 3.4 steals and 2.3 assists.
She's averaging 32.4 points per game through 12 games as a senior at Provo, which ranks No. 4 nationally, according to MaxPreps.
Briggs picked the Gators over offers from Washington, Syracuse and North Carolina State, among others.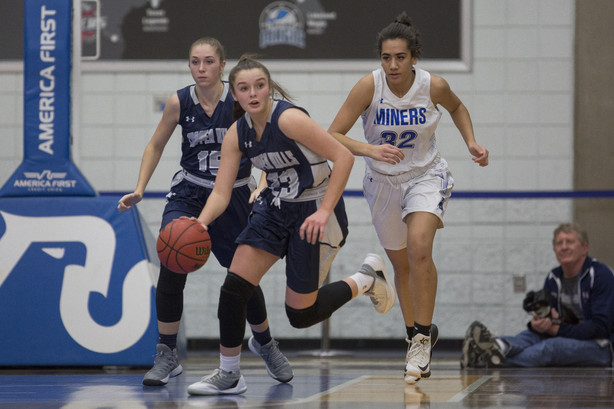 Gillen, a 5-foot-9 guard at Copper Hills who burst onto the scene as a freshman, is the reigning Region 3 most valuable player with first-team all-state and all-region honors. The Dixie State signee averaged 15.4 points, 4.3 rebounds and 3.1 assists per game as a junior, leading the Grizzlies to the 6A state semifinals.
Martin is a five-star recruit by ESPN who averaged 20.8 points, 5.5 rebounds and 4.1 assists as a junior for the Chargers. She's already signed with Utah.
Eaton, the younger sister of former BYU star Lexi Eaton and Weber State wing Liz Eaton, averaged 23.7 points as a junior before transferring to Lone Peak for her senior year. The 5-foot-10 guard who has signed with Southern Utah is averaging 19.7 points and 6.8 rebounds per game for the 8-4 Knights.
McCord, a Dixie State signee, averaged 16. 8 points, 5.7 rebounds and 1.9 assists as a junior as she helped the Miners to a runner-up finish in the Class 6A state tournament.
Owens, a 5-foot-5 guard from Maple Mountain, is averaging 10.9 points and 3.8 rebounds per game for the 4-10 Golden Eagles, including 15 points and eight rebounds most recently against rival Springville.
Thomas, a 5-foot-4 senior at Layton Christian, averages 13.1 points per game for the 4-9 Eagles.
Anderson, a 6-foot-1 power forward, averages 12.57 points and 5.2 rebounds per game for the 6-8 Cougars. Teammate Ross, a 5-foot-5 guard, is a 10.8 points-per-game scorer who also dishes out 1.5 assists and 2.3 rebounds per game.
×