Estimated read time: 5-6 minutes
This archived news story is available only for your personal, non-commercial use. Information in the story may be outdated or superseded by additional information. Reading or replaying the story in its archived form does not constitute a republication of the story.
MURRAY — Police are hunting for three suspects after a shooting Sunday afternoon injured two people and left many shoppers shaken at Fashion Place mall.
A man and a woman, both in their early 20s, were shot near a mall entrance, Murray police officer Kenny Bass said. They were taken to Intermountain Medical Center, with the man in critical condition, while the woman was treated for her injuries and released later in the afternoon, Murray police reported.
Dozens of patrol cars from multiple Salt Lake Valley police agencies surrounded the mall near 6100 S. State St. Groups of people could be seen leaving the mall and reuniting with concerned family members at the Taco Bell on the northwestern side of the mall.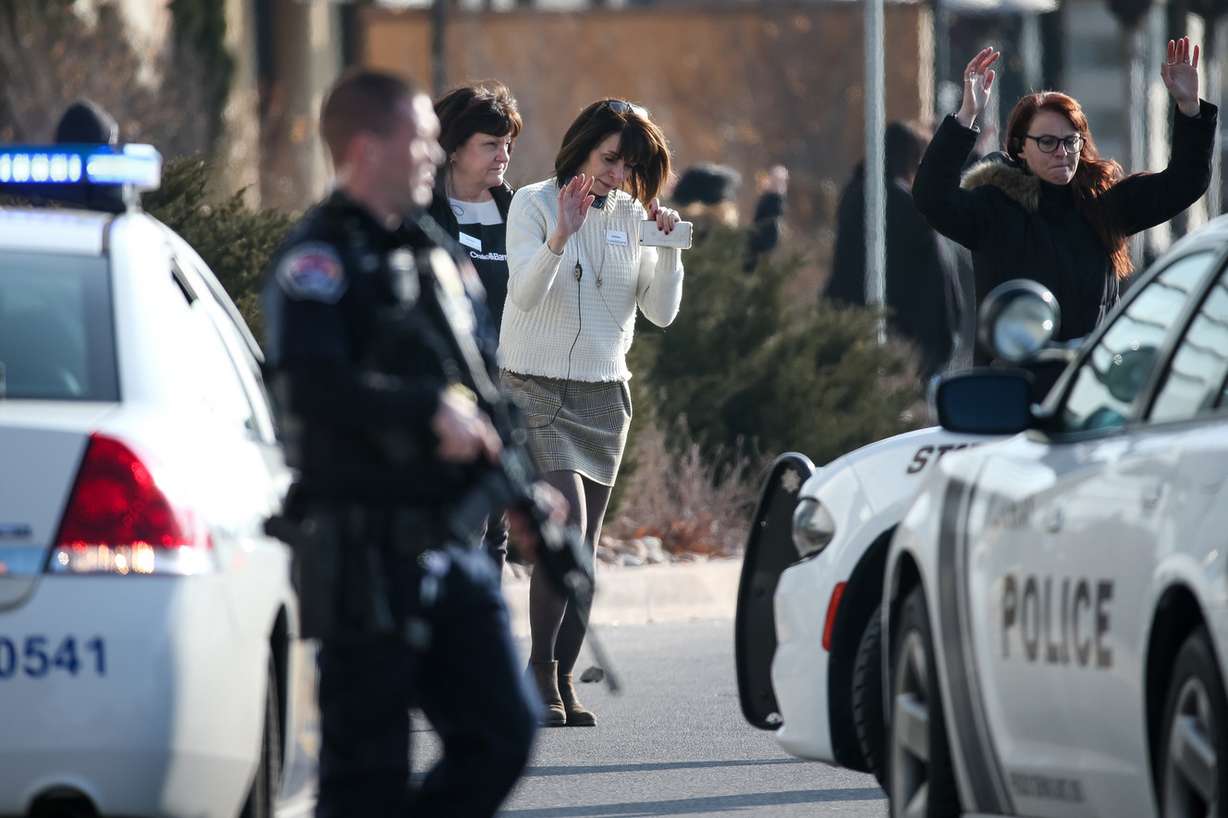 The incident sent panic through the mall.
Katrina Ramos said she was shopping inside Claire's jewelry store with her four children when she heard a "popping noise" and people began screaming.
'There was a panic," she said. "Everybody just started running, pushing people out of the way. I told my kids to hold hands, stay together."
Al Collins, who was shopping at Dillard's with his girlfriend, began recording video on his phone after alarms began sounding and a voice over the mall's speakers announced, "This is an emergency, please evacuate." Yet shoppers were slow to react, Collins said.
Collins was recording when gunshots "all of a sudden" exploded right "around the corner from me, probably 20, 30 yards," he said. The shots sent shoppers into a panic.
"I just hightailed it," Collins said. "I grabbed my girlfriend and ran out and just took off."
"It was so surreal," he said. "I felt like I couldn't run fast enough."
#vid2_tweet
UPDATE: Witness video sent to us shows the victims of the shooting at Fashion Place Mall. We have blurred the face of the man who is still at the hospital and the wounds. The woman has been treated and released, Murray police say. PhOTO: Eidiel Lopez Lopez pic.twitter.com/kuCDXFqG0O

— KSL 5 TV (@KSL5TV) January 13, 2019
#tweet_vid
Collins said he called 911 when they got to their car, one of many others who had already called law enforcement.
"It was just crazy," he said. "(In the video) we could see the gunfire flash, it was so close. It was pretty scary."
Bass said police believe the three suspects immediately fled the mall area.
"At this point, there are officers still looking for them," Bass told reporters at a news conference two hours after the incident.
Later Sunday evening, officers from multiple police agencies responded around 7:30 p.m. to an area near 8917 S. Dedication Drive in Sandy, but did not find any of the suspects, according to Unified Police Sgt. Melody Gray.
Police are asking people to report any suspicious activity as they continue their search. The shooting is "possibly gang-related," Bass said, but it's too early to tell whether the shooting was targeted at anyone.
Bass said he knew little information about the shooters other than they were wearing dark pants and light-colored hoodies or sweatshirts.
The shooting occurred at roughly 1:30 p.m. outside the mall on the east side toward the mall's south entrance. The suspects fled south from the entrance after the shooting, Bass said
Police don't believe there is a threat to the public as they continue their search for the suspects, Bass said.
"It looks like if it actually was gang-related then anybody living in the area does not have any personal concern," Bass said. "However, if they see anybody that is suspicious in their area ... please contact the police department."
After the shooting, police from agencies all across the Salt Lake Valley responded, locking down the mall and working to clear the stores of any additional victims or possible suspects. Bass said police didn't find any additional injuries or suspects inside the mall.
McKay Mattingly was shopping at The Container Store nearby when he started hearing alarms. As a former employee for Apple at Fashion Place, Mattingly said fire alarms were a regular occurrence, so he initially thought nothing of it.
But as soon as he saw people running away in hysterics, Mattingly knew something was wrong. Like many others, he said he feared there was an active shooter inside the mall.
Just evacuated from Fashion Place Mall. Active shooter. Heard that two people shot. #utpol

— Carol Moss (@RepCarolMoss) January 13, 2019
#Moss_tweet
"Shootings right now are such a problem, and it's crazy to know about a problem that's so big and how gun violence is so pervasive right now in America, but it's really never hit home like this," he said. "So when it does, it's freaky."
State Rep. Carol Spackman Moss, D-Salt Lake City, was also shopping at the mall when the alarms went off. She said many shoppers and even employees disregarded the alarms — an issue that left her frustrated.
"I would really think the mall ought to review their evacuation protocol because that shouldn't happen," she said. "If it had been a mass shooter, the fact that people didn't really think it was serious ... It just didn't seem like it was a crisis."
---
You never expect it to happen where you live. Even though you see it all the time.
–Rebecca Madsen
---
Later Sunday, Fashion Place officials issued a statement on Twitter thanking Murray police.
"We are very saddened by the incident that happened outside our shopping center this afternoon," the statement said. "We are grateful to our security and the quick response of our partners at the Murray Police Department."
Rebecca Madsen, 20, was working at a chocolate kiosk in the mall when she said alarms started sounding. She ran to the nearby store, Claire's, and she and other store employees barricaded the doors with filing cabinets when it became apparent through the chaos that a shooting had occurred.
We are very saddened by the incident that happened outside our shopping center this afternoon. We are grateful to our security and the quick response of our partners at the Murray Police Department.

— Fashion Place (@FashionPlcMall) January 13, 2019
"It's fight or flight," Madsen said, wiping away tears. "I just prayed to God and asked for help and protection."
She said she felt her prayers were answered.
"We got out safe, everything was fine, we were able to stay calm," she said, adding that she's left feeling "traumatized."
"You never expect it to happen where you live," Madsen said. "Even though you see it all the time."
Thank you to the first responders and law enforcement who are working to capture those responsible for the inexcusable act of violence committed today. Praying for a speedy recovery for those injured. #utpolhttps://t.co/TOKqtBklgO

— Utah Senate (@utahsenate) January 13, 2019
#UTSenate_tweet
While barricaded inside the store, Madsen said she called her mother, Tiffany Madsen, to let her know she was safe. Tiffany Madsen ran straight to the Taco Bell to reunite with her daughter once she got direction from police.
"You don't think this could happen anywhere in Utah," Tiffany Madsen said. The mother said she was just grateful her daughter was safe.
"(I) just feel sad for the victims and keep your prayers to God," Tiffany Madsen said. "What else can you do in a situation like this."
Contributing: Marc Giauque, KSL Newsradio; Kira Hoffelmeyer, KSL Newsradio; Sean Moody, KSL TV
×
Photos
Most recent News stories