This archived news story is available only for your personal, non-commercial use. Information in the story may be outdated or superseded by additional information. Reading or replaying the story in its archived form does not constitute a republication of the story.
This story is sponsored by Robert J. DeBry—more than 200 years of combined experience practicing personal injury law.
Everyone makes mistakes, and governments, businesses and other organizations are not exempt from making bad choices from time to time. Sometimes, it can take months, years or decades to know whether a decision was genius or a disaster.
This list could include dozens of other examples of decisions that turned out poorly (for example, Utah's failed two-point conversion attempt against USC in 2017 didn't make the list).
There is no shortage of Utah-connected disasters, bankruptcies and mistakes that resulted in sorrow, pain, misery and even death. Fortunately, important lessons can be learned from all of them — mainly, don't ever do anything like this again.
Here are six of the biggest Beehive State blunders, in no particular order.
Japanese internment camp
During World War II, U.S. government authorities were concerned that Americans of Japanese ancestry posed a danger to the nation. As a result, they were rounded up and housed in internment camps, one of which was the Topaz Relocation Center 15 miles west of Delta.
The 17,000-acre facility housed as many as 8,000 detainees between September 1942 and October 1945. Most were shipped to Utah by train from California.
Utah History Encyclopedia notes, "The barracks, crudely constructed of pine planks covered with tarpaper as the only insulation, and sheetrock on the inside, provided little protection against the extreme weather of the semi-arid climate."
In August 1988, President Ronald Reagan issued a formal apology. He also signed a redress bill and asked Congress to provide compensation for the survivors.
Mountain Meadows massacre
In September 1857, local militia and Indian allies in southern Utah murdered about 120 emigrants who were traveling by wagon to California. The dead included men, women and children, and the perpetrators were members of The Church of Jesus Christ of Latter-day Saints. The site was 35 miles southwest of Cedar City.
It wasn't until 1875 that John D. Lee was tried for his part in the massacre. While an estimated 40 to 50 men participated in the massacre, Lee was the only one to ever go to trial. Although the first trial ended in a mistrial, a second in 1877 found him guilty.
Lee was executed at the site of the massacre. He sat on his coffin to pose for a photo. A Smithsonian article states, "an hour before noon, he shook hands with the men around him, removed his coat and hat and faced the five men of the firing party. 'Let them shoot the balls through my heart!' Lee shouted. 'Don't let them mangle my body!'
"On U.S. Marshal William Nelson's command, shots rang out in the ravine where so many shots had rung out 20 years before, and Lee fell back onto his coffin, dead."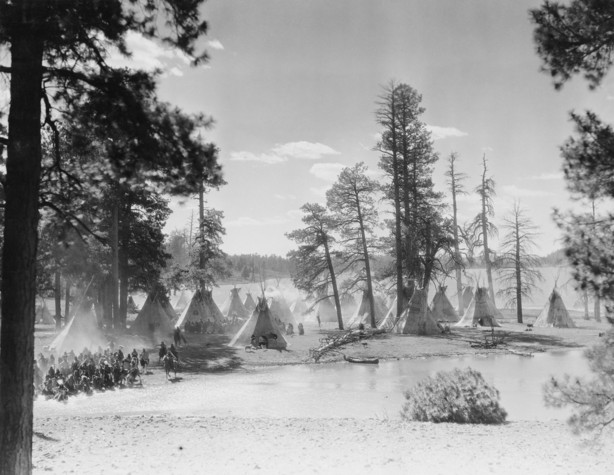 Bear River Massacre
This Jan. 29, 1863, event was among the worst slaughters of native Americans in the Western U.S. According to the Utah History Encyclopedia, more than 250 members of the Northern Band of the Shoshone Nation perished, including at least 90 women and children.
Although the massacre site is actually a few miles across the Utah/Idaho border, it occurred because of tensions that began when pioneers settled in Cache Valley in 1860 — an area the Shoshone traditionally claimed.
There were several disputes involving the northern Utah area, including some resulting in deaths. In response, Col. Patrick Edward Connor and about 200 California volunteers were sent to subdue the native people. Besides killing 250 Shoshone, the militia burned 75 lodges, recovered 1,000 bushels of wheat and flour and took 175 Shoshone horses.
Great Salt Lake pumps
After two seasons of record rain and snowfall, in 1987 the Great Salt Lake reached its highest level in modern history, at 4,211.85 feet above mean sea level, according to the Utah Division of Water Resources. The rising water damaged Interstate Highway 80, mineral industries, railway systems, sewage treatment plants, wildlife habitat, recreation areas and public and private property.
In response, Utah officials approved a project to install massive pumps to transfer water from the lake to an area of the West Desert where it could evaporate. The pumps began operation in April 1987. Pumping ended in June 1989.
"Construction and operation of the West Desert Pumping Project was controversial, and it spawned considerable public and political debate about costs and alternatives to pumping lake brine," according to the DWR. "Concern about the damage caused by the Great Salt Lake was widespread, but many people harbored hope the lake would heal itself."
The pumps won a Civil Engineering Achievement of Merit Award from the American Society of Civil Engineers. If and when the lake floods again, the pumps could go from flop to salvation.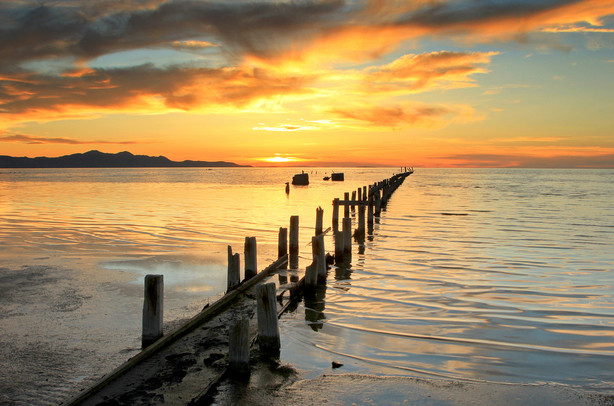 Intermountain Indian School
On the hillside above Brigham City, a fading "I" is a reminder of the Intermountain Indian School that operated there from 1950 to 1984. The boarding facility served Navajo students from Utah, Arizona and New Mexico. Government officials at the time chose the boarding school model rather than building schools on the reservation. Tribal leaders reluctantly agreed because it seemed the only way to get an education for their children.
At its peak, enrollment at the school was 2,300 students, according to Utah Humanities. "In addition to regular academic subjects, students learned a vocation, preparing them for entry-level employment. Classes were drawn along gender lines. Boys learned welding, auto mechanics, and painting, while girls took classes in homemaking, cooking, and sewing."
The school was renamed the Intermountain Inter-Tribal School in fall 1974, and students from 26 other tribes were included. In 1975, rioting students injured three officers and destroyed several police vehicles, according to information from Utah State University Libraries.
Delta solar project
In the Utah desert outside Delta "stands a curious collection of ruins that could almost have been a set from a Star Wars movie. They are, in fact, the remains of alternative energy arrays developed for the Delta Solar Project," explains the Urban Ghosts website.
The project was an energy production facility that concentrated solar rays through massive plastic magnifying glasses into heat exchangers that converted the energy to steam.
A KSL article in 2008 noted that at full capacity, the project would cover 700 acres with 1,000 towers producing enough energy to power 50,000 homes in southern California. In reality, only 20 towers were built.
Just 11 years later, "the remains of the array still stand at the site, rusty and gutted," Atlas Obscura states. "Unfortunately even the rugged plastics and metals used in the Delta array were no match for the strong desert winds which quickly damaged most of the collectors that the engineers were able to install."
If you know of a fail you think should be on this list (or in a follow-up article), please feel free to comment below.
×