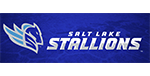 This story is sponsored by Salt Lake Stallions.
For avid football fanatics, February can be a gloomy month. The collegiate season is history and once the Super Bowl is played (Feb. 3 in 2019), there is no more football until late summer.
That all changes in 2019 with the new Alliance of American Football league.
Less than three weeks after the Super Bowl, professional football makes its debut appearance in Salt Lake City at Rice Eccles Stadium on Feb. 23. It will be the third game of the season for the Salt Lake Stallions who play their first game Feb. 10 in Arizona and the second Feb. 16 in Memphis.
Experienced leadership
The Stallions are among eight teams in the AAF. The new league is full of familiar coaches and players in executive and advisory roles, like Dennis Erickson, head coach of the Salt Lake team.
Erickson had the head coaching gig with the Seattle Seahawks and the San Francisco 49ers, as well as several college programs where he won two national championships at Miami. He was also an assistant at the University of Utah.
Charlie Ebersol co-founded the league with former NFL GM Bill Polian, who over a 24-year span built championship teams including the Buffalo Bills, Indianapolis Colts and Carolina Panthers. Ebersol is the son of iconic sports television executive Dick Ebersol. Charlie Ebersol also directed a documentary on the XFL that aired in 2017 as part of ESPN's 30 for 30.
The new league has partnered with CBS, which will broadcast a game of the week. The league also states games will be broadcast locally and viewers will be able to stream AAF matchups live via a free app.
In addition to Erickson, head coaches of the other seven teams are also familiar to football aficionados. They include Brad Childress (Atlanta Legends), Tim Lewis (Birmingham Iron), Mike Martz (San Diego Fleet), Rick Neuheisel (Arizona Hotshots), Mike Riley (San Antonio Commanders), Mike Singletary (Memphis Express) and Steve Spurrier (Orlando Apollos).
Emphasis on excellent football
"The league will use NFL rules with a few twists," explains a statement from the AAF. "The goal is to eliminate the boring TV timeouts and endless replays. There will also be a 30-second clock between plays. Kicked extra points are eliminated and all teams must go for two."
In an ESPN article, Ebersol noted the success of the new league depends on providing high-quality football. "There are 28,000 Division I football players. Only 1,700 have NFL jobs," Ebersol is quoted as saying. "We're looking for those Kurt Warners working in grocery stores, and we think we will find them."
Each team will play 10 games. The Salt Lake Stallions end their season with a home game April 12 against San Antonio.
The Stallions chose Josh Woodrum in the first round of a quarterback draft Nov. 27. Woodrum played for Liberty University and was signed by the New York Giants as a free agent in 2016.
ESPN reports players in the league will have three-year, $250,000 non-guaranteed contracts. In August, more than 1,100 aspiring players participated in scouting combines in four locations across the country.
"When we started this we started with the idea that there were a lot of really good ballers who weren't getting a shot," Ebersol said. "This is about opportunity. This is about not giving up. This about trying to find those diamonds in the rough."
The initial roster for the Salt Lake Stallions includes several players who played for Utah college teams.
Tickets for Stallions home games are currently on sale at this link.
×