This archived news story is available only for your personal, non-commercial use. Information in the story may be outdated or superseded by additional information. Reading or replaying the story in its archived form does not constitute a republication of the story.
PROVO — As BYU basketball runs through one of the busier stretches in recent program history — five games in less than two days, all at home — the Cougars are also busily preparing for the future.
And that future has a distinctly international flair.
The Cougars signed three players to a National Letter of Intent over the weekend, with the most recent coming in Monday afternoon in Brazilian Bernardo Da Silva by way of Wasatch Academy. That commitment follows Chinese-born center Shengzhe Li, who prepped at Santa Margarita (Calif.) Catholic, as well as Timpview guard Nate Hansen.
Li and Da Silva will enroll next season, while Hansen plans to serve a two-year church mission upon graduation, as will preferred walk-on Casey Brown from Pleasant Grove. The immediate enrollees will replace outgoing seniors McKay Cannon and Luke Worthington.
"I think we all could see that we needed to fill some spots with some big guys that we've lost in the program," BYU assistant coach Quincy Lewis said. "Bernardo is a versatile guy from Wasatch Academy, and we think he has a real chance to be a player for us."
Two of the three signees are international players, a focus for the coaching staff and one that Lewis feels has been strengthened since the hiring of former BYU standout Lee Cummard, who played professionally across Europe.
"International is a challenge. There's a little more to it than meets the eye when you start dealing with international transcripts and those types of things," Lewis said. "You've got to make sure things are right on line.
"But it certainly helps, having a guy like Lee Cummard, who has been there and understands the landscape."
Da Silva, a 6-foot-9 forward originally from Brazil, plays prep basketball at Wasatch Academy in Mount Pleasant. He helped lead the Tigers to a 24-2 record in 2017-18 under former coach Curtis Condie, and is currently coached by BYU-Hawaii product (and former Lone Peak coach) Dave Evans.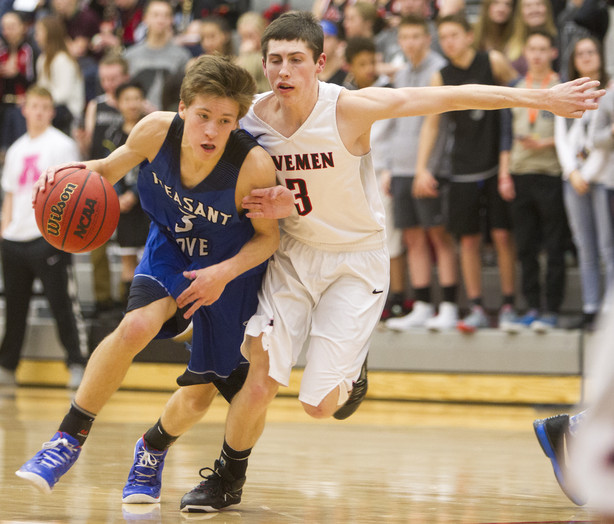 Da Silva averaged 14.8 points, 8.9 rebounds and 2.3 blocks over the summer while competing with the Utah Mountain Stars AAU program.
"Bernard is a versatile player that can score at all three levels," BYU coach Dave Rose said. "His size and mobility will really help us on both ends of the floor."
Hansen, a 6-foot-3 guard from Timpview, averaged 15.1 points for the Thunderbirds a year ago en route to a 17-7 record. A product of former BYU basketball player Kevin Santiago, Hansen plays AAU basketball for the Utah Mountain Stars, a club team led by former Cougars Marty Haws and Kevin Nixon.
Hansen plans on serving a two-year church mission prior to enrolling at BYU.
"Nate is a tenacious competitor with an ability to really score the ball," Rose said. "We love Nate's feel for the game and believe he will be a great player here."
The final member of the three-player signing class is Shengzhe Li, a 6-foot-10 native of Shanghai, China who for former BYU assistant Jeff Reinart at Santa Margarita Catholic in Santa Margarita, California. The 6-foot-10 center averaged 6.8 points and 5.8 rebounds last year after moving to the United States following two years spent at the Canarias Basketball Academy in Las Palmas, Spain.
"Shengzhe is a polished and skilled post player that really understands how to play the game," Rose said. "His sheer size and ability to move, pass and score will fit our program perfectly."
In addition to the trio of signees, Brown will join the Cougars as a preferred walk-on following a standout career at Pleasant Grove. The 6-foot-3 shooting averaged 14 points, 4.7 rebounds and 3.4 assists as a junior for the Vikings, but he'll leave on a mission immediately after high school and will enroll in the 2021-22 season.
Coaches cannot comment publicly on walk-on players until they are enrolled in school, per NCAA regulations.
BYU returns to the hardwood Wednesday night with a 7 p.m. MT tipoff against Rice as part of the Men Against Breast Cancer Cougar Cup.
Baxter back
Lewis said that freshman forward Gavin Baxter has returned to practice. The former Timpview High standout went into concussion protocol last week during an 85-65 win over Oral Roberts, sat out Saturday's 91-60 rout over Alabama A&M, and could be available for Wednesday's game against Rice or by Saturday in the home contest against Houston.
×