This archived news story is available only for your personal, non-commercial use. Information in the story may be outdated or superseded by additional information. Reading or replaying the story in its archived form does not constitute a republication of the story.
We need to talk — potty talk. It's about your plumbing and why you should take better care of it. While it's a mystery when and how your plumbing will crap out on you, you can delay the dreaded day you need to call the plumber by following these helpful maintenance tips.
Toilet leak detection
Listen to your toilet. It might be trying to tell you something. If it hisses like a cobra with a lisp for longer than the usual 30 seconds it takes to refill the tank, it may have a leak. Check by dropping an inexpensive dye tablet into the tank. If water in the bowl turns blue then your toilet is wasting valuable water.
Before you call the plumber, utilize the greatest information dump of all time — the internet — to watch toilet repair videos. Make sure the water valve is off and the toilet is flushed. Open the tank (don't worry, the water is clean) and check the chain, flapper, and fill valve. Replacing these parts is relatively easy and inexpensive, and you should see a reduction on your next water bill.
The kitchen sink
You might think you'll never see those watermelon rinds again after they get washed down the tubes, but really they are binding together with bacon fat, coffee grounds and carrot scraps to make you pay for what you've done. Accumulations of oil and food debris can clog up drains and cause damage to your pipes.
A few simple solutions: 1. Never pour fat or grease down your drain, 2) use a garbage disposal (run it with cold water so the motor doesn't overheat), and 3) buy a decent strainer. This goes for your bathroom sink and shower drains too. Hair does not biodegrade easily and entangles other debris.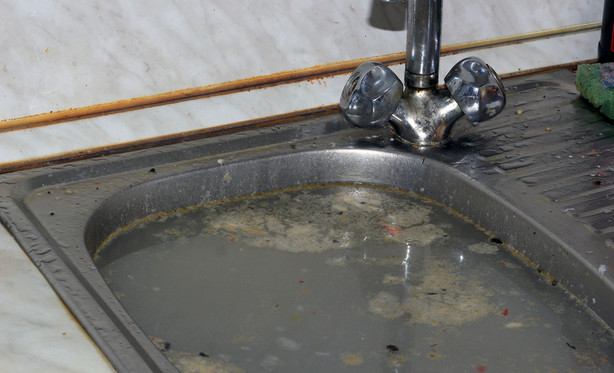 Don't flush money (or anything else) down the toilet
Straight talk: Toilets are designed for human waste and toilet paper only. That's it. Flush any thoughts about "flushable wipes" out of your brain. They're notorious for causing stoppages in pipes that accrue fat and hair and can eventually become "fatbergs." This isn't just a problem for your plumbing — fatbergs can also constipate the plumbing infrastructure of a whole city.
If you want to avoid plumbing bills and higher taxes like you avoid an unmaintained public bathroom, do not flush wipes, feminine hygiene products, hair, cotton balls, dried cat poop, nail clippings or your dead goldfish Cheez Whiz down the toilet.
Plumbing: Unplugged
In your grief, you forgot the previous rule and flushed a paper towel–embalmed Cheez Whiz down the tubes. The next month you notice the sink isn't draining. (What the heck, Cheez Whiz? Why do you haunt us so? We were so good to you.) You have a clog, but don't reach for the Drano. Chemical drain cleaners can create toxic gas, cause pipes to burst, and corrode otherwise decent plumbing. Instead of taking the risk, try taking the plunge. Manually removing a clog with a plunger or drain snake should be just as effective. Even running hot water with grease-fighting dishwashing detergent can work wonders.
Know your valves
In the maturation program in sixth grade you learn about your own personal valves — what they do, where they are, and how they work. It's very important stuff to know that can change your life. But do you know where your house's valves are? Locating your main water shut-off valve takes five minutes and can save you a lot of money.
The main water shut-off valve will generally be on the periphery of the property, not in the house. Finding the valves for each individual fixture won't hurt either. Valves to the toilet, washer, and sink will generally be on the closest wall. Turn the valves clockwise and water should stop running. While you're at it, tell the whole family about the valves. Your house valves, that is.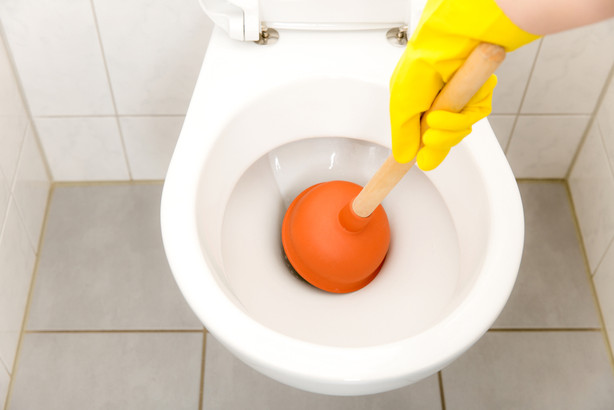 Be prepared
Right now, before you're running around dumping out every lego box to put under that burst pipe, go forth and buy yourself some tools. At the very least, everyone should have on hand a plunger, closet auger, pipe wrench, basin wrench and tongue-and-groove pliers. Familiarize yourself with these tools (hello YouTube!) and you might be able to stave off a major disaster. Take some time as well to read over your insurance policy. Some cities offer an inexpensive insurance to cover busted pipes that connect to city infrastructure from your home.
Knowing a reliable plumber
Finding a good plumber can be a crapshoot, but with recommendations from friends, family and reliable online resources, it can be as comfortable as a nice hot bath. The trick is to find a licensed, well-reviewed tradesman before you get into trouble. Don't call the first plumber you see in the phonebook in a panic. Do some research, drink some prune juice and everything will move more smoothly. Once you find your toilet tamer, inscribe their number into the bathroom tile so you can act fast.
Like Death, the plumber is coming for us all. Except you never see Death's crack because of that robe. And because he doesn't have butt cheeks because he's bones. Anyway, there are all sorts of good, honest plumbers out there just waiting to send that clog to hell where it belongs. And no matter how bad your plumbing problem seems, don't worry — this too shall pass.
×