Estimated read time: 4-5 minutes
This archived news story is available only for your personal, non-commercial use. Information in the story may be outdated or superseded by additional information. Reading or replaying the story in its archived form does not constitute a republication of the story.
HERRIMAN — Whatever happens to Real Salt Lake during the 2018 MLS Cup playoffs, it's all gravy.
The team accomplished the pre-eminent goal after falling a point short of the postseason last year on the final day — get back into the playoff field.
And while RSL's trip to the playoffs came via a late Houston comeback against the L.A. Galaxy — or the Galaxy's stunning second-half collapse, whichever you prefer — the team gathered at the Herriman academy complex Monday morning eager to make it count.
Real Salt Lake, written off by so many pundits and columnists and analysts around the league so many times, is in the final field of 12. Even its own coach gave them "a million-to-one" odds of making into the postseason.
Now? Go make something happen.
It's not that RSL doesn't want to win. It just recognizes that it is one of a half-dozen teams in the West that still has a chance to win the MLS Cup — and Salt Lake is far from the favorite to reach the final round Dec. 8, so there's little (if any) pressure on the small-market team from Sandy.
"It felt like we got another opportunity," said midfielder Kyle Beckerman, whose team will face LAFC at 8:30 p.m. MDT Thursday on ESPN2. "Kind of like we are playing on house money — so let's go double up."
Whether Real Salt Lake backed into the playoffs or not — it most recently lost at Portland 2-0, but in a game just a few days removed from a 4-1 win over New England — the club's personnel insists it deserves to be in the postseason.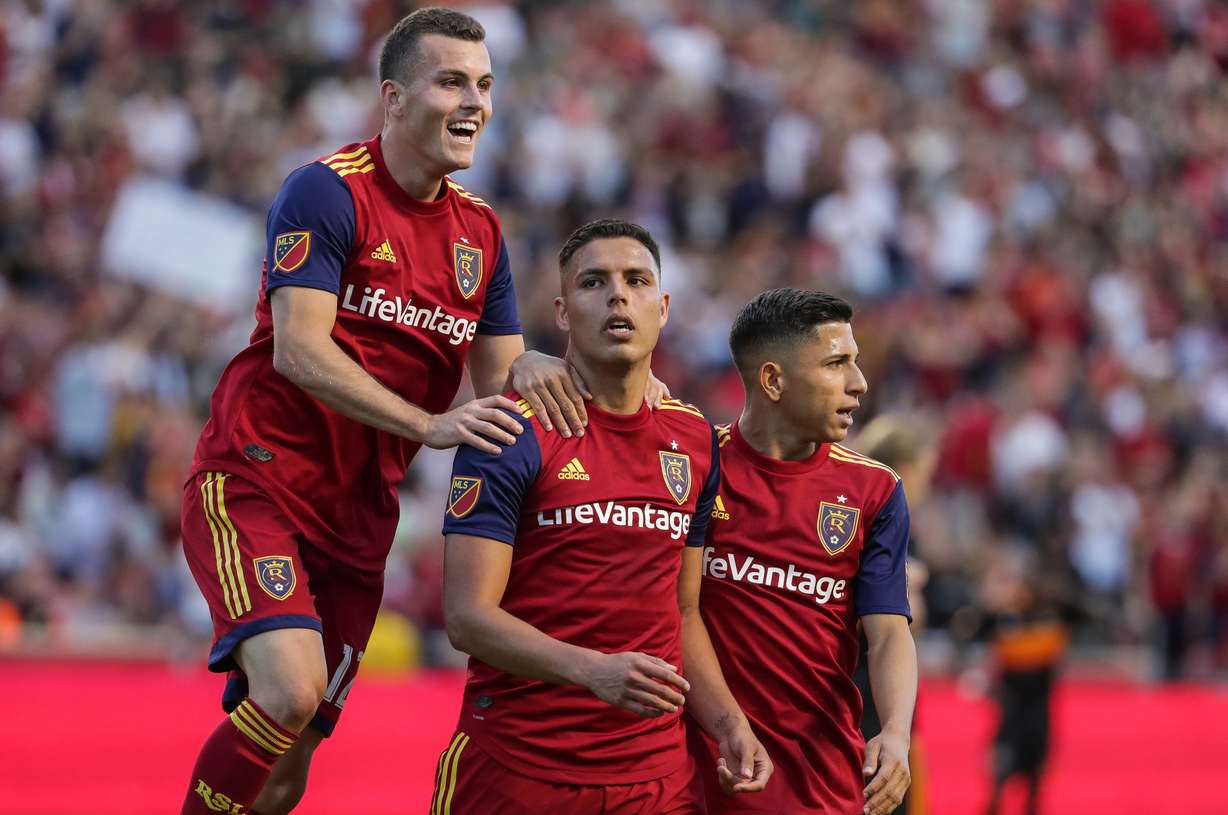 That was the message head coach Mike Petke preached Monday morning, and it was the same one those players internalized when they began a shortened week of preparations after sitting idle for the final weekend of the regular season due to the league's odd number of teams.
In the end, RSL finished 14-13-7 with 49 points — one point and one win better than the Galaxy, which brims with international stars like Giovanni and Jonathan dos Santos and legendary Zlatan Ibrahimovic.
"At the end of the day, we deserved to be in the playoffs," said Damir Kreilach, the team's first-year newcomer who finished with a team-high 12 goals and eight assists in the regular season. "During the season, we were a better team than the L.A. Galaxy, so much more consistent. In the end, God gave us another opportunity."
That "other opportunity" is against a familiar team in LAFC, the No. 3-seed in the West that routed RSL twice by a combined score of 7-1.
But that was the regular season. In the playoffs, anything can happen.
Cue the anthem to the 2009 season, when RSL slipped into the playoffs on the last day, had four different game results go its way, and ran through the Eastern Conference (yes, Eastern; remember those days, MLS fans?) to win its first-ever major team trophy.
"Playoffs are 100 percent a different story," said Brooks Lennon, who was named RSL's defender of the year in a season that moved him from part-time winger to full-time right back. "It's a whole different ballgame. We're going into this game with a clean slate against them … and anything can happen.
"I really believe that we have the talent and quality to get a win."
Now the focus shifts to the one-off first round of the playoffs, when Real Salt Lake will try to put all of its troubles with the expansion outfit from Los Angeles behind it.
And why shouldn't RSL be confident? Salt Lake has been idle for nearly 10 days, able to rest, recover and heal while LAFC was grinding to a two-match winless streak to end the regular season, including Sunday's 2-1 loss to Sporting Kansas City that could have given the Black-and-Gold a Western Conference title with a win.
"The guys are happy because we all feel we deserve to be in the playoffs," Petke said. "We are set up very differently than a lot of teams, even the team we are playing … and we reached our initial goal to get into the playoffs. Now whatever pressure that we have, we're going to go out there and play."
Yes, RSL is going to be fresh.
But LAFC will also have stars on the pitch, such as Mexican national team standout Carlos Vela.
"We're going to be fresh, but they are professionals and experienced players," Petke said. "The players on that team aren't going to let a situation like four days rest get in the way. I can't see that happening.
"They will get their legs right, probably immediately after the game, and they have an extra night in their own beds. I don't see it being a huge thing."
×
Related stories
Most recent Real Salt Lake stories