This archived news story is available only for your personal, non-commercial use. Information in the story may be outdated or superseded by additional information. Reading or replaying the story in its archived form does not constitute a republication of the story.
RIVERTON — American Fork's offense didn't get off to the best start Friday in its Class 6A state opener Friday.
But like its star receiver Chase Roberts, once the Cavemen got rolling, they were hard to stop.
Roberts hauled in nine catches for 198 yards and four touchdowns, and added an 87-yard kickoff return for a touchdown in the third quarter, to help the Cavemen pull away from Riverton, 52-34.
"We just wanted to win," said Roberts, who has committed to BYU. "That was our main goal, and we prepared this week really well. Our team just fights battles, no matter if we start off bad or what.
"We just kept going until they stopped us."
Boone Abbott completed 24-of-39 passes for 404 yards and five touchdowns with one interception to lead the Cavemen (9-2).
Jaxon Gregory finished with 101 yards and a touchdown on 10 carries for American Fork.
Even with the 52 points, though, American Fork's defense had as much say in the win.
The Silverwolves (6-6) started hot, taking a 7-7 tie after the first quarter on quarterback Dayne MacDonald's 33-yard strike to Carter Miller — his first of two touchdowns.
But the Cavemen defense shut out Riverton in the second quarter, coming away with five turnovers in the first half to take a 17-7 lead at the break.
Stockton Bramwell, Noah Moeaki, Tanner Holden and Peyton Wilson all had first-half interceptions for the Cavemen, who also forced a fumble on a fourth-and-two gamble in the second quarter.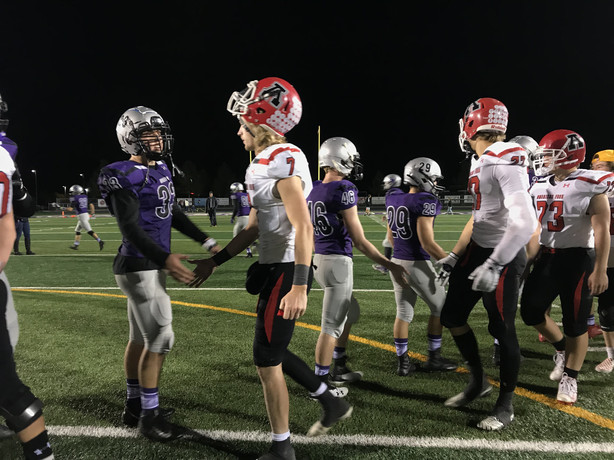 "When we weren't getting the ball much, that made a huge difference because we weren't putting as many points on the board as we would have liked in the first half," American Fork coach Aaron Behm said.
Riverton converted on an onside kick to open the second half with an 8-yard TD run by MacDonald to pull ahead by three, 17-14, with 9:35 left in the third quarter.
But Roberts returned the ensuing kickoff 87 yards for a score — his first special teams TD of the year — to start a 35-7 run that helped the Cavemen pull away for good.
"They came and scored, and I knew we needed a spark," Roberts said of the kick return. "I was just hoping they kicked it to me, and I could be that spark.
"I saw a hole and took it, and it got us going."
MacDonald threw for 376 yards and three touchdowns with four interceptions — and ran for another 97 yards and two more scores — to lead Riverton, which got 65 yards and two scores from Miller.
American Fork tied with Lone Peak and Bingham for the Region 4 championship, but because of a series of unfortunate coin flips, the Cavemen took a No. 3 seed into the playoffs.
Their next game will also be on the road, at Region 1 champion Weber. The Warriors held off Granger 28-14 in Friday's first round.
"I told our guys we've got a really hard road; no other region champion had to play an away game tonight," Behm said. "But eventually doing all these hard things will pay off.
"If we have to do something hard but come out with the win, it's better for us in the long run."
×