This archived news story is available only for your personal, non-commercial use. Information in the story may be outdated or superseded by additional information. Reading or replaying the story in its archived form does not constitute a republication of the story.
For those dealing with deep pain that just won't go away, particularly muscle or skeletal pain, pro-level sports medicine may be able to help. Sports medicine is designed to assist professional, college and Olympic athletes in quickly overcoming their injuries. What you need to know is the same medical professionals who help those athletes are available to treat anyone who wants to reduce their pain and get back to life.
Adam Kershaw, PT, MPT, OCS at Salt Lake Regional Physical Therapy and SportsMed Utah, said physical therapy helps injured athletes and other people recover faster because their specific pain points are targeted and a plan is developed based on what will get the patient back to working order the fastest.
"So if you're the stay-at-home mom and you've got shoulder pain from carrying around a newborn, we can help decrease the pain and increase the strength of your shoulder. If you sit at a desk and you have postural dysfunction and you need solutions to your ergonomics at your workstation, we can fix that," Kershaw said.
The following are three of the ways patients can experience pro-level sports medicine to help reduce their pain and injuries.
Dry needling
Dry needling is one treatment that can help those with muscle pain.
"Dry needling is a technique physical therapists use (where allowed by state law) for the treatment of pain and movement impairments. The technique uses a "dry" needle, one without medication or injection, inserted through the skin into areas of the muscle," according to the American Physical Therapy Association.
Dry needling can speed healing response, improve circulation, decrease pain, and decrease muscle tightness, Kershaw said.
Kershaw said physical therapists put the needles in the body part that is affected. Depending on the intensity of the condition, the needles will be connected to an electric current. This usually doesn't hurt, and most of the time, patients may not even feel this process or it may be mildly uncomfortable.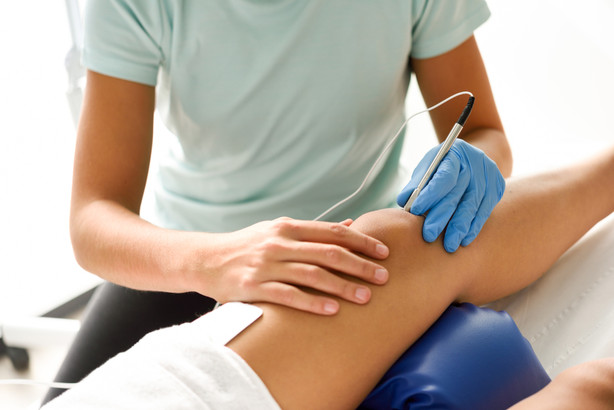 Graston Technique
"The Graston Technique … is one of a number of manual therapy approaches that uses instruments with a specialized form of massage/scraping the skin gently. The therapy is designed to help the practitioner identify areas of restriction and attempt to break up scar tissue," according to Spine-health.
This gentle scraping of the skin is one example of how physical therapists are engineering and utilizing new ways to mitigate pain and certain types of injuries.
Concussion management
Whether a patient has injured his or her head while playing sports or while participating in another activity or accident, treating concussions is important and necessary to properly recover from neck pain and headaches.
"Medical providers may describe a concussion as a 'mild' brain injury because concussions are usually not life-threatening. Even so, the effects of a concussion can be serious," according to the Centers for Disease Control and Prevention.
Just as physical therapists treat injuries to other parts of the body, they can also treat and manage injuries to the head. Whether a patient is trying to get back into the sports game or simply the game of life, having his or her head injury heal quickly and properly is important.
How do patients know if physical therapy, sports medicine is right for them?
A major indicator that someone would benefit from the same treatment the professionals get is if they are dealing with a deep pain that won't go away.
"If you've had a deep muscle pain for quite a while, and/or if it's a chronic pain that has been bugging you for quite a while," Kershaw said. "You should come in and take advantage of the sports medicine program."
He describes physical therapists as the musculoskeletal specialists in the medical field.
"If you feel like you have joint or muscle pain that is affecting your life in a negative way, call one of our physical therapy clinics and we'll evaluate what is causing the pain and dysfunction. One of our physical therapists will prescribe exercises or some of the other techniques that we have in the therapy clinic and return you to full function so you can have a better quality of life," Kershaw said.
The sooner a patient is seen by a doctor after an injury, the faster the recovery process will be
For more information or to contact Salt Lake Regional Physical Therapy, patients can call 801-748-1861, or visit www.steward.org to find a location near them. Salt Lake Regional offers free injury screenings. Those who have had pain going on for quite awhile can get this screening done and evaluate what treatment may be needed.
×