This archived news story is available only for your personal, non-commercial use. Information in the story may be outdated or superseded by additional information. Reading or replaying the story in its archived form does not constitute a republication of the story.
LOGAN — It has been almost a perfect start to the 2018 season for the Utah State football team.
A near upset at then-11th ranked Michigan State to open the season followed by blowout wins over New Mexico State and Tennessee Tech have the Aggies full of confidence heading into Saturday night's Mountain West Conference opener against Air Force at Maverik Stadium in Logan.
And with the quick start to the 2018 season, Utah State finds itself in a position it hasn't been in since the 2012 season: improve to 3-1 in what some believe can be a special year in Logan.
Not only would Utah State improve to 3-1 for the first time in six years, a win over the Falcons would also snap a three-game losing skid to the service academy.
"We're all excited to play them on Saturday night," Utah State head coach Matt Wells said. "I have a tremendous amount of respect for those guys and what they do on both sides of the ball. ... We're about to get a dialed-up version of the Air Force team coming off a bye week.
"They'll be very fresh and show us some stuff I'm sure we haven't seen on tape. It's the Mountain West opener for them, too. They'll be all ready to go and this game has come down to the wire three years in a row."
Indeed, it has.
In 2015, despite a Kent Myers touchdown pass to Devo Robinson when time expired, Air Force once again knocked off the Aggies, 35-28, in Colorado Springs.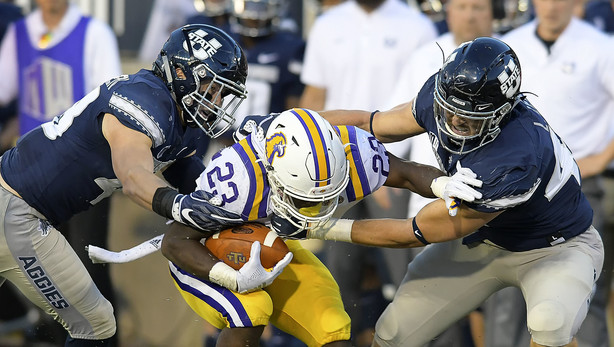 And in the 2016 contest, Utah State found itself on the wrong end of a 27-20 contest at home against Air Force despite the Aggies having overe 400 yards of total offense.
In the 2017 contest, Isaiah Sanders broke the hearts of Aggie faithful when he scored from 10 yards out to propel the Falcons to a 38-35 win in the regular season finale for both teams.
"This year is totally different from last year," Utah State defensive end Fua Leilua said. "We're all focused on what we need to do this year, rather than holding onto grudges from last year or we almost had this game, we almost had that game. That's what's really a big part of our success is that we're just focused on this year and stopping them this year. So, we'll do pretty well."
The Aggies are riding high coming into the Mountain West Conference opener as Utah State is averaging 54.7 points per game and 467 yards of total offense per game. Yes, some will say it was against lowly New Mexico State and FCS foe Tennessee Tech, and they would be correct.
However, Utah State did to those two teams exactly what it should have done. In fact, Utah State put up 344 yards of total offense and 31 points against a very good Michigan State defense in the season opener in East Lansing.
"We're going to be ready to come out, and start that game," -- @USUFootball QB Jordan Love on the Aggies' MW opener against Air Force. #MWFB#AggiesAllTheWaypic.twitter.com/lly3oWvWKd

— KSL SportsBeat (@kslsports) September 20, 2018
Balance will be the key for the Aggies on Saturday night. Currently, Utah State averages just over 200 yards rushing and 260 yards passing per contest. Utah State is 2-1 in 2018 when scoring 30-plus points and the Aggies have won 42 out of their last 45 games when scoring 30 or more points.
"We're extremely hungry, especially after what happened last year," Utah State quarterback Jordan Love said. "But, that was last year and this is this year. We're hungry. We're going to game plan for them all week. We're going to be ready to come out and start that game."
If the Aggies are to compete for a Mountain West Conference championship, it all starts Saturday night against a team the Aggies have struggle with over the past three seasons.
"I'd like to be 1-0 at home this week and be 1-0 in the Mountain West at midnight Saturday, that's the goal," Wells said. "We try to build the program and coach our players to be in a position to compete for a championship in November. THis game is going to go a long way in saying that."
Kickoff is slated for 8:15 p.m. MT and will be televised nationally on ESPN2 or you can hear it on 1280 AM.
---
Kyle McDonald is sports fan who loves the Chicago Cubs. Follow him on Twitter at @kylesportsbias
×