Estimated read time: 4-5 minutes
This archived news story is available only for your personal, non-commercial use. Information in the story may be outdated or superseded by additional information. Reading or replaying the story in its archived form does not constitute a republication of the story.
SALT LAKE CITY — BYU found itself in unfamiliar territory Sunday when it cracked the Associated Press Top 25 poll, their first time since 2015.
Before the season, I would have told you it was an impossibly long shot, starting the season with three straight power five opponents, one of which was a Top 10 team before the season started, and another that was a borderline Top 25 selections. Both of those teams, Arizona and Wisconsin, were road games for BYU, with Heisman candidate running threats in Khalil Tate and Jonathan Taylor.
If BYU were to get a win in the first three weeks of the season, it would be against the Cal Bears, who missed a bowl game last season.
Now three weeks in, BYU has flipped the script on all expectations. The Cougars sit at 2-1, with wins over Arizona and Wisconsin, and a loss at home to Cal. Most impressively, BYU has flipped the script on how the team sees itself winning games.
Last season, offensive coordinator Ty Detmer and the BYU offense asked a lot of quarterback Tanner Mangum, making reads and throwing complicated deep passes. But new offensive coordinator Jeff Grimes has simplified BYU's offensive system.
Grimes' first order of business at BYU was to beef up his offensive line, asking the position group he once coached at LSU, to up their overall weight. When taking on Power Five opponents last season, it was obvious BYU was overmatched physically by the bigger, more physical teams, most notably Wisconsin.
Head coach Kalani Sitake challenged Grimes, and his team, to match that physicality, and it's been obvious through three weeks of the season.
Against Arizona, BYU simply dominated the line of scrimmage on both sides of the ball. Running back Squally Canada found huge holes to burst through, racking up easy yards on the ground.
But after Arizona got blown out on the road against Houston and BYU found itself on the wrong side of a bullying match against Cal, had the Cougars actually changed their culture, or had they just been the first team to expose a bad Arizona team?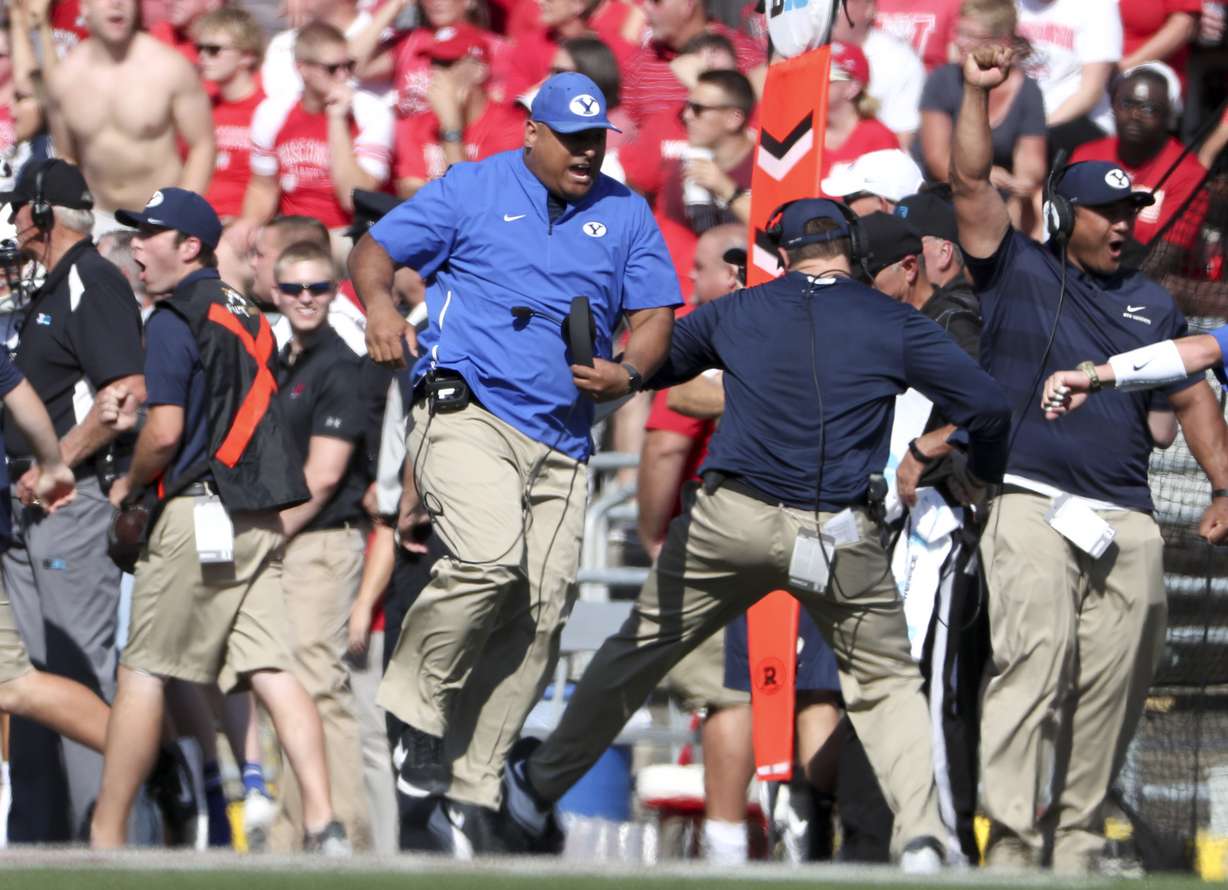 Against Wisconsin that answer became abundantly clear. BYU can matchup with the more physical teams in college football; and when you can matchup physically, you have a chance to win every game.
Now, that isn't to say BYU is about to run off a long series of wins. They will beat McNeese State Saturday at LaVell Edwards Stadium and move to a resounding 3-1. They will then go on the road for the first of a tough five-game stretch.
As rival Utah learned the hard way, Washington will throw a defense at BYU they have yet to see — even better than Wisconsin. The Cougars then take on three high-powered Mountain West offenses in Utah State, Hawaii and Boise State, with another tough defensive line in Northern Illinois mixed in between.
For BYU to win these games, they'll have to open up their offense, as 12-of-22 passing for 89 yards likely won't be enough from Mangum. And yet, it's not like the Cougars will have to resort to an air-raid offensive scheme. Mangum will have to complete a higher percentage of his passes and will have to throw for more than 89 yards, but with a strong offensive line, he'll likely find success in an offense with an clear identity running the ball.
BYU hasn't established itself has having fully recovered from their 4-9 season last year, but a win over a Top 10 program on the road is as good of an indicator as they could have hoped for. With a positive identity up front on offense and a simplified game plan, the Cougars are well on their way back to a bowl game this season, which they can build on for the future.
---
×
Most recent BYU Cougars stories