Estimated read time: 6-7 minutes
This archived news story is available only for your personal, non-commercial use. Information in the story may be outdated or superseded by additional information. Reading or replaying the story in its archived form does not constitute a republication of the story.
SANDY — It's over.
Utah Royals FC ended its first season in the Beehive State with a 2-1 win Saturday afternoon against Chicago.
And while the visiting Red Stars will have the last laugh — they'll open the playoffs next week against the dominant North Carolina Courage — the Royals did exactly what they hoped to do after being eliminated from postseason contention last Tuesday.
They gave their fans a show — and a lot of them left happy.
Saturday's match was played in front of 11,851 fans at Rio Tinto Stadium, the second-largest crowd to witness a game in the franchise's one-year history. While just over 19,000 people saw the combined Royals inaugural home opener/Rachel Platten post-match concert, Saturday's crowd was devoted to the club that has become known as Hashtag-URFC and gave several a reason to cheer for the team going forward.
It's not the beginning of the journey for the Royals, who will open up 2019 season ticket sales this week.
But it's not the end, either.
"To look at where we started from, it's been a phenomenal journey," Utah coach Laura Harvey said after Saturday's match. "Meeting the fans Thursday night really hit me with how impactful the team is to this community. Bringing women's soccer to this state and this city is a huge thing, and I don't think those inside the locker room completely understand it yet. We've been on a memorable journey — not always positive — but it's something we can always look back on and build for the future.
"I truly believe that this club is going places. Jump on this train, because it's going somewhere."
The four-team NWSL playoffs start Saturday, featuring North Carolina, Seattle, Portland and Chicago. The other five teams will look ahead to the NWSL college draft this January, where Utah holds the No. 1 pick as one of the conditions of them joining the league a year ago.
More teams could join the current group by then, as well. The league has openly spoken of expanding to California, which hasn't seen professional women's soccer since 2011, when FC Gold Pride and the Los Angeles Sol folded during the five-year run of Women's Professional Soccer.
Spanish superpower Barcelona has also spoken publicly of a desire to launch a women's club in the United States.
And even though the league seems more stable since the contraction of FC Kansas City and the Boston Breakers, questions still remain of the financial stability around several clubs, including one-win Sky Blue FC in New Jersey.
On the field, the Royals still have improvements to make. A season beset by injuries to stars like Kelley O'Hara (hamstring), international absences to U.S. players like Amy Rodriguez and team MVP Becky Sauerbrunn, and the midseason arrival of Christen Press and Sam Johnson left several chemistry issues on the field — and likely led to several moments of missed opportunities for a club that finish just two points outside the playoffs.
"I still have a ways to go," O'Hara said before Saturday's finale. "But it feels good to be back with this team. It felt great to be back with this team, to put the jersey on, and I'm looking forward to playing in front of our fans again."
The Royals will miss more players to international absence next season, when the league will go on a lengthy international break during the FIFA Women's World Cup in France. But Harvey hinted at several offseason acquisitions to come this winter, and those who know her coaching demeanor have seen her trade-heavy tactics in the past.
Where it all began
Off the field, Utah came into the league as a standard-bearer of professionalism in the nine-team NWSL. Despite starting up a brand-new team in about three weeks, and inheriting the majority of its roster from the now-defunct FC Kansas City, Utah owner Dell Loy Hansen proved to be all-in with regard to how he views the women's counterpart to Real Salt Lake.
"I absolutely love playing for the Royals," said Rodriguez, who came back from pregnancy and a torn ACL in consecutive seasons to score five goals with one assist. "Putting on the jersey here is one of my fondest soccer memories. It's the year I got to re-introduce myself to the soccer field. And even though it didn't end the way I wanted it — I wasn't as sharp as I would like to have been — I still have a good feeling about this. I see a lot of positive things in our future."
Utah put in new locker rooms for the women's team at Rio Tinto Stadium, revamped the on-site facilities to host two top-division soccer clubs, and even provided cars, Chevron gas cards and housing for most of the Royals as they transitioned to the Wasatch Front.
They even added a local television broadcasting agreement, piggybacking on RSL's contract with local station KMYU that now includes live streaming rights via KSL TV and KSL.com for cord-cutters, as well.
"Everything that we have here — the facilities, how the girls are treated — it's something that I believe players want to be part of, and I think fans are going to want to enjoy," said Utah coach Laura Harvey, who was set to take a leave from the NWSL before taking a phone call from Hansen while on vacation in Hawaii.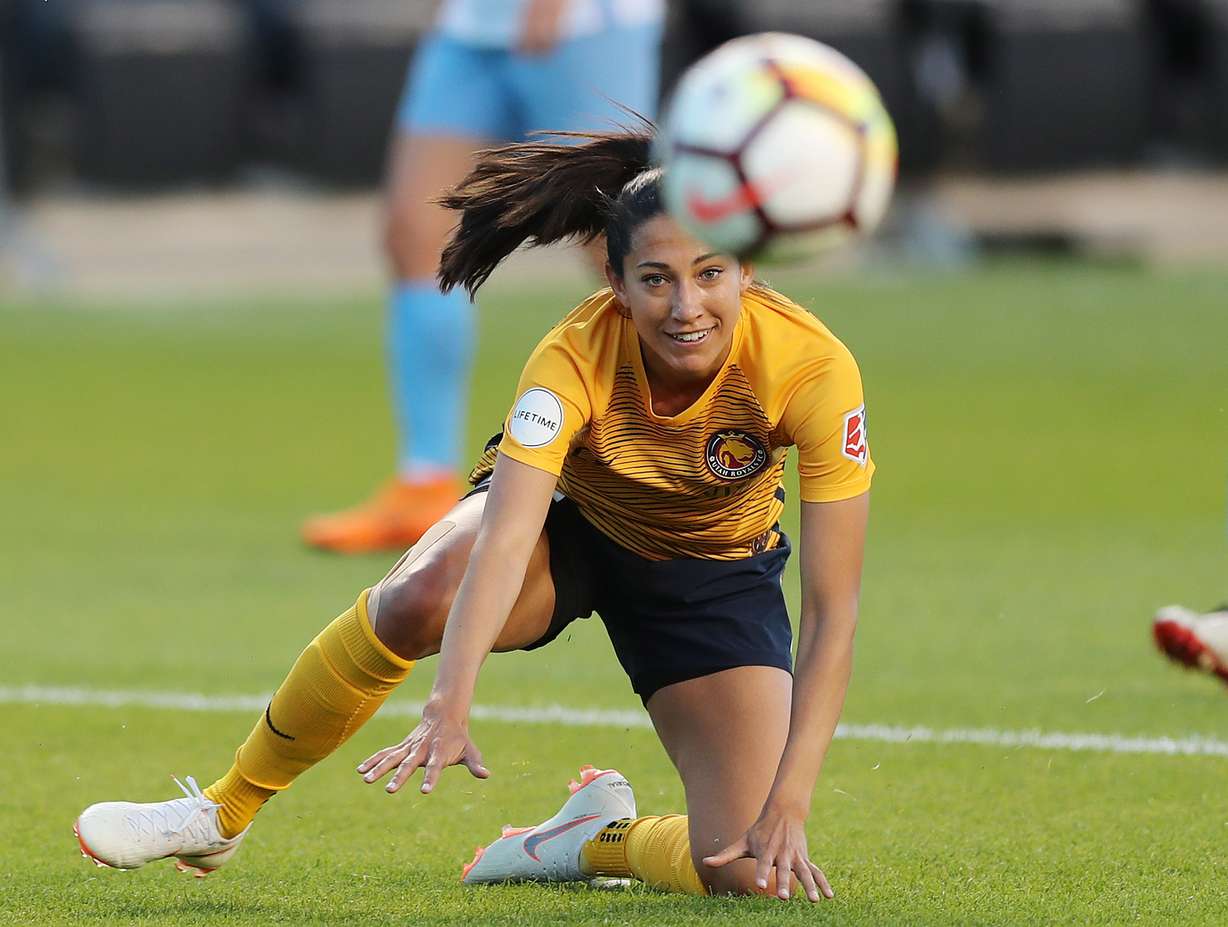 Harvey then quipped, "If only we had free agency."
The Royals sold more than 100,000 tickets in their inaugural season, averaging nearly 9,500 fans per game at Rio Tinto Stadium. That's the second-best mark in the league behind Portland (16,959) and nearly twice as much as teams like Orlando, Chicago and league-leading North Carolina, according to Soccer Stadium Digest.
A franchise that launched in relatively brief time somehow turned a profit in its first season, according to a source close to the club.
"Everyone compares to Portland, but Portland is its own little enigma," said Harvey, the former Seattle Reign manager who saw the soccer-loving Pacific Northwest first-hand. "Without a doubt, there's a passion here, a commitment from the community and the club to make sure that we can build a fan base that puts us on the map."
A market that was once averse to soccer, hosting Major League Soccer games at the University of Utah's Rice-Eccles Stadium, has grown to include a thriving fan base for RSL.
And now Salt Lake City is becoming a women's soccer town.
"This team, this club, this franchise have gone above and beyond, and I feel like a professional every single day when I walk through the door. I'm really thankful for that," O'Hara said. "I think we're just getting started. We've had a good following this year, but I think it can continue to grow. We can get even more fans, and be even more prevalent throughout the city and the community. That takes time; it involves us building chemistry on the field, but also building chemistry with the fans.
"But it's exceeded all my expectations for what I wanted and needed as a club."
Season Finale
×
Related stories
Most recent Real Salt Lake stories